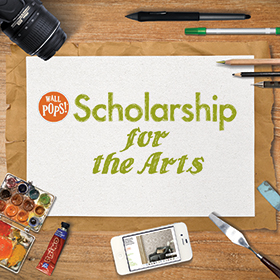 We are excited to announce the launch of WallPops Scholarship for the Arts! It is our hope that this award for an accredited 4 year college or university will provide help to aspiring artists studying in the creative field. Creating beautiful wall décor is our passion and this scholarship gives us the opportunity to support those who share our passion for design.
With two available scholarships, each for $1,000, all eligible candidates must submit their applications by May 22, 2015 to be considered. Our WallPops Scholarship Committee will then select the awarded applicants based on application materials. Read on for full eligibility requirements and the application process.
Eligibility
Students who meet the following criteria are eligible for the scholarship. The candidate:
Demonstrates a passion for the arts with plans on beginning or continuing an art related education

Is a citizen of the United States of America
Has a minimum grade point average of 3.0
Enrolled full–time in an US high–school with expected May 2015 graduation, or completed GED (attach transcripts or official record); OR is
Enrolled full–time as a college freshmen at the undergraduate level with a minimum grade point average of 3.0 at the time of application (attach transcripts or official record)
Application Process
Application materials must be received by May 22, 2015 in order to be considered. The following materials should be submitted via postal mail:
Completed application form.

Letter of Acceptance at U.S. accredited 4-year college or university.
Official transcript demonstrating achieved GPA.

A typed essay (no more than 2-pages, double-spaced) addressing one of the following topics:
Of all the jobs that incorporate art, where would you like to see your studies lead you?

What is one thing that you have done outside of the classroom that means the most to you and demonstrates your creativity?
Explain the importance of art in today's society.
Selection Process
Recipients will be selected by members of the Wallpops Scholarship Committee based on application materials provided. Awarded applicants will be notified of the committee's decision by 6/12/2015. Payment will be made directly to the recipient's school of choice upon notification and in accordance with the school's scholarship guidelines.
Please mail all completed documents to:
ATTN: Wallpops Scholarship
Brewster Home Fashions
67 Pacella Park Drive
Randolph, MA 02368
We are truly inspired by the drive and talent of today's students and are grateful that we can do this small part to help the next generation of creative leaders.