Have you fallen in love with all the vibrant, colorful and pattern-filled homes you've seen all over social media? Are you looking to experiment with this no-rules approach to styling yourself? Then you've landed on the right page! The latest rendition of our ultimate style guide series is going to walk you through creating a gorgeous larger-than-life maximalist style in your own home.
History
Maximalism first emerged in the 1970's during the neo-expressionism movement, a period that emerged in direct retaliation to neutral minimalism. Neo-expressionism explored intense color, dramatic and abstract forms, and style that evoked emotion. Think of neo-expressionism – and maximalism – as a celebration of the vibrancy and abundance of life, with an abstract twist and more is MORE philosophy!
Once again, maximalism is emerging in décor in retaliation to the laid back, neutral and earthy stylings of minimalism.
Color Palette
Unlike the earthy and neutral tones of minimalism, the maximalist color palette is completely saturated with vibrant colors. An exciting infusion of bold and rich colors are sure to perk up your interiors and give your space a cheerful energy.
While you could paint your walls your favorite dramatic hue, there are even bolder and more maximalist ways of transforming your walls and adding wild flair!
Wallpaper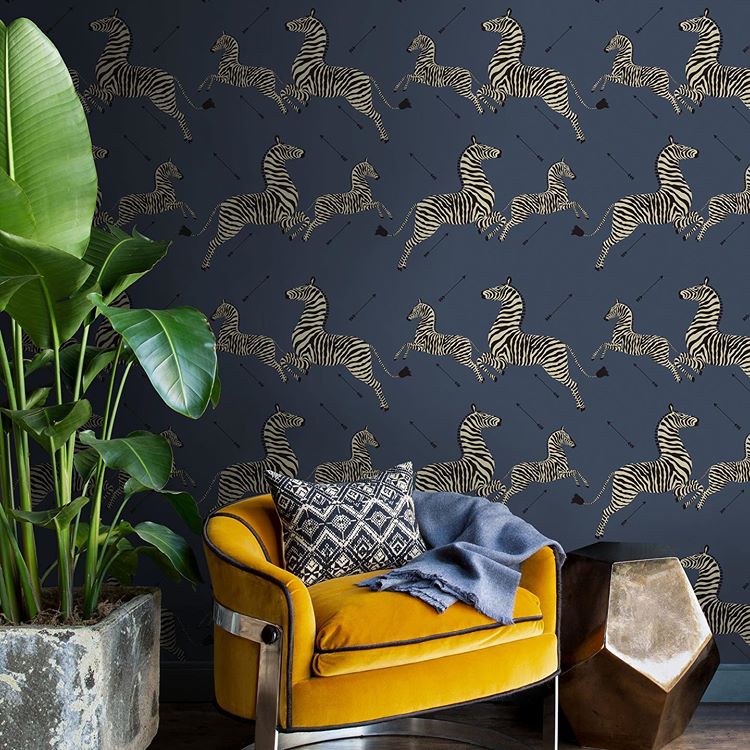 The best way to create maximum impact in your space is your walls. A bold pattern here instantly transforms the feeling of the entire room. And what could be better than the sophisticated drama of animal print?!
Ask any maximalist you know, and they will tell you animal print is always a YES. Whether you opt for leopard curtains, a cheetah pillow, or a throw – no print is too much. So go bold with one of our Scalamandre peel and stick wallpapers! This iconic design featuring leaping zebras will leave your heart pounding with excitement, while the rich blue backdrop bathes your walls in jewel-like color.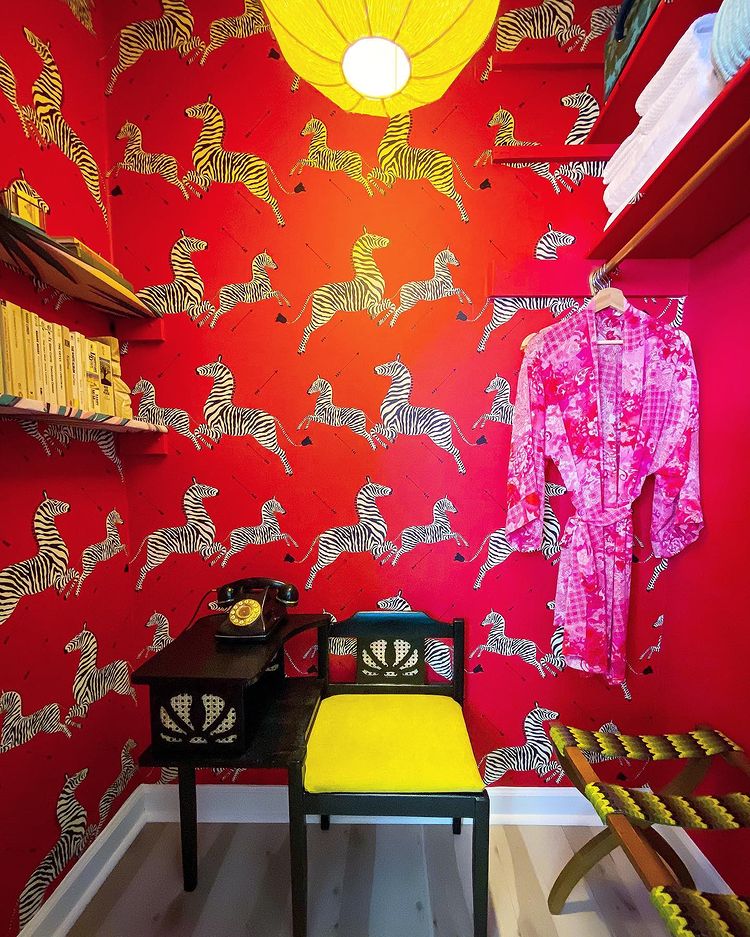 Need a little extra inspiration? Check out Megan's closet! The playful paper lantern pendant and brightly upholstered vintage chair just POP against the Red Safari Zebra peel and stick wallpaper, making this a small space that packs a punch!
Flooring
If you're not prepared to go as bold as Megan did on the walls, look down! Maximalist style calls for a bold mix of patterns, textures, and layering, so why not incorporate some FloorPops into your look?!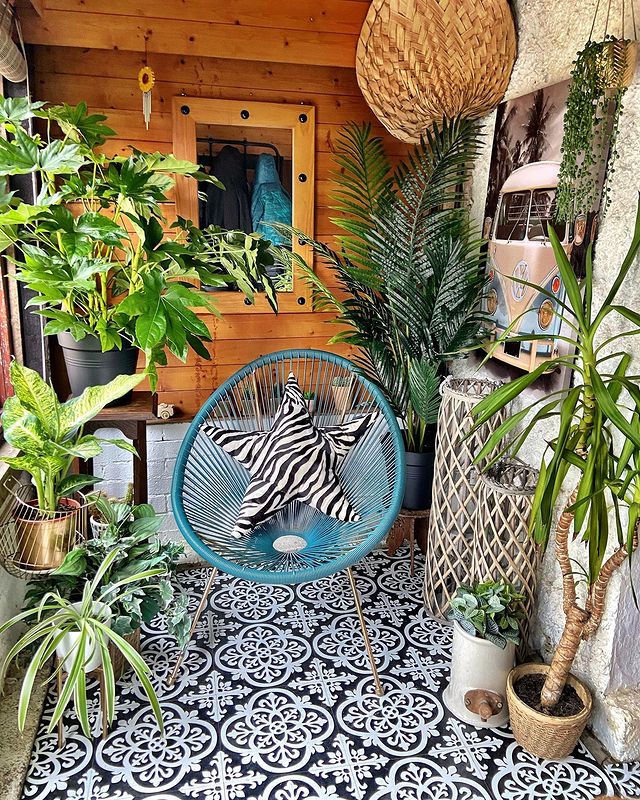 Jennifer's entry way is a maximalist's dream. Our bold Gothic FloorPops are striking paired with lush greenery and mixed materials – and yes, a splash of animal print too! It's a lively and welcoming space.
Energizing your entry way and welcoming guests into your home in style is easy with our peel and stick tiles. We'd recommend the Gothic, Altair, or Comet tiles for a bold look that provides a striking contrast between rich pops of color on your walls, cabinets, and rugs!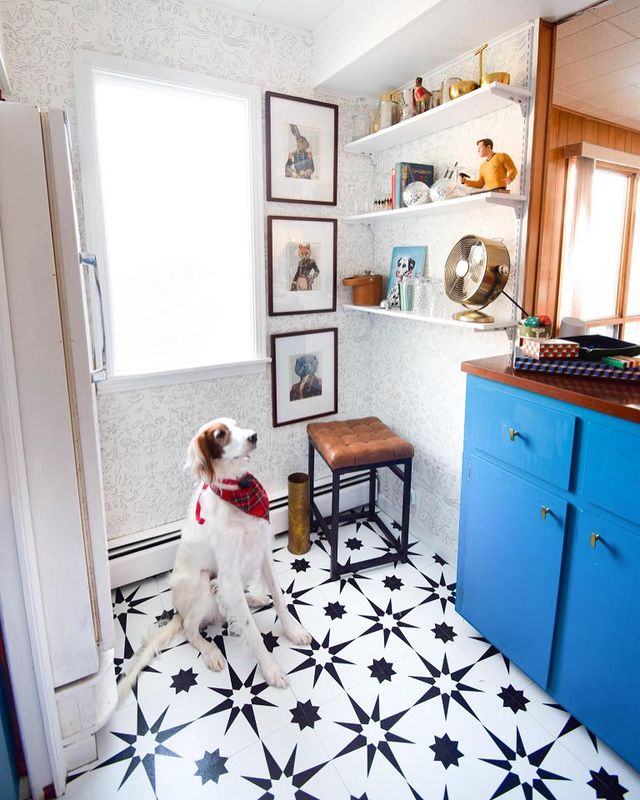 Ariel's bar is the perfect space to showcase how gorgeous and loud a paint and FloorPops combo can be! The blue cabinets pop beautifully against the dramatic black-and-white flooring; we'd love to kick back and have a refreshing bev at her bar anytime – especially with her floof!
Another pro design move: notice how she's capitalized on her vertical space by creating a gallery wall for her knick-knacks and collectables. Shelving lets you utilize what could have been dead space while creating a great display to shows off your favorite things!
Furniture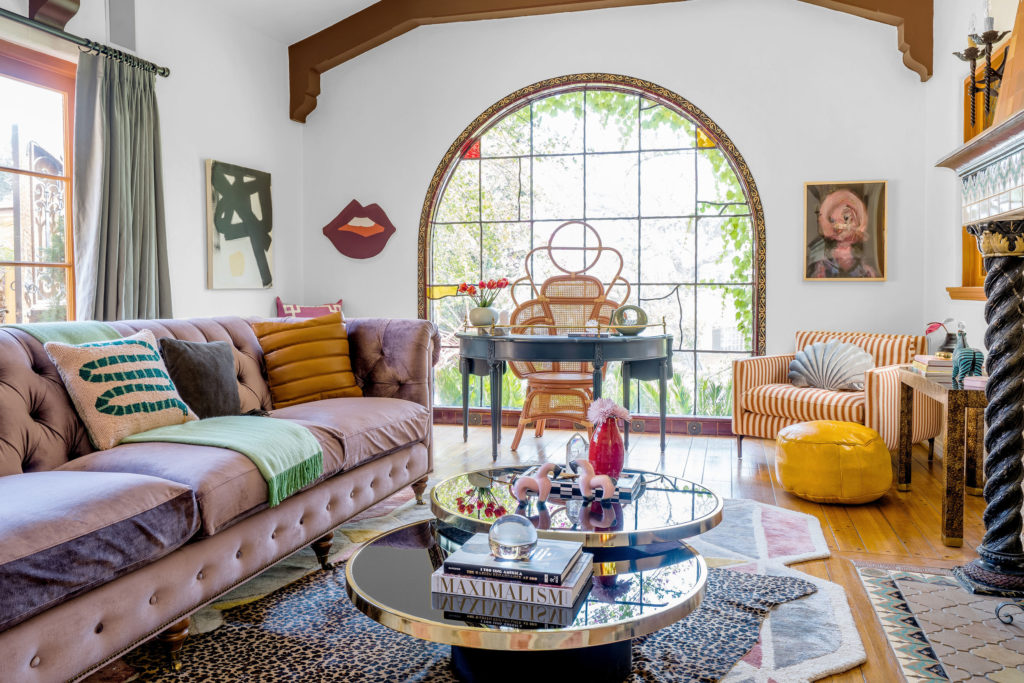 Mixing textures is more fun with big pieces like sofas, end tables, and ottomans. Check out this parlor styled by Black Lacquer Design featuring a variety of finishes, including velvet, wicker, wood, and metal!
In addition to showcasing how various textures and materials can play off each other, this space is a perfect example in maximalist layering. The blush velvet couch features pillows and throws in colors used throughout the space, both with the other furniture and the in the art pieces! We adore how the yellow of the accent chair and pouf is repeated with a pillow on the couch to create a cohesive look. Bonus points too for layering a velvet pillow on the chair the mirror the velvet of the couch!
It's all in the accents
One of the best parts of maximalism is being able to incorporate and display your favorite collector's pieces. Maximalism's emphasis on personalization and layering makes it a no-brainer to showcase your favorite and most meaningful curios. Add these pieces throughout your space on tables, mantles and shelving, like in Ariel's bar, or mounted directly on your walls. And don't be afraid to group your items together; display your favorite books and a tray full of trinkets together on your coffee table, where they can serve as décor and bring you joy each and every day!
Maximalism really started to take off last year and is only continuing to build momentum! So this year, don't settle for crisp white walls and muted color palettes! Breathe new life into your home by experimenting with bold patterns and unexpected color combinations and be sure to show off your space! Tag WallPops in your maximalism reveal for a chance to be featured on our Instagram page!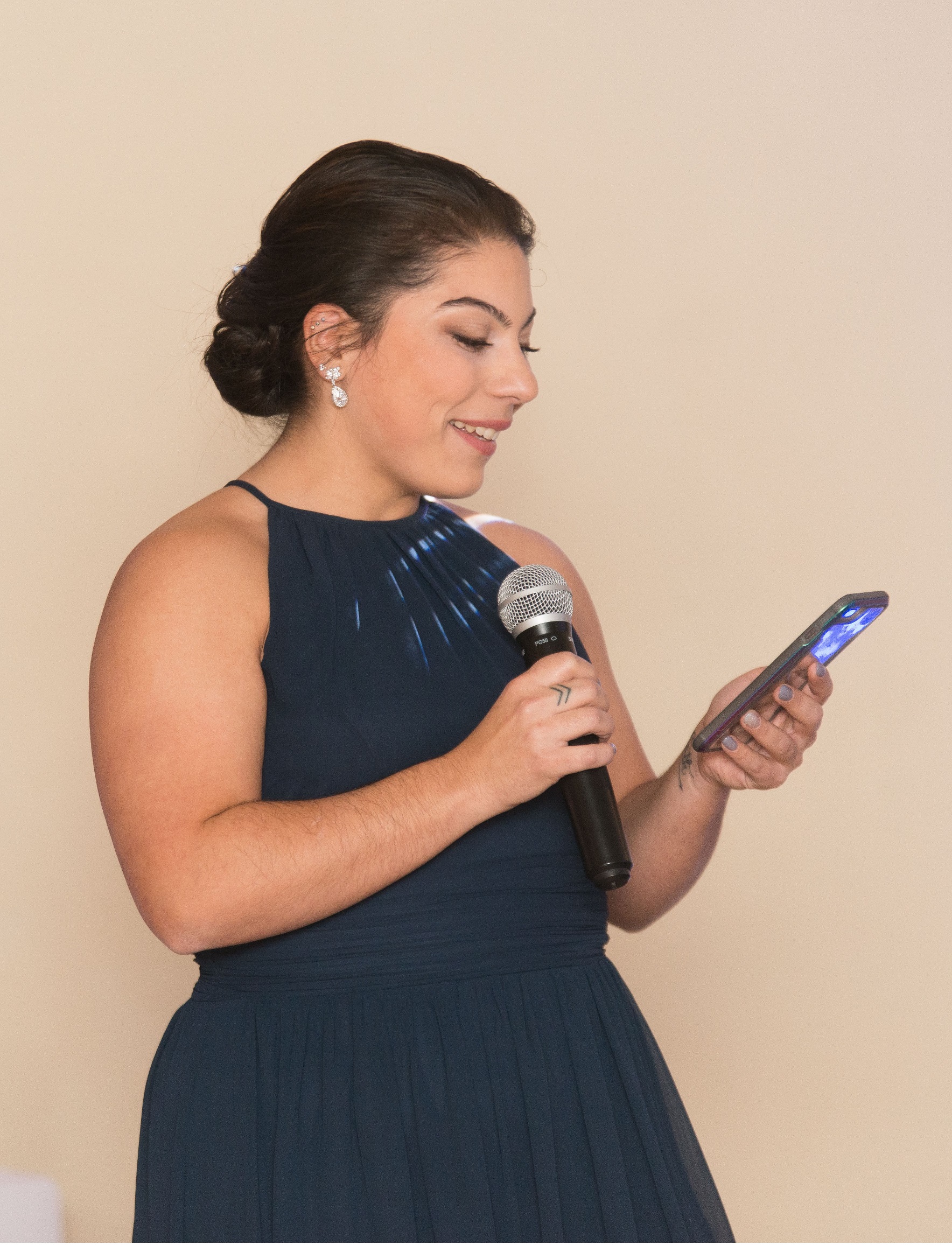 Andrea Greeson is the Digital Marketing Specialist for WallPops and Brewster Home Fashions. Having a passion for social media, creating blog content, and developing relationships with influencers, she balances being a competitive strength athlete after work hours and is a stylish fashion devotee 24/7. With an individual style embodying everything bohemian, you're sure to feel her eclectic energy through her work. Connect with her through the companies social channels or here on LinkedIn!