Are you on the hunt for a new wallpaper to enhance your space, but are having trouble finding a pattern that speaks to you? Do you choose a bold and bright wallpaper or a more simplistic and traditional one? Let the stars be your guide when it comes to capturing the look that you've always wanted! We've pinpointed which colors, designs, and textures align with your zodiac sign.
Aries
March 21-April 19
You have a fiery and passionate personality that deserves a bold color to match. Aries' are ruled by the planet Mars, and as "The Red Planet" we thought it was only appropriate that we select a wallpaper within this color family. Try something like this coral tree removable wallpaper – the combination of the bright background with a white nature inspired pattern represents the many layers of your personality. This design is truly dynamic, just like you!
Shop our Grove NuWallpaper here.
Taurus
April 20-May 20
As a Taurus, you make up one of the three earth signs. Aesthetics are extremely important to you and along with that you appreciate nature, beauty, and comfort. As such, we thought you would appreciate a forest inspired print with serene pastel hues. This removable wallpaper will meet all of your expectations as it provides style and brings a relaxed vibe to the home.
Shop our Groovy Garden NuWallpaper here.
Gemini
May 21-June 20
How fun is this vintage inspired peel and stick wallpaper? It is perfect for the Gemini that always loves to keep things fresh! A person as dynamic as you would only suite a wallpaper as funky as this botanical damask design. Your curious and upbeat nature is contagious and so is this print. A Gemini is both outgoing and optimistic which is why this unique design is an excellent match. This wallpaper is sure to uplift the energy in any space.
Shop our Summer Love NuWallpaper here.
Cancer
June 21-July 22
Tenacious and highly imaginative, a Cancer is one of the most emotionally driven zodiac signs. You are very giving and generous with those that you love, and this wallpaper will be the next addition. With elegant cranes soaring over a marbled background, this removable wallpaper embodies the daydreams Cancers are known to have. Its whimsical style is perfect for competing a creative nook. 
Shop our Halcyon NuWallpaper here.
Leo
July 23-August 22
The sun never sets on a Leo, especially with a wallpaper as stunning as this. Leos' are ruled by the sun, and like the sun, they exude a radiant and confident energy. You should choose a wallpaper that reflects your wild and flashy personality. You'll have your guests jealous over this gold accent leaf print. It's striking design would serve as the perfect accent wall, but knowing you you'll want to use this all over your house. 
Shop our Leo inspired NuWallpaper here.
Virgo
August 23-September 22
People born under the sign Virgo are practical and extremely loyal to those that they love and trust. As a Virgo, you appreciate organization and are also one of the most careful signs of the zodiac – but that doesn't mean you don't like a touch of glamour. With a timeless grey hue and tailored dot design, this peel and stick wallpaper embodies your refined style, Virgo. For someone as detail oriented as you, this wallpaper's modern yet sophisticated look is your perfect match.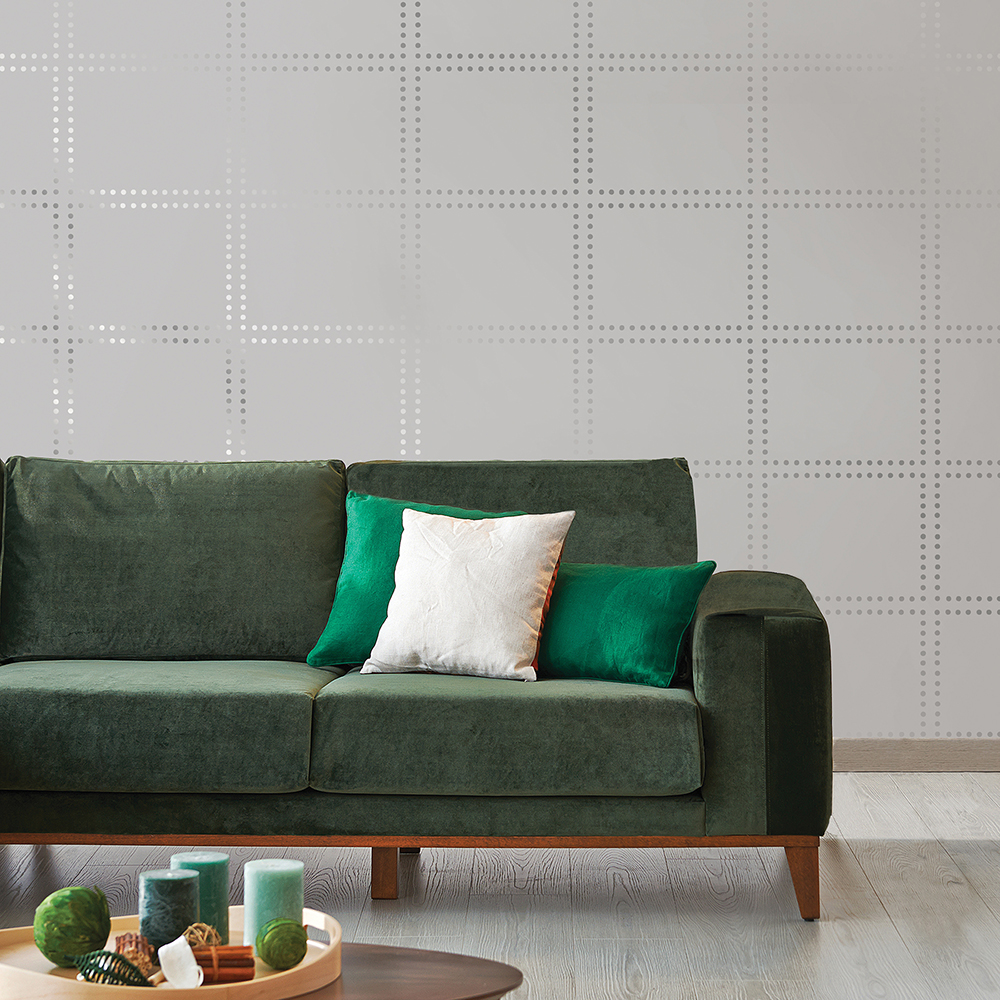 Source: WallPops
Shop the look here.
Libra
September 23-October 22
Peaceful and social are two words that describe Libras best. This zodiac sign is ruled by Venus, the planet of beauty, so "aesthetic" is the name of your game! Your sign thrives within harmonious environments, which is why this wallpaper is the perfect fit for you. The mix of blue and green blends to make a beautiful jade hue that will transform your space into a tranquil paradise.
Shop the peel and stick inspired version here.
Scorpio
October 23-November 21
Fiery and courageous, Scorpio's are born to be true friends and leaders. You wear your heart on your sleeve and are admired for your mysterious and cool personality. Because you are a water sign we selected this watercolor print wallpaper. The dark and light tones of teal cascade across the white backdrop and exude an artistic emotion. Being the social butterfly you are, this wallpaper will be a great choice for hosting spaces, like the living room and kitchen.
Can't get enough of this cool design? Get our Nirvana NuWallpaper here!
Sagittarius
November 22-December 21
A Sagittarius is free spirited, generous, and truthful in nature. You are as adventurous as they come and are never afraid to step out and try something new. Your optimistic personality is drawn to bright and bold colors. This pale orange wallpaper will add personality to any space and it screams you!
Shop our Sagittarius inspired peel and stick wallpaper here!
Capricorn
December 22-January 19
You are a grounded individual who knows how to get the job done. A Capricorn appreciates quality craftsmanship and is attracted to more classic and simple looks. Jazz up your work space with this jet black crocodile print wallpaper. This print adds a sophisticated and eclectic look and is sure to inspire you to be the boss that you truly are!
Love this bold black hue? Get the look with our Chalkboard NuWallpaper!
Aquarius
January 20-February 18
Progressive and independent, an Aquarius is an air sign that is highly intellectual. You can easily adapt to different situations because you are able to feel and process the energies of the people that surround you. This silver wallpaper represents the feel flowing thinker you are. A grey hue works as a backdrop to this intricate foil design. The sheen from the foil is the perfect complement to your bright personality.
Love this design? Shop our NuWallpaper print here!
Pisces
February 19-March 20
People born under the sign Pisces are compassionate and artistic in nature. You are admired for your friendly and caring personality. Although you are often surrounded by many people, you need to take time to be alone and recharge. Create a nurturing space with this tropical palm print wallpaper. These vivid green leaves make an room feel fresh and fun.
Want to recreate this boho look? Shop our palm print NuWallpaper here.