When you're all finished hanging your Peel and Stick wallpaper (and your room looks gorgeous), you'll most likely have some leftover material. Fortunately, there are so many projects to get those creative juices flowing while helping you make use of that extra wallpaper. We've compiled 11 of our favorite solutions for using up your wallpaper odds and ends, while transforming your home decor.
1. Give Your Lamp a Glow Up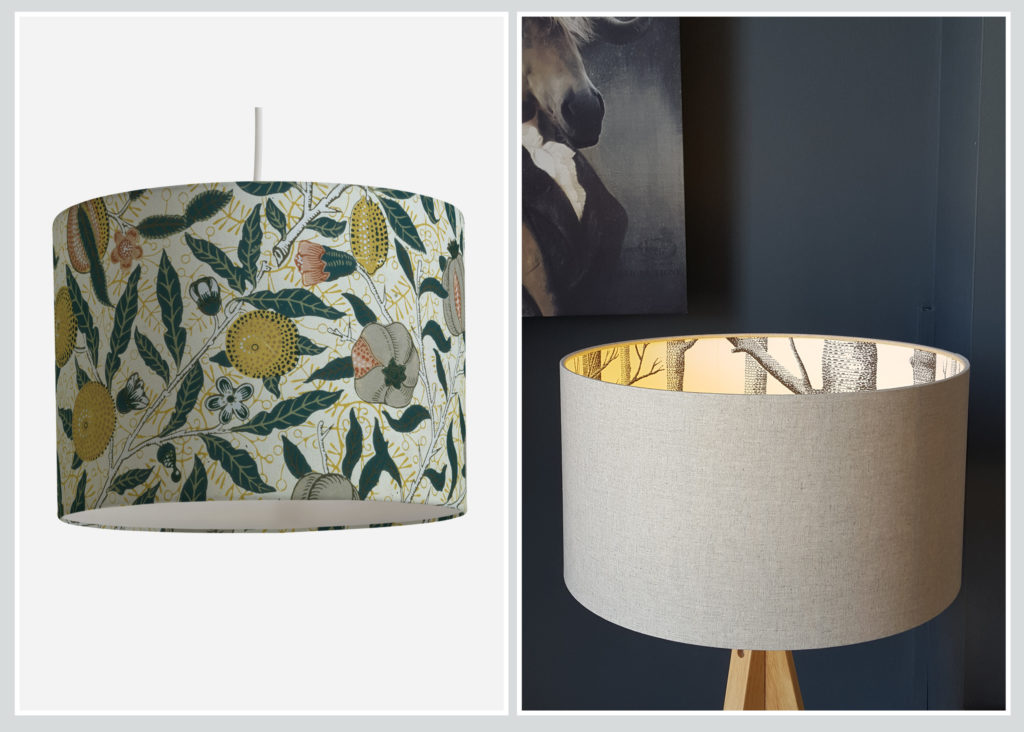 Use your leftover wallpaper to breathe new life into that damaged, boring or ugly lampshade. This project is perfect for floor lamps, table lamps, and even hanging pendant lamps. Go bold and line the outside of your shade, or line the inside for an understated look.
Your tastes might change and that's okay! Since peel and stick wallpaper can be removed in no time, swapping out your lamp's pattern is quick and easy.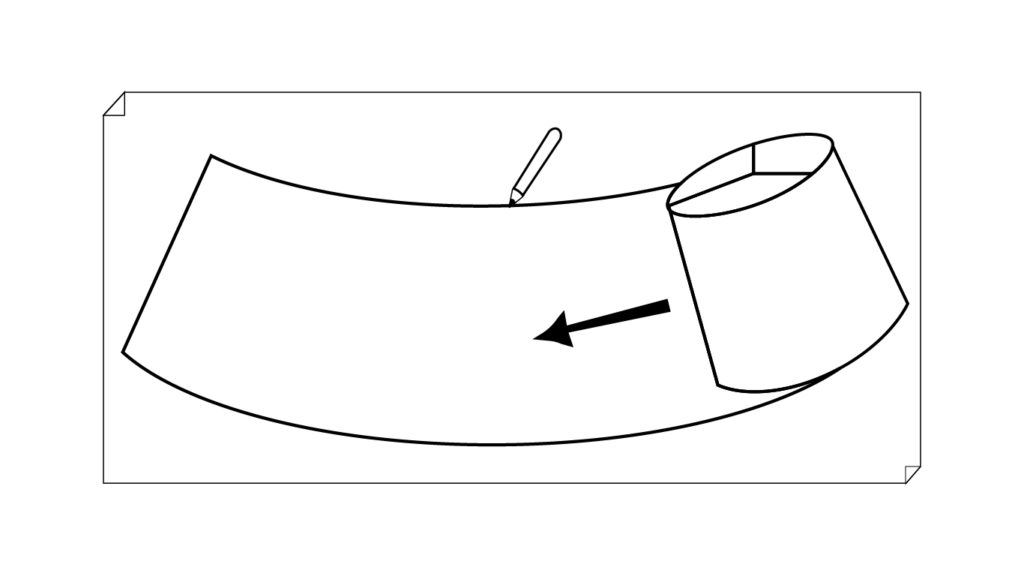 Preparing your wallpaper is simple for a drum-shaped lampshade. But what if your lampshade is tapered? Not to worry! You can trace the shape on the back of the wallpaper by rolling the lampshade 360 degrees, tracing with a pencil as you go.
2. Wardrobe Makeover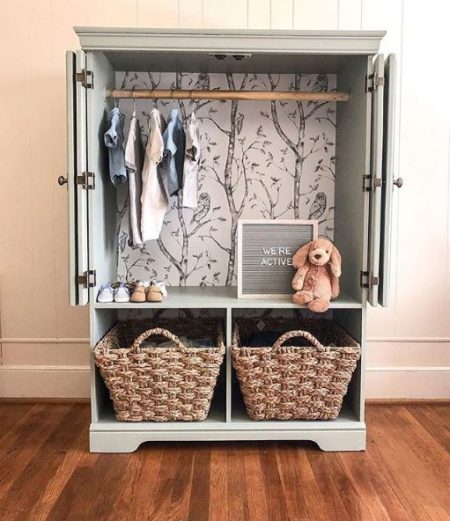 Add a delightful pop that's just for you and your kiddo by lining the back of their wardrobe with a Nursery NuWallpaper pattern. Want to know the best part? You can easily swap out the pattern so your little one's furniture can grow with them. Taylor used the Grey Woods pattern for her toddler's closet, and the results are enchanting!
3. The Drawer Thing
This is perhaps the most common use for leftover wallpaper, but for good reason! Peel and stick wallpaper acts in much the same way as ConTact paper or shelf liner, so why not beautify (and protect) your shelves with fabulous patterns that you already own?!
Rising Phoenix Refinishing transformed a dresser from ordinary to awesome by using a combination of Maui and Arrowhead Nuwallpaper patterns to line the drawers.
4. Think Outside the Box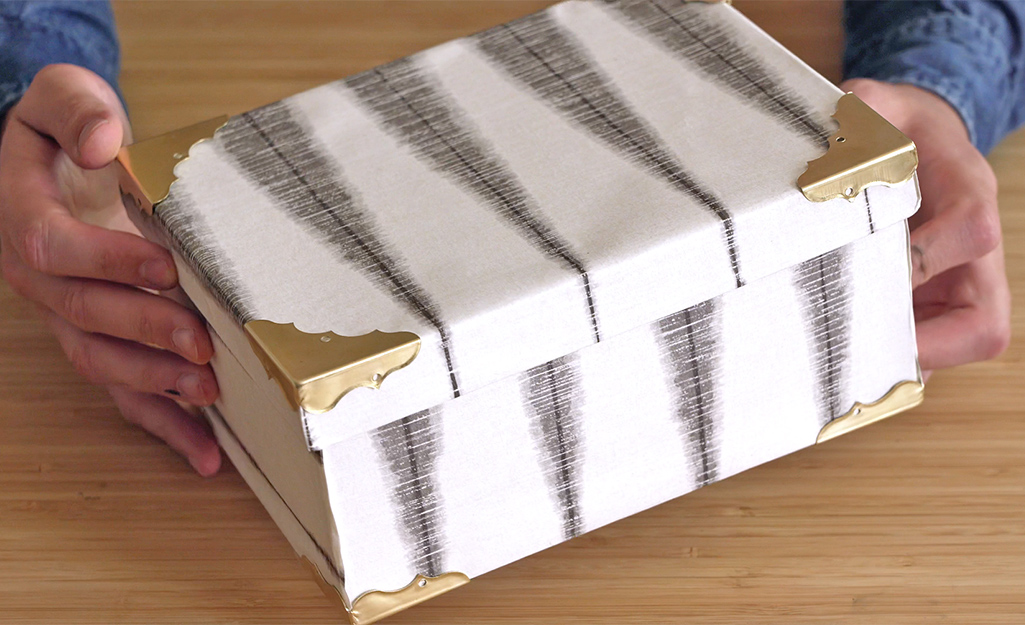 For many of us, online shopping has become a necessary part of our daily lives, which can sometimes lead to a overwhelming influx of cardboard boxes. Before recycling the extra sturdy ones, consider using peel and stick wallpaper to give them a second life. Upcycled boxes made of cardboard or wood (& even tin cans) make gorgeous storage containers for your closet, pantry, or shelf. Wallpapered shoe boxes also make beautiful gift boxes that can be reused again and again!
Check out this great tutorial by Kootut Murut
5. Customize Your Cabinets
Customizing your cabinet doors allows you to easily change your room's color palette, without having to buy new furniture. @kate_decorates gives her living room a sophisticated look by adding a pop of Aqua Poplin Texture wallpaper to her white console cabinets.
The possibilities are endless when it comes to refreshing your furniture with a pop of pattern. We love the French Country Farmhouse look that Pamela of Fern Hill Interiors achieves by upcycling an open shelf with her leftover Nomad Damask Nuwallpaper.
(That wreath is pretty spectacular too!)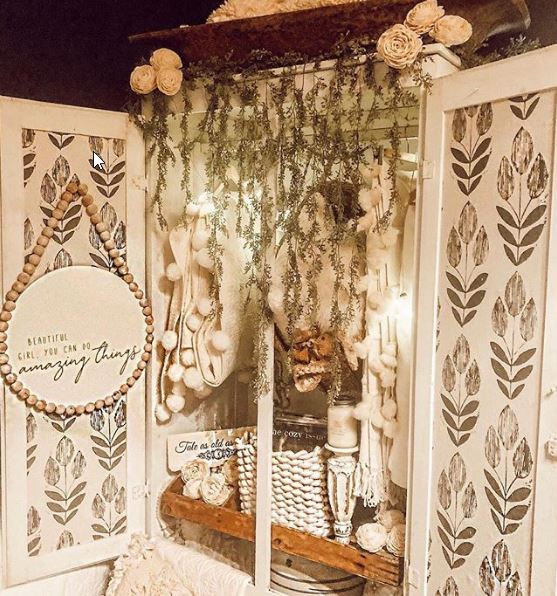 6. Step It Up
We've seen staircases transformed with Stair Stripe decals and leftover wallpaper scraps, but a wallpapered step stool?!
We are completely obsessed with the DIY step stool project made by This Little Street!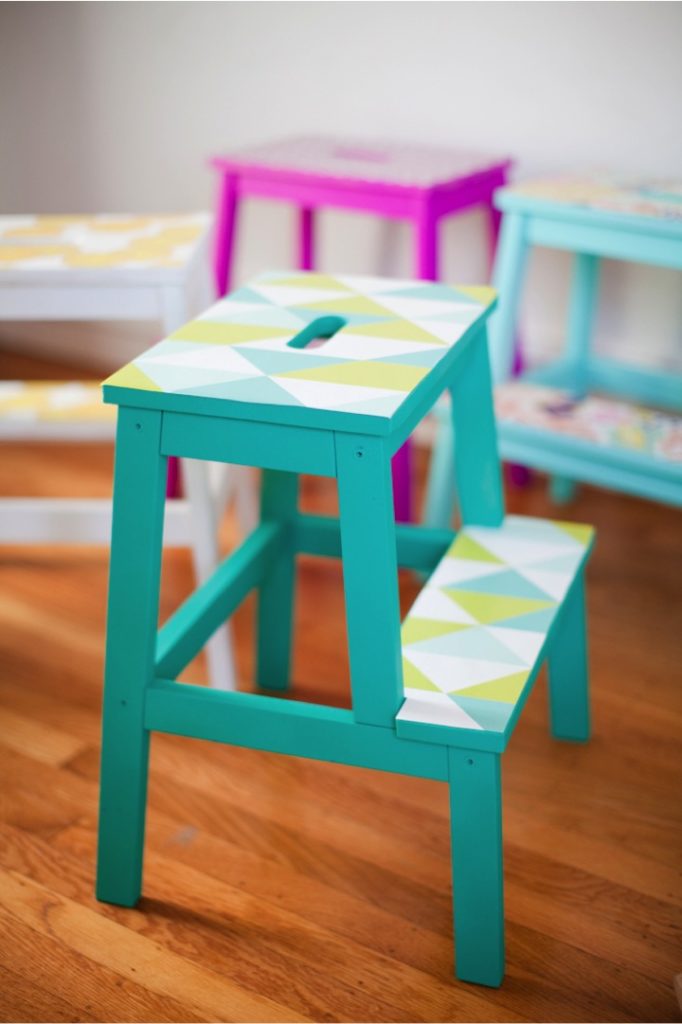 7. Doll Up Your Dollhouse
Bet you didn't think you could use your remaining wallpaper to decorate a whole other house. Well, why shouldn't your kid's dolls have fabulous walls too?!
Don't have a dollhouse but have tons of cardboard boxes laying around? Check out this genius DIY project as inspiration for creating your very own small-scale house to try out your boldest decor ideas!
8. Play Kitchen Makeover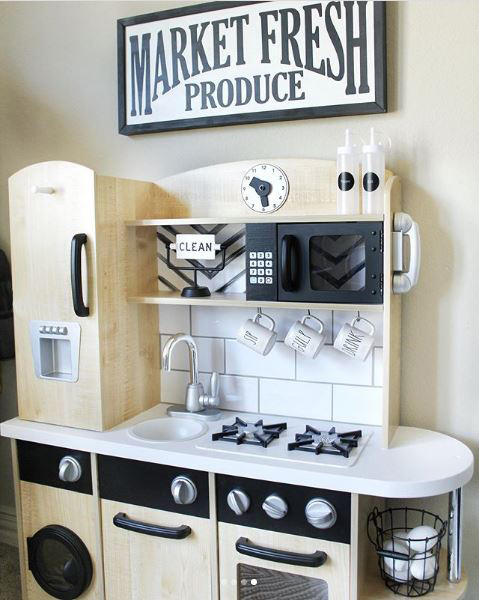 While you're redesigning play houses, take a page out of Susan's book and renovate your kid's play kitchen with your leftover peel and stick backsplash tiles. Her use of the Subway backsplash gives this play kitchen a modern farmhouse look that's so inviting.
9. Coaster Crafts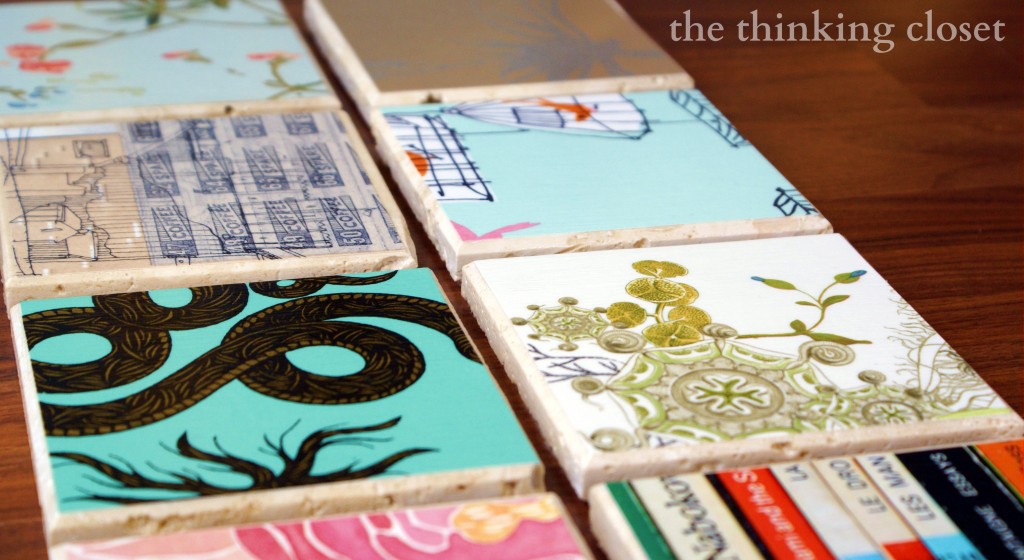 Dig out your leftover peel and stick wallpaper and extra tiles to create funky, handmade coasters! This project from The Thinking Closet is perfect for a rainy crafternoon.
If you have a plethora of leftover materials, you might as well make a few sets to save as holiday gifts. Your friends and family will love these coasters that look great and are totally functional!
10. Wall(paper) Art
At Wallpops, we love walls that are funky, fun, and full of expression. Which is why we love to see our wallpaper patterns upcycled into beautiful wall art! Tricia completely transformed her dining room by framing her leftover Black Secret Garden Nuwallpaper.
Who says you have to hang your art? Leaning multiple pieces of artwork on your floor, mantel or bookshelf give off a casual vibe and allows you to swap out depending on the season or your mood. By stacking her framed Folk Tulip pattern with a collection of vintage finds, Erin creates a rustic farmhouse vignette.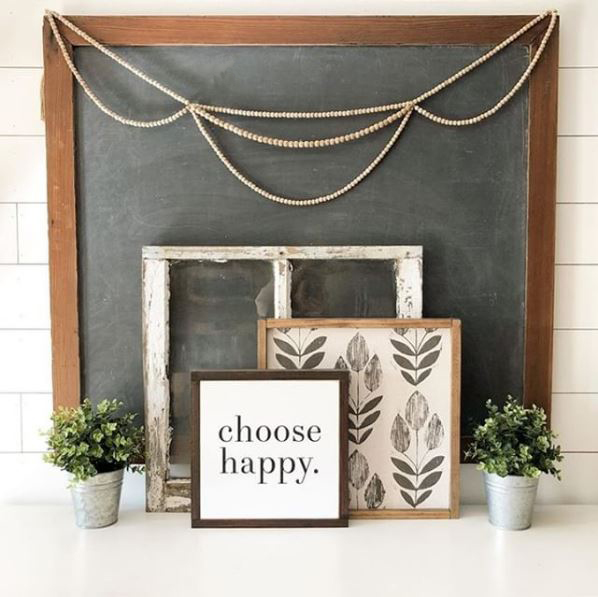 11. A Wedding to DIY for
When the joy (and stress) of planning weddings, engagement parties, and baby showers returns, your leftover wallpaper can help you create a festive and beautiful celebration that your guests will ooh and ahh over. The event specialists at Nacote Creek Designs used the elegant Kensington Damask Nuwallpaper print for party decor and to create the menu cards, and we think they did a fabulous job!
Show off your creations on Instagram and tag @wallpops. We want to see how you upcycle with your leftover Peel and Stick wallpaper!