The beloved all white interior design look is taking a back seat in 2021 and we're seeing a monochrome style emerge. Monochrome is anything but monotonous and enables you to approach decorating in a simple yet sleek way.
Monochrome interiors work best with a single base color, in this case, black. Then you select warmer and cooler shades of your color variant like white and grey to create a coordinated look. Here are five black and white peel and stick wallpapers to help you achieve this calming boost in your own home.
Pairing black and white wallpapers with gold, silver, or bronze accents is a no-brainer if you're looking to achieve a glamorous style. For example, Take Jamie's bathroom for example. Our Linear NuWallpaper is a bold statement in this space with its sleek geometric pattern. The gold mirrors and hardware work together to give this bathroom a luxe finish.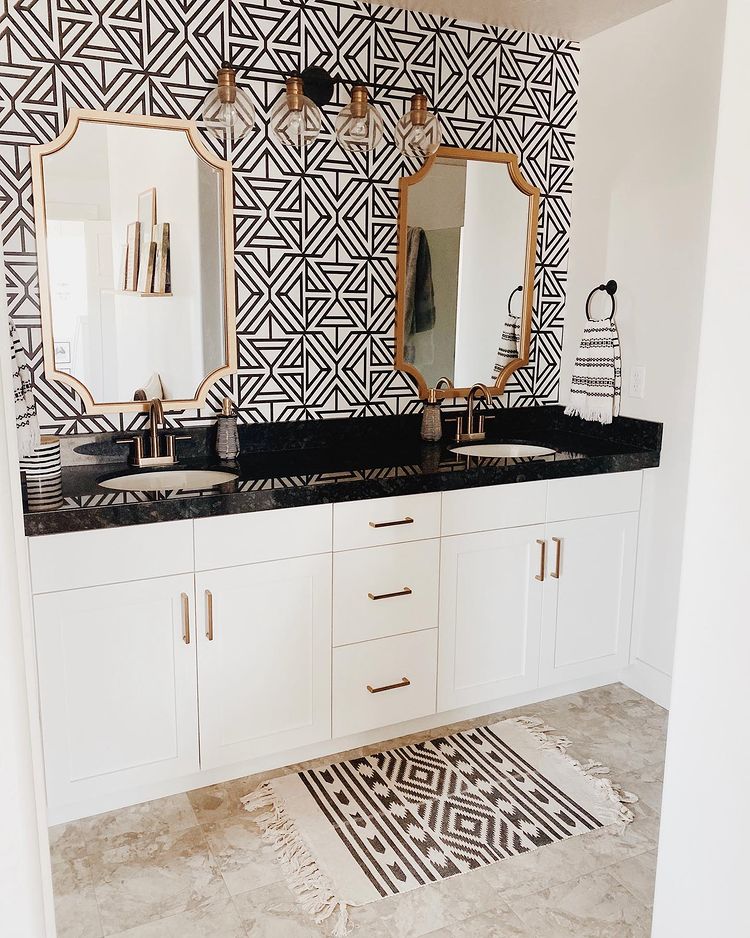 Not sure where to implement this style trend? Bathrooms are one of the easiest rooms to style a monochrome theme in as the contrasting colors lend this space a harmonious look. This balancing act works to give your bathroom at home a spa like feeling without a grand expense.
Stepping into this trend might seem a little daunting especially if you are thinking you need to paint black walls in your home to get the perfect look. Thankfully, WallPops has your back with our peel and stick solutions! Walking into a perfectly monochrome space should start at your front door, much like Shelly's does.
The Kylver NuWallpaper is an abstract design featuring bold black brushstrokes with a modern flare. This playful pattern is perfect for placements like an entryway, living room, or hallway to give your home that energetic, welcoming feel. She paired this monochrome pattern with natural materials like rattan, wood, and macramé for a grounding and organic look.
Proving the fact that black and white are the balancing act your décor needs.
Emit yourself into a more relaxed state during the one of the most stressful parts of your day, deciding what to wear. Closet makeovers have been trending over the last few months, and why we love Michelle's is for the spark of joy it gave her daughter! Michelle says: "Aria loves dressing up in her closet so much. Literally says good night to it every night."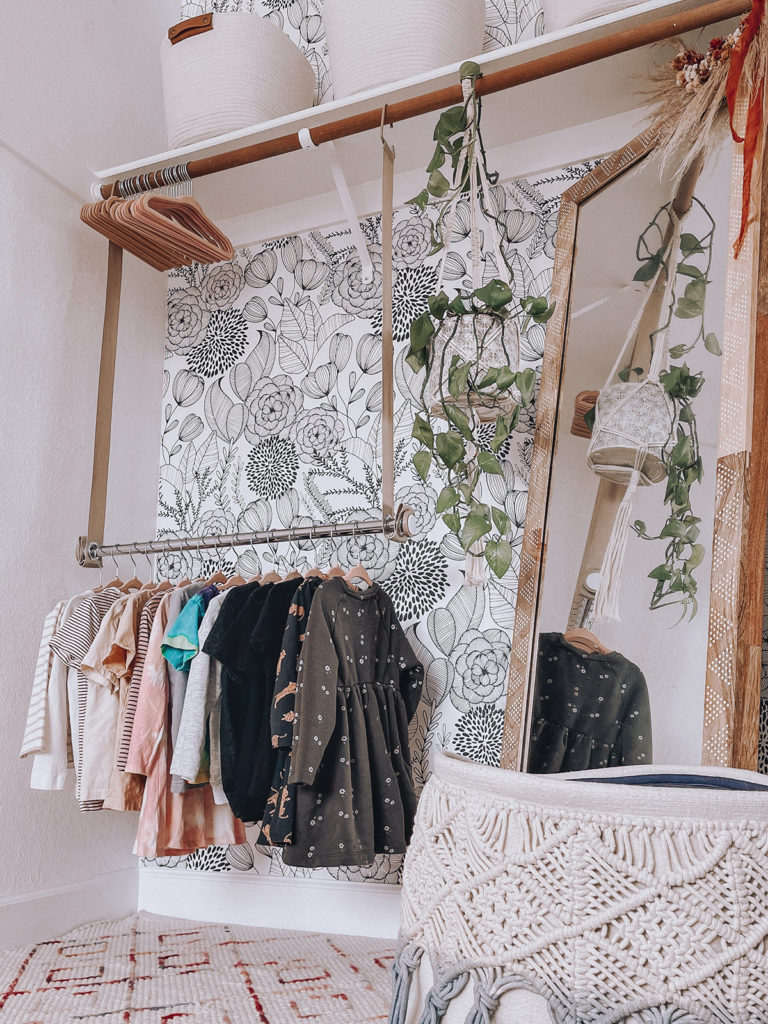 Black Secret Garden may seem like a busy pattern to some, but this bold floral design has a whimsical approach on inviting the beauty of nature into your décor. Its color palette obviously speaks to our monochrome style highlight, but Michelle's use of greenery speaks to the colors versatility of being able to work for our green living friends! You can easily break up the black, white, and grey hues with the use of some living house plants or even some fake greens too.
Another busy black and white floral wallpaper that would be perfect for achieving a monochrome style is Sudbury. As you can see in Becca's transformation, this bathroom was perfectly styled for a modern look thanks to the black and white wallpaper used.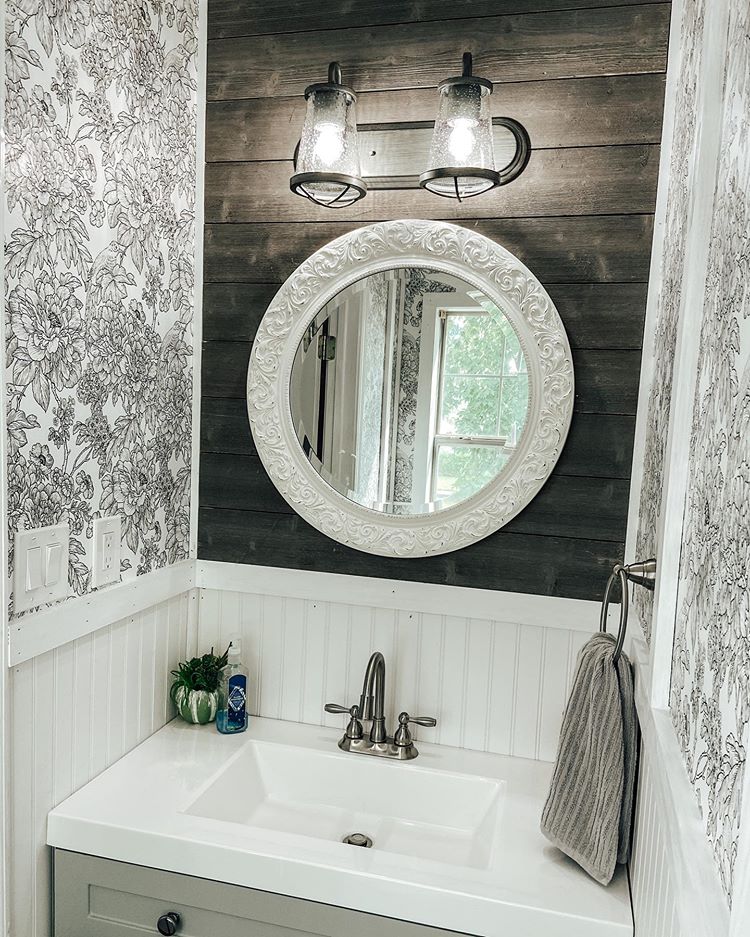 The contrasting textiles between the white mirror and rustic shiplap was an exquisite way to achieve harmony in this space.
Last, and certainly not least, we need to take a step into Amanda's laundry room. Everyone can agree that doing laundry is one of the most time consuming and irritating tasks of life. Which makes your laundry room the perfect place to use this contrasting color palette for that extra calming ambiance.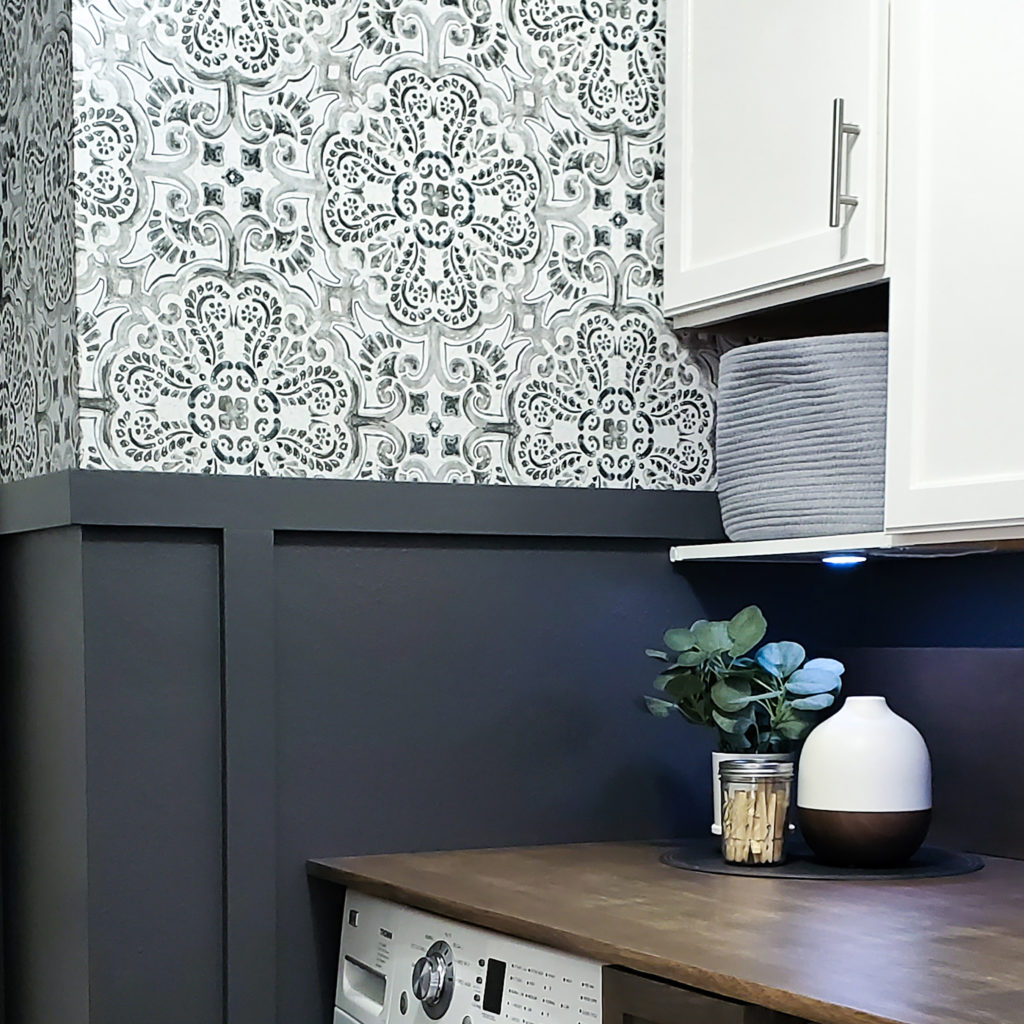 This close-up of her makeover shows great detail of the Florentine NuWallpaper and the bold color choice of the board and batten she decided on pairing it with. She used one of the darker shades of grey, Peppercorn, and what this photo cannot depict is the stunning metallic accents in this design.
If you're not looking to go as bold as Jamie did above in her bathroom refresh but still are aiming for a glamourous touch, the Black Florentine peel and stick wallpaper is our runner up. The floral medallion print has a painterly design and encompasses your entire monochrome palette.
Want more details about Amanda's full laundry makeover? Check it out here!
Are you feeling inspired yet? Ready to make this trend your own? Shop our black and white NuWallpaper now and get started! Don't forget to show off your space on Instagram with us for your chance to be featured.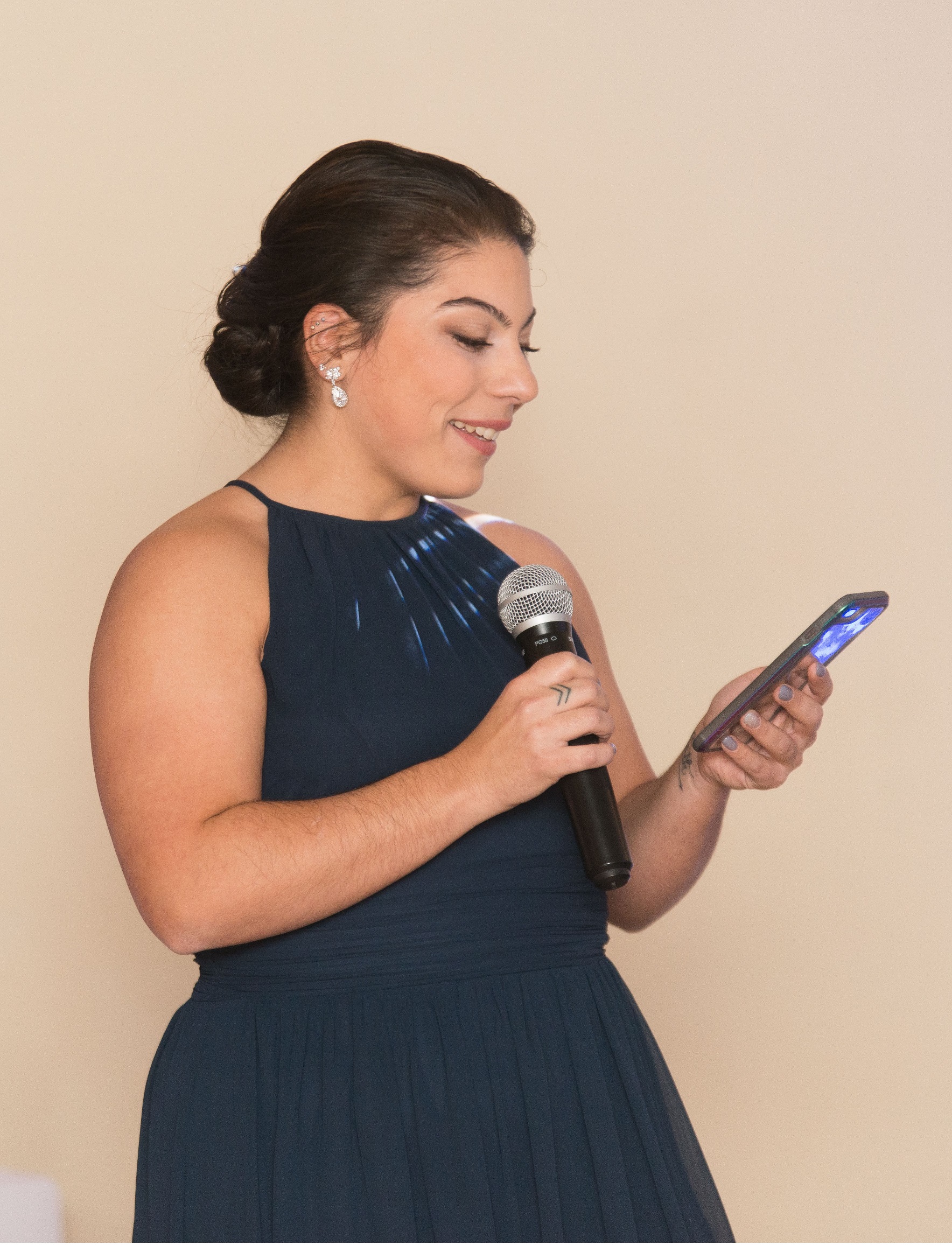 Andrea Greeson is the Digital Marketing Specialist for WallPops and Brewster Home Fashions. Having a passion for social media, creating blog content, and developing relationships with influencers, she balances being a competitive strength athlete after work hours and is a stylish fashion devotee 24/7. With an individual style embodying everything bohemian, you're sure to feel her eclectic energy through her work. Connect with her through the companies social channels or here on LinkedIn!