Over the last year, we can't deny that the pandemic and lockdown has changed how we see our homes. While they have easily become our place of refuge, we've also seen them transform to mold into a home office space, remote school, and more. The spring season is now upon us and it's time that we reclaim our comfort and sanctuary that was once our home! The following 7 tips will help you upgrade your space to bask yourself in a bit of luxury while also embracing that our homes are still doubling as offices.
Green Cabinets
Green is having its moment right now; it's an easy and fantastic way to bring a touch of nature into your décor. From mint green to emerald, this hue has a natural way of feeling fresh and organic. If you want to go bold in your décor, shades of green are a safe choice and gives depth to any room or project. Take Ashley's kitchen for example.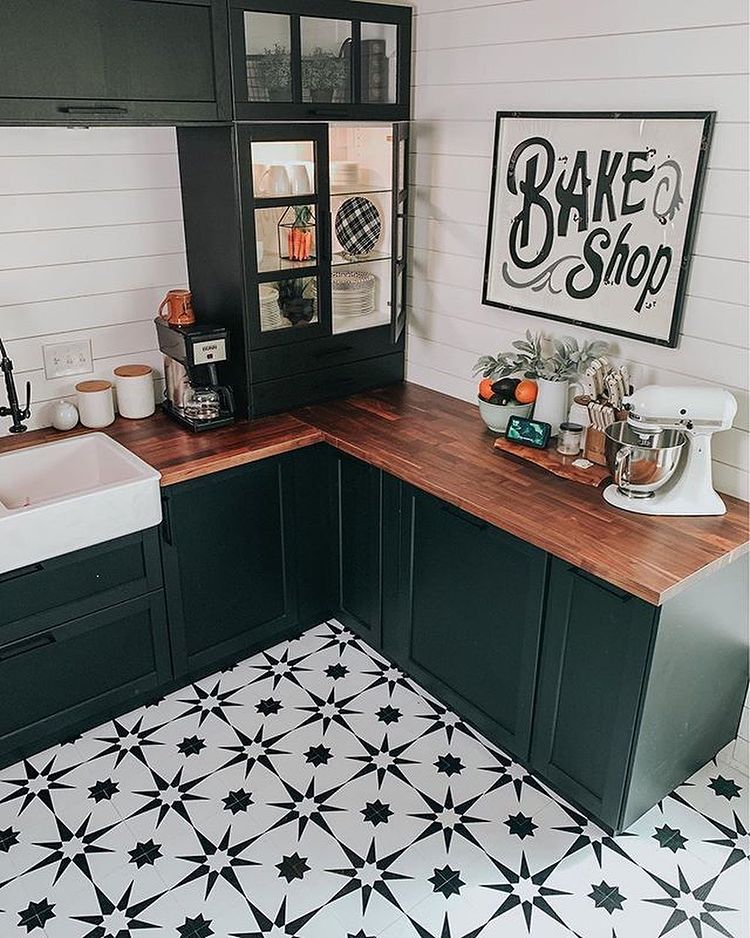 Shop the look: Altair FloorPops
Her dark emerald cabinets paired with the black and white Altair FloorPops gives the kitchen a bold and modern style.
Not ready to be as bold as Ashley with green? AnnMarie and Anne show you how to get it done with the color sage in their laundry room.
Shop the look: Gothic FloorPops
With a lighter shade of green being on the cabinets, it enabled them to go bold and that drama to the space on their floors instead.
This is an easy DIY that anyone can do and only involves a fresh coat of paint. Whether you decide to go with a cool or warm shade, this hue enables you to create a bold look in your kitchen, bathroom, and more.
Subway – So Long
The traditional backsplash that has been ever-so-popular for our farmhouse fanatics and modern decorators is now seeming to appear dated. This white and gray look has spent it's time in the limelight but now it's time for a unique and colorful backsplash to take center stage. This Spring you'll be seeing a lot of mosaic inspired designs that have a playful nature to them, and bold metallics.
Shop the look: Tuscan and Atlas Peel and Stick Backsplash Tiles
Grandmilennial x Cottagecore Style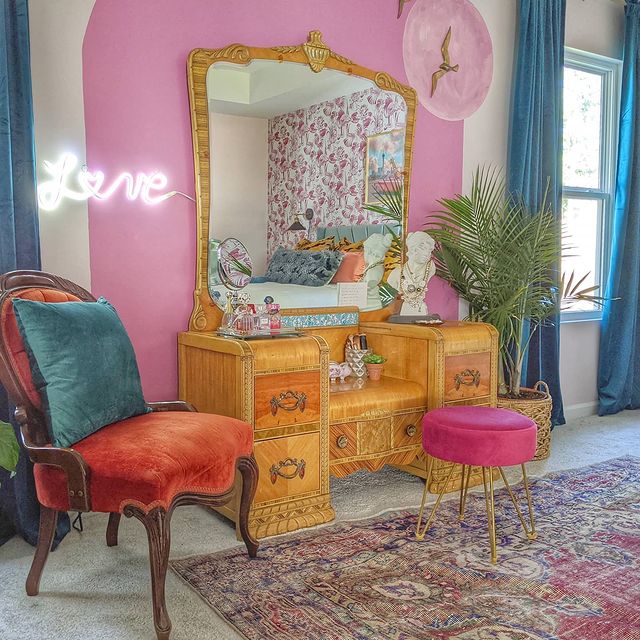 Speaking of farmhouse style… while there is still a great following for the modern farmhouse look, many would say they are ready to upgrade their home from the white aesthetic to something that is more sophisticated. This dynamic duo of the grandmillennial and cottagecore style is the definition of bringing a modern touch to a traditional and nostalgic look. We all need an additional dose of comfort from what was endured the past year, but we should also give our spaces a luxe look. How do we do that? Incorporate a sophisticated rustic look with the combination of these two styles. Our insider tip on how to achieve the perfect homey look: mix vintage accents with a whimsical flair.
Peel and Stick Wallpaper
Over lockdown, we saw thousands of DIYers hitting the ground on renovating their space with peel and stick wallpaper, floor tiles, and more. But there is a huge wallpaper resurgence happening right now! Our NuWallpaper line of self-adhesive wallpapers enables you to make a big impact in your home décor without the commitment! If you've already wallpapered your home office for the perfect zoom background, think of using some paper in nonconventional spaces like bookcases, closets, and more!
Shop the look: Sausalito Peel and Stick Wallpaper
Ground Yourself
The earthy color palette is in, and this is the primal way to make sure you're getting the most comfort out of your home. Color affects the way we feel and think, so keep that in mind while you're redecorating. Rusts, warm greens, deep reds, browns, burnt oranges, and even peacock blues are all colors you can expect to see more of. These natural hues all work well with darker colors too which can add depth to your space but even provide a more welcoming feel which we need for the new year.
Shabby Chic
Shop the look: Sudbury Peel and Stick Wallpaper
Playing off the two new styles this year, upcycling old vintage furniture is an essential DIY for those looking to stay within budget. fans. Bringing an unrefined sense of luxury to timeless pieces by mixing materials, restoring furniture is the perfect way to upgrade your home with things you already have!
Shop the look: Maui Peel and Stick Wallpaper
Try your hand at restoring an aged piece of furniture like Cathy and Ashley did, and add a mix of NuWallpaper in for that new charm.
Necessary Nooks
We're sure that you've seen the infamous egg chair all over Instagram lately, and it's not only because rattan is back, but because establishing your comfort space is a necessity! Since our homes are still being used as home offices and schools, having your own dedicated space in a corner or nook is essential for you to fully unwind. Optimize comfort and warmth in your space by incorporating mix textures to create the perfect relaxation oasis. Whether it's the boho egg chair, or a beautiful velvet accent chair, be ready to snuggle up in your newly acclaimed space.
Now that you have the inspirers scoop to what will be trending this spring, which tip will you try and implement into your home décor first? Be sure to let us know in the comments below, and as always, show off your space with us on Instagram!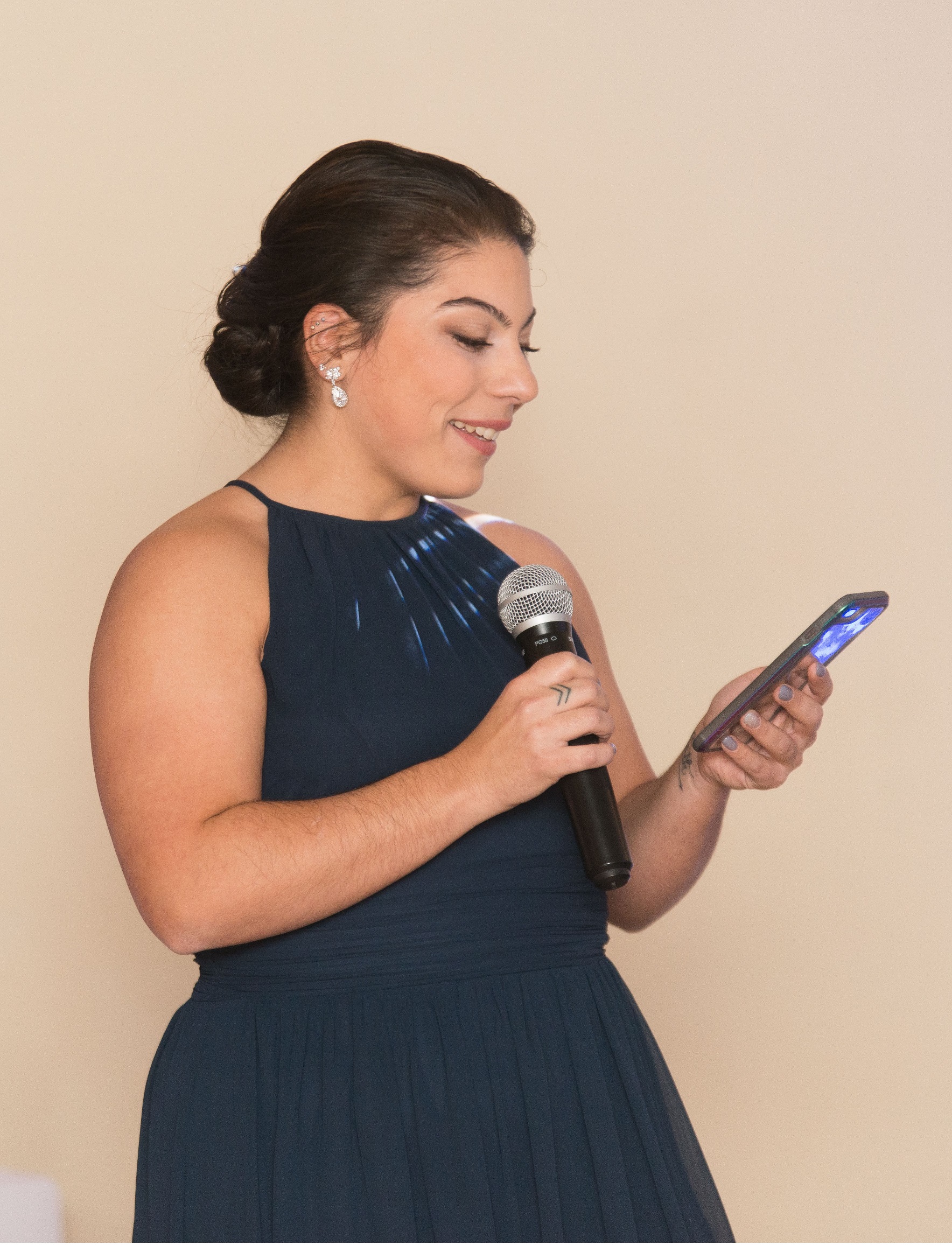 Andrea Greeson is the Digital Marketing Specialist for WallPops and Brewster Home Fashions. Having a passion for social media, creating blog content, and developing relationships with influencers, she balances being a competitive strength athlete after work hours and is a stylish fashion devotee 24/7. With an individual style embodying everything bohemian, you're sure to feel her eclectic energy through her work. Connect with her through the companies social channels or here on LinkedIn!