If you're like me and loathe doing laundry, or eye-roll at the sheer mention of doing this chore – I have a solution. While we can't be there to help you fold and iron your clothes, we can help guide you in styling this room to be an area of your home that you'll want to spend more time in. Yup, you read that right. Once you see our top three rooms below, you will be inspired to give your laundry room some TLC. If your home wasn't blessed with a huge space to decorate in between your appliances – we'll help you make the most of what space you do have, being your walls and floor!
Dreamy Backsplash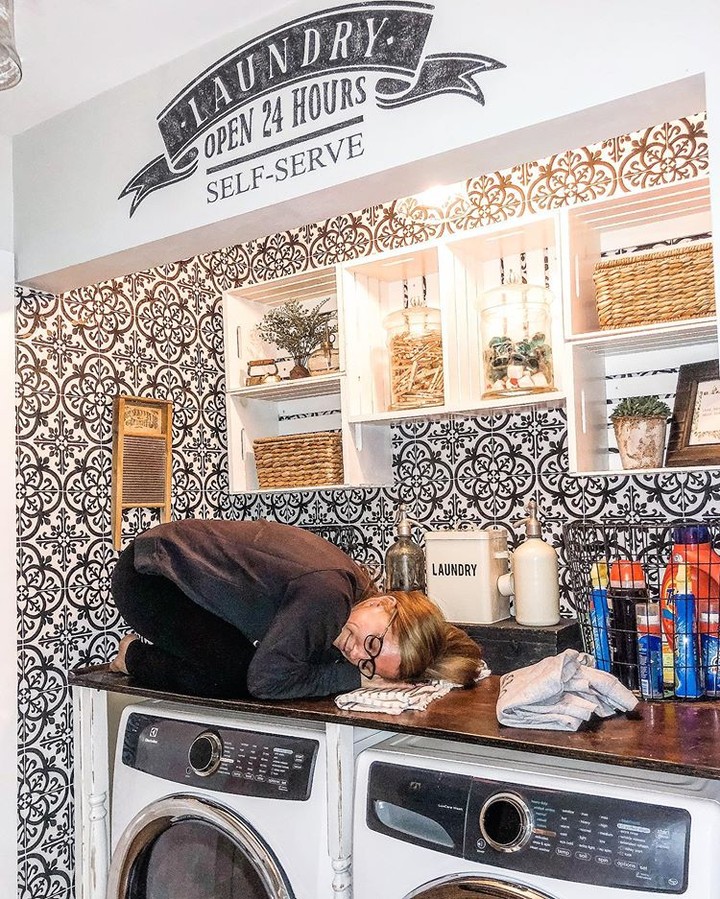 Jen's laundry room is first on our list. We are impressed with her idea of adding our peel and stick backsplash tiles to her space. To think this area was once a closet and is now a fully functioning laundry station had us swooning. If you're looking to make a big impact in a small space: the Avignon Peel and Stick Tiles are at the top of our list.
Black and white is a classic high contrast color combination that is perfect for creating a timeless look, while the gothic motif adds a stunning and bold statement to walls. Trust us (or Jen for that matter) when we say you'll sleep easy knowing this renovation is the most cost-effective and stylish way to transform your laundry room.
Tail-Wagging Transformation
Rosana's laundry room transformation is farmhouse dream come true. Not only did she upgrade her appliances, she installed the Folk Tulip peel and stick wallpaper in her space and instantly added depth to her room. While you don't necessarily need to purchase new machinery for your laundry room, you could easily makeover the look of appliances with NuWallpaper instead. The versatile substrate is perfectly safe for transforming the look of washers, dryers, refrigerators and more. If a surface is smooth, flat, dry and clean, and is not a non-stick surface, NuWallpaper should adhere.

The Folk Tulip NuWallpaper adds a Scandinavian flair to Rosana's laundry room and emits a comforting feel with its beige linen inspired backdrop. The black tulip block print adds a lovely modern touch to its overall look. If your home embodies a farmhouse décor style, this peel and stick wallpaper is an essential. Not into the farmhouse look? Any floral NuWallpaper will transform your laundry room to be a refreshing and modern space.
Pink Delight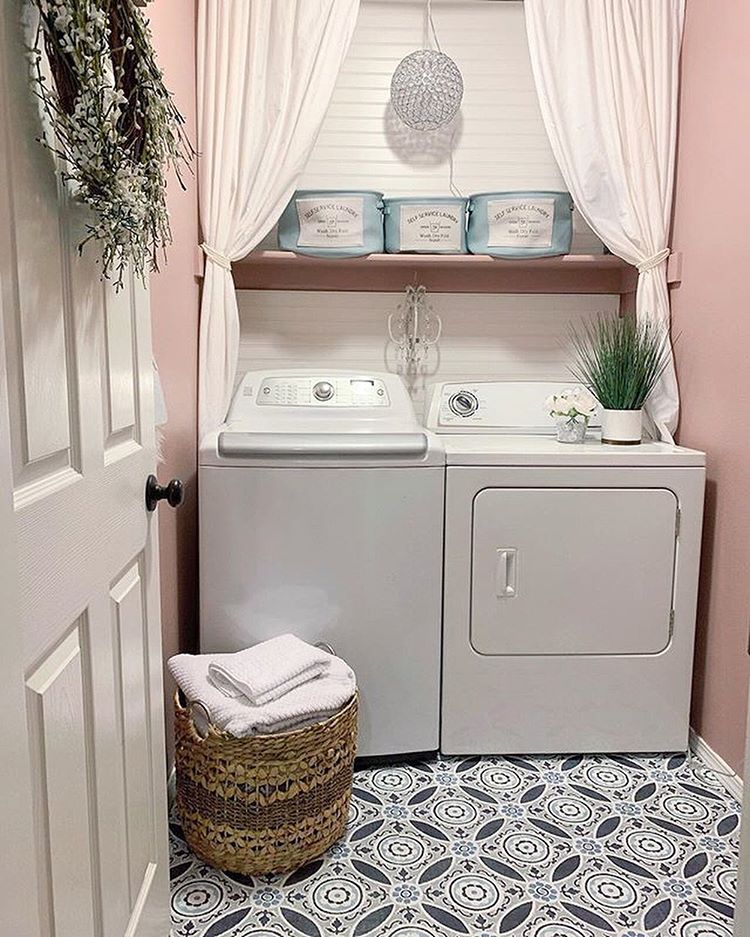 Looking for a way to revitalize the overall look of your laundry room? Look down. That's right, floors can use a face-lift too! A little bit of pattern on the floor never hurt anyone, and it enables you to focus on adding more storage space to your vertical space. Most commonly used in laundry rooms, FloorPops are your fastest and most stylish way to a new floor. Being water resistant and washable, our assortment of peel and stick vinyl tiles will fit a variety of décor styles.

The Sienna FloorPops are perfect for adding a modern boho flair to floors. With its grey, blue, navy, and white Suzani pattern, this cool color palette goes with a variety of paint colors. Kelli's laundry room encompasses a lovely shade of blush on her walls coupled with the Sienna tiles, completing this tres chic space! To save space on your floors for laundry baskets, or ironing boards – we suggest adding shelving, like Kelli has above your appliances, to store your detergent, softener, and other laundry essentials. Don't forget – fill in grout lines if installing over ceramic tiles! For laundry rooms in the basement, treat concrete subfloors with a latex primer for optimal adhesion.
These three upgrades prove you don't need a major renovation to achieve a stunning laundry room. All you need is about an hour, some peel and stick WallPops products, and that's it! No special tools, grout, or mess will be necessary. Our products are easy to use and perfect for the first time DIYer. While you may be stuck at home, create a space where you can escape to for a little bit and enjoy your beautiful decor.
Transform the blandest of laundry rooms into a room of your dreams, and be sure to tag us on Instagram for your chance to be featured in our next round up. Updating a laundry room has never been easier thanks to WallPops – so get started today!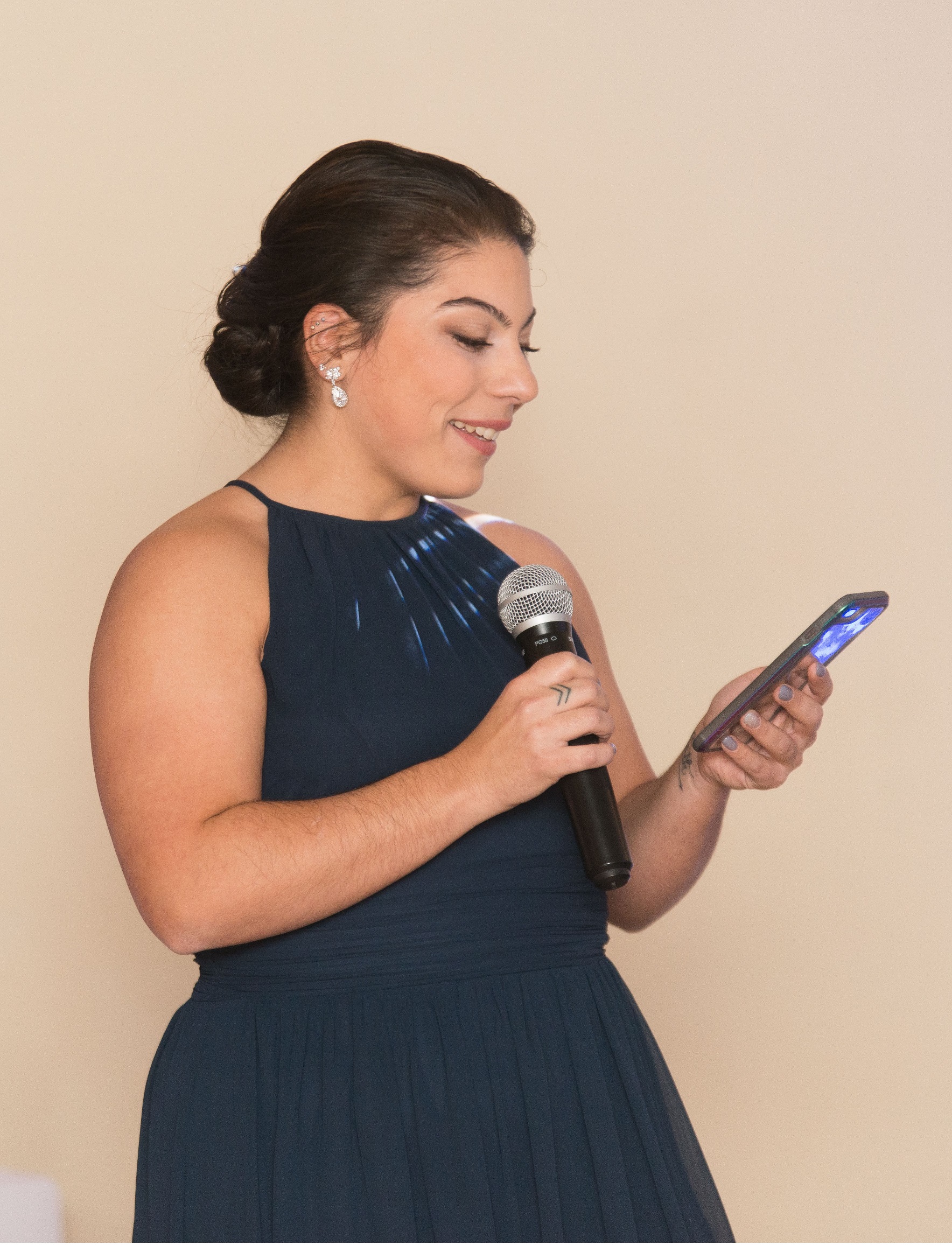 Andrea Greeson is the Digital Marketing Specialist for WallPops and Brewster Home Fashions. Having a passion for social media, creating blog content, and developing relationships with influencers, she balances being a competitive strength athlete after work hours and is a stylish fashion devotee 24/7. With an individual style embodying everything bohemian, you're sure to feel her eclectic energy through her work. Connect with her through the companies social channels or here on LinkedIn!