While you may not be able to dress for success to head into the office – you can still wow your coworkers during virtual meetings. Transform your backdrop to emulate a space that speaks to your personality! WallPops presents our top NuWallpapers for your office personality to shine during video conferences. Dress your walls for success and show off your style with the hand selected papers below.
For the Bohemian Creative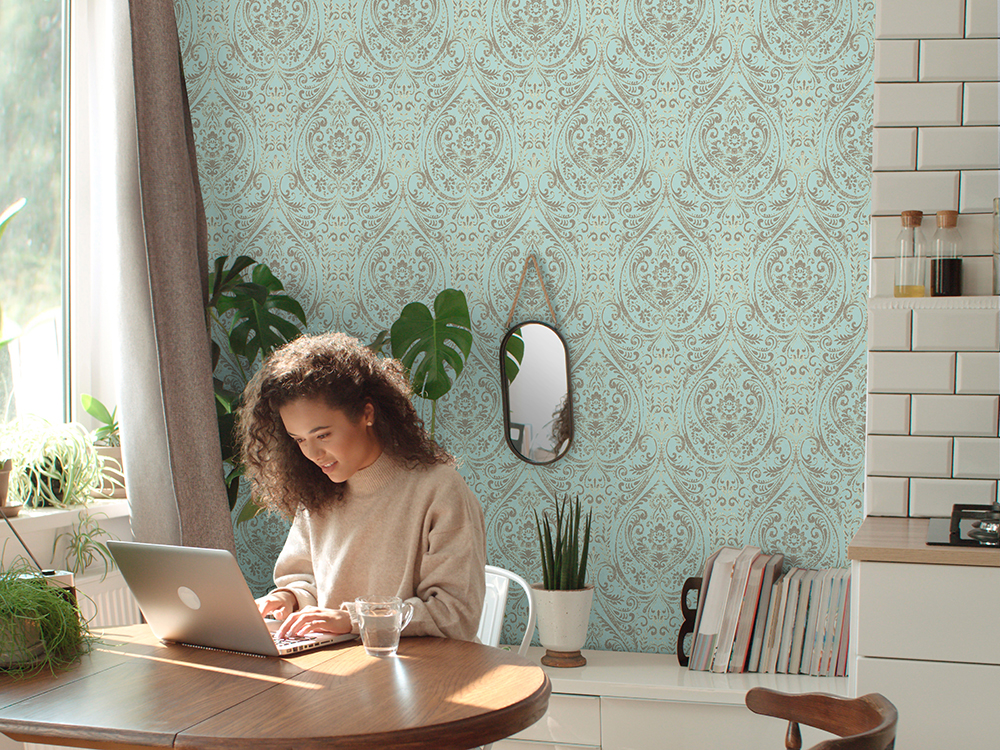 The bohemian personality is one that is spiritual and highly intrigued by artistic and non-traditional designs, which is why our selection satisfies their distinct taste. Thinking outside the box and being unique are two characteristics of this colorful personality. Not one for modern trends, the creative eye of the boho individual seek patterns that are a representation of their free spirit. Their décor choices favor unique, and hand crafted pieces.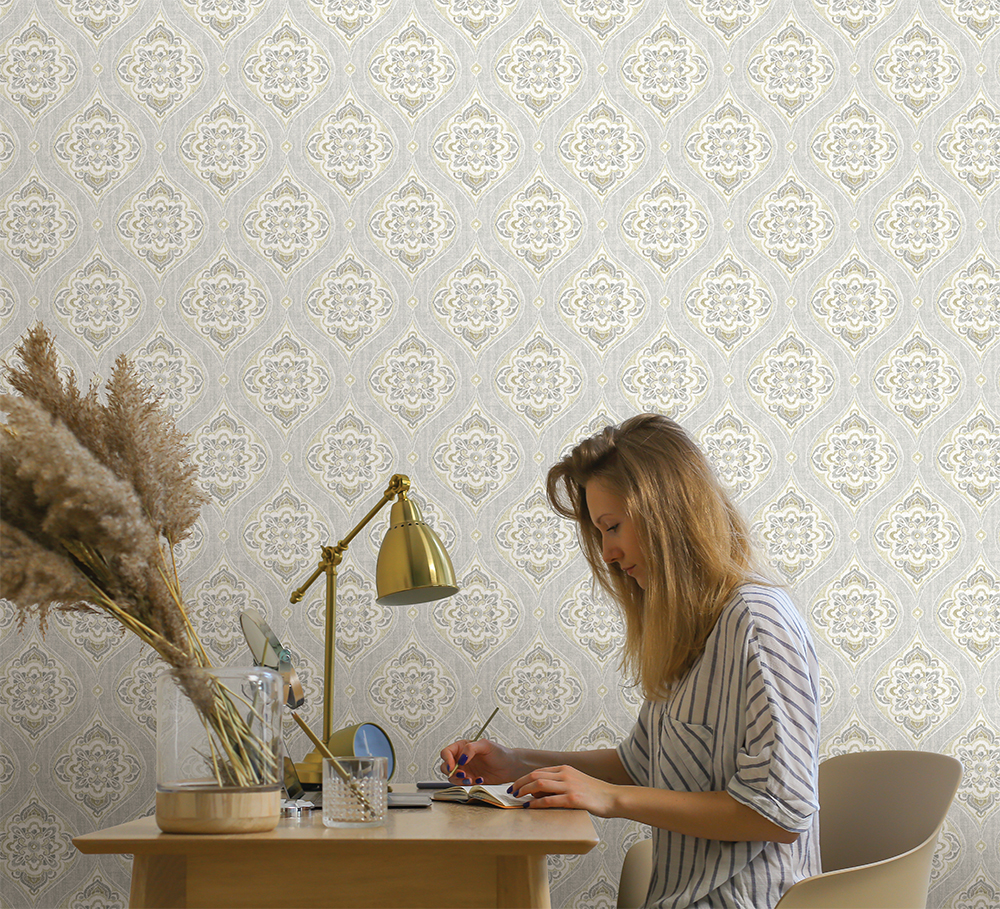 Perfect for the easy-going and fashion forward soul, this selection of NuWallpaper patterns will make a chic feature backdrop in your home. The Terrain design is a Scandinavian inspired print that embodies natures simple elegance in a neutral and versatile hue. The neutral color palette between Terrain and Alida showcases the charming and original hand drawn aesthetic of the paper. Whereas Aya and the Indigo Damask design would incorporate a pop of color to complement your fresh, vibrant energy.
For the Industrial New Yorker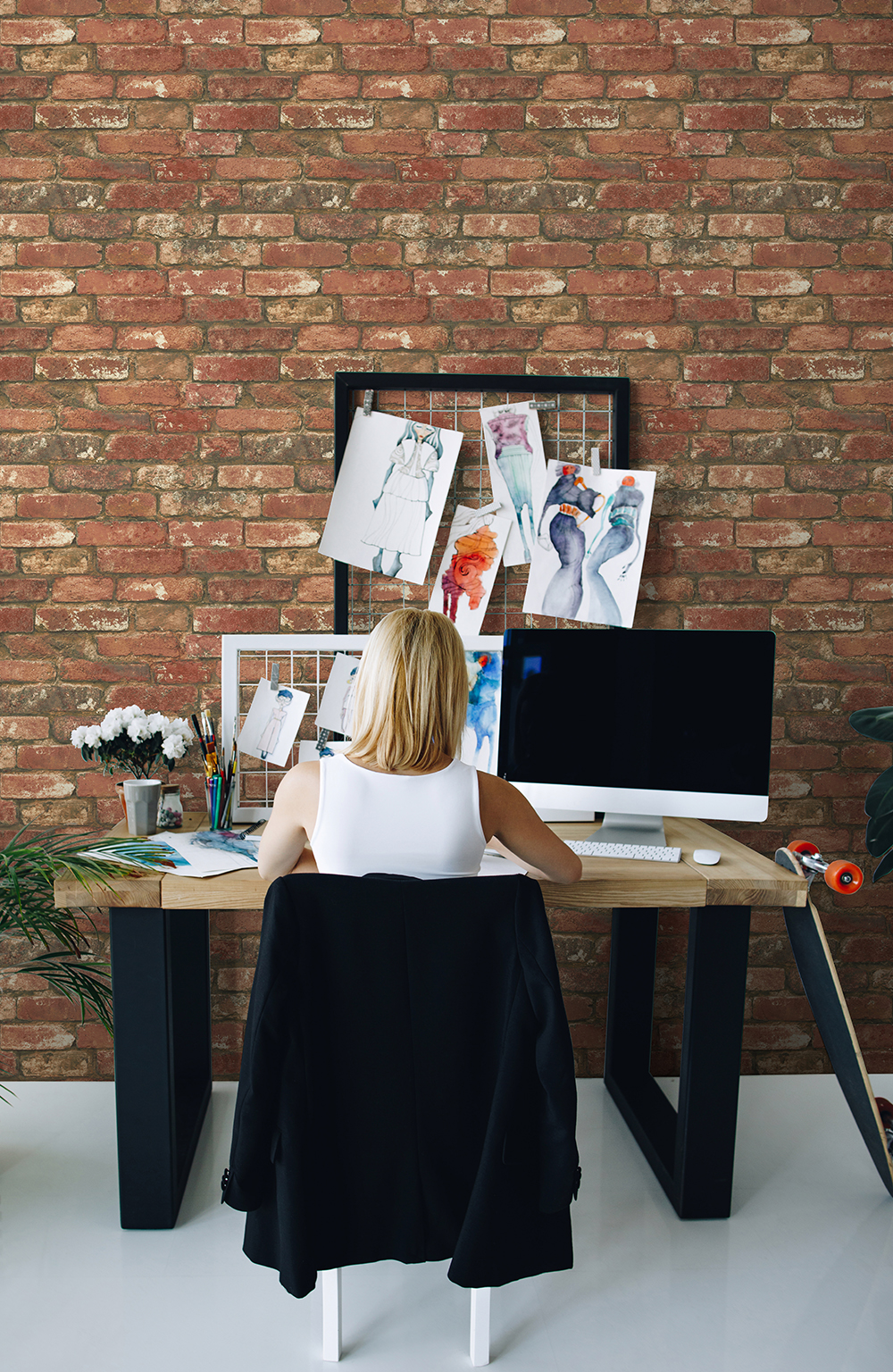 If you're one to be swept off your feet by large scale buildings, the on-the-go hustle of a city atmosphere, and the socialite of your friends– there's a pretty good chance you harbor the industrial new Yorker personality. Being on the go as you are, you are surrounded by stunning architecture, busy streets, and find comfort in industrial features that remind you of the city life. Embodying the street style is second nature to you, and you're a Rockstar when it comes to multitasking. But, by the time you get home, you want to decompress and maximize the look of your space.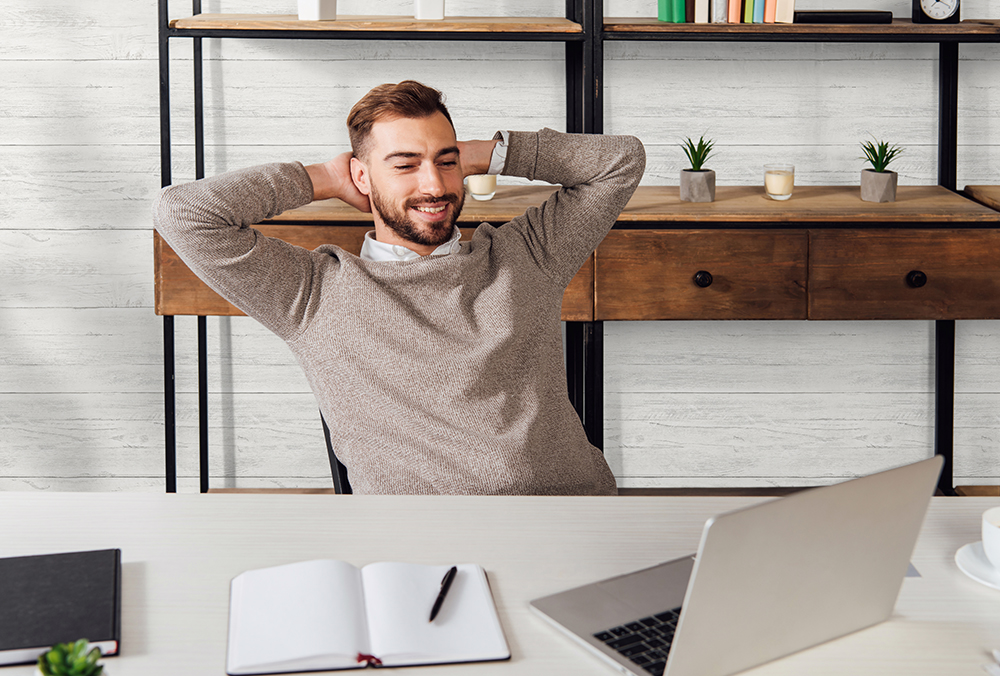 Looking to achieve the look of a trendy loft? NuWallpaper has a selection for you! A handful of our brick, wood, and stone collection features raised inks that emphasize the realistic look of a faux exposed brick wall – with a textural effect, too. Choose from white and grey for a crisp backdrop style or the classic shade of red for an extra distressed look. Industrial chic isn't your style? Achieve a modern farmhouse look with our shiplap – don't worry, there's no nails required. Just simply peel and stick the Shiplap NuWallpaper for an instant rustic backdrop.
For the Glamorous Innovator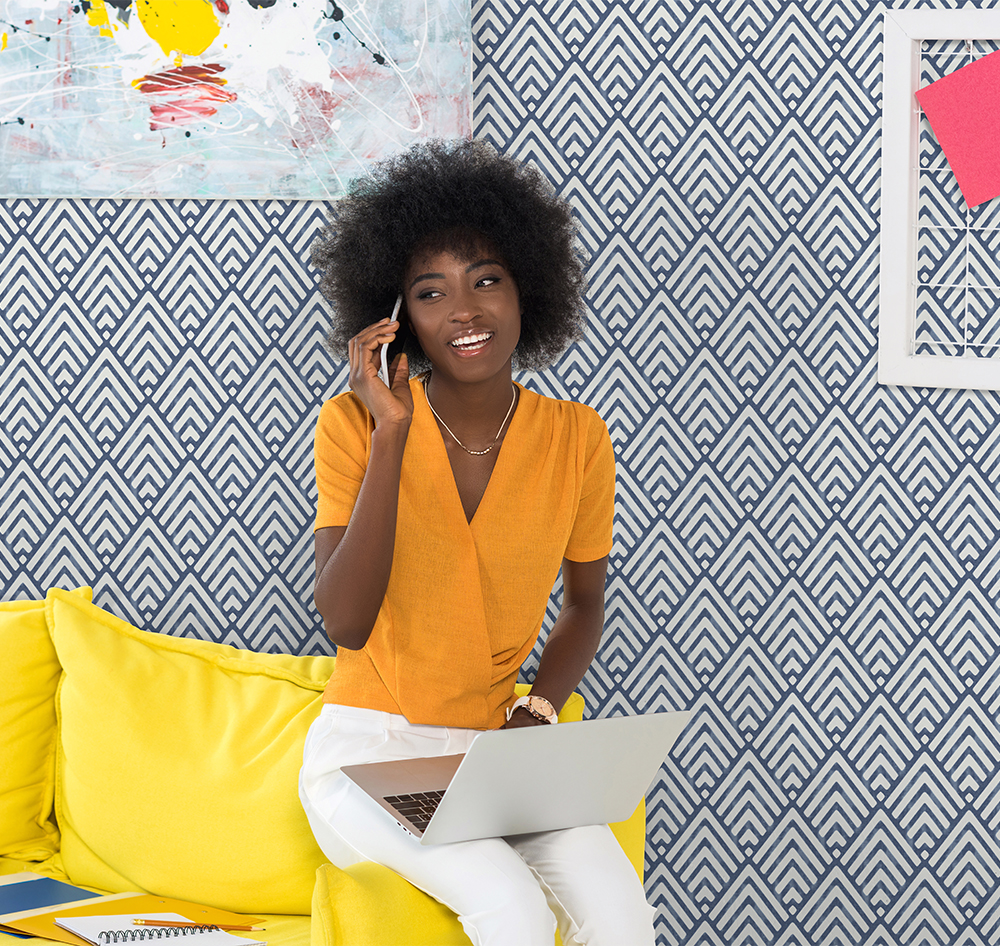 Alluring and charismatic, the glam innovator lives a very classy life and embodies elegance in their clothes, attitude, and home décor. They love to make an entrance and feel confident with their bold statement pieces. Glamour wouldn't exist without shiny objects, shimmering details, or bold textures which is why intense color or dramatic black and white patterns hold their interest. Indulging their aesthetic with fanciful designs or sleek lines is common when they're decorating their spaces.
Sophisticated and modern, decorating with metallics showcases a luxe look and gives your walls a spectacular visual appeal! The Arrowhead NuWallpaper features chic diamonds, and the Tailored design features a modern dot print with metallic accents. Completing your space with one of these chic geometric designs will leave your co-workers in virtual awe.
For the Traditionalist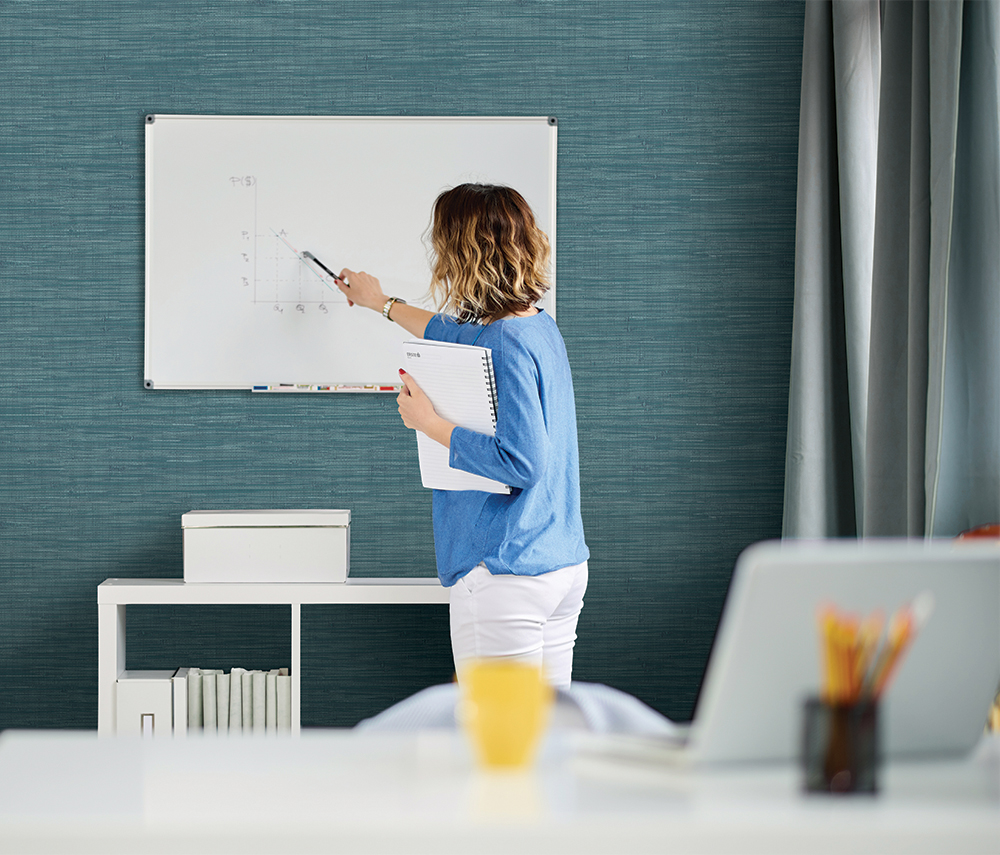 Typically seen as the introvert or you may even be the "mom" of the friend group (hey – we all need one!), your taste in home décor is functionable and simple. There are no daring patterns, you find peace with minimalism and hold a lot of value in having a clean space. You prefer your home décor accents have a purpose, and typically dislike clutter. Crisp and timeless looks are what you're after.
Our textured NuWallpapers are just for you if you prefer the classics. Or, if you want to hone in on the more practical and functionable aspects of your job and incorporate that into your wall décor – choose a chalk or white board option to facilitate brainstorming during your virtual pow-wow.
Achieve a classic look in your space with one of our textured designs. The Poplin NuWallpaper is available in a Navy, Aqua, and Grey colorways, each featuring raised ink details that lend to timeless and polished looks.
Offices are full of people who come from unique backgrounds and harbor all different types of personalities. Not sure what your office personality is? Take our quiz to find out!
Don't forget to share your results, and your home office space with us on Instagram!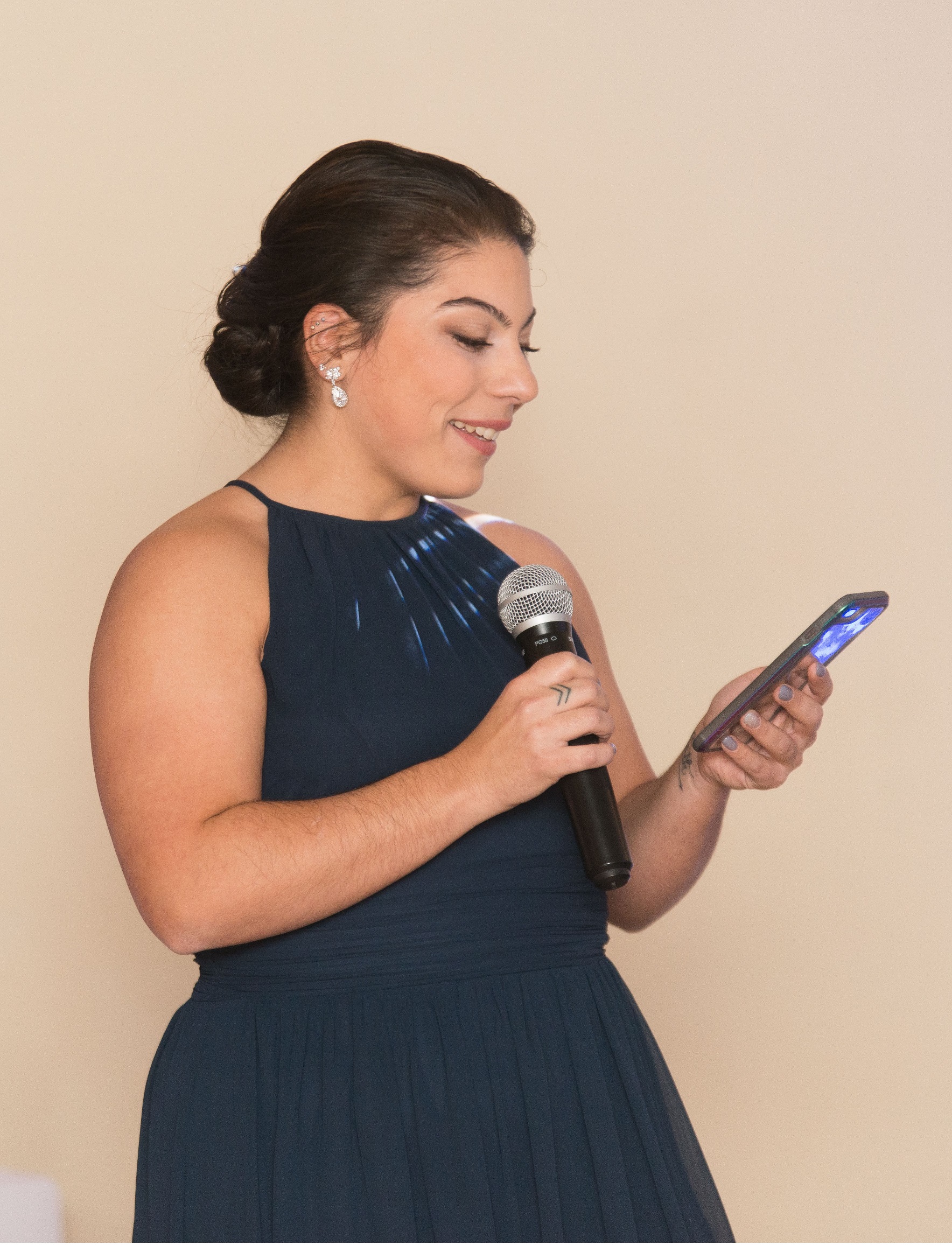 Andrea Greeson is the Digital Marketing Specialist for WallPops and Brewster Home Fashions. Having a passion for social media, creating blog content, and developing relationships with influencers, she balances being a competitive strength athlete after work hours and is a stylish fashion devotee 24/7. With an individual style embodying everything bohemian, you're sure to feel her eclectic energy through her work. Connect with her through the companies social channels or here on LinkedIn!