Your entryway or mudroom is the first area your guests see when they walk into your home. Since you only get one first impression, why not make that first impression an incredible one! There are a plethora of ways to design an entryway or mudroom, so we have compiled 8 design ideas that will inspire you!
Cozy Farmhouse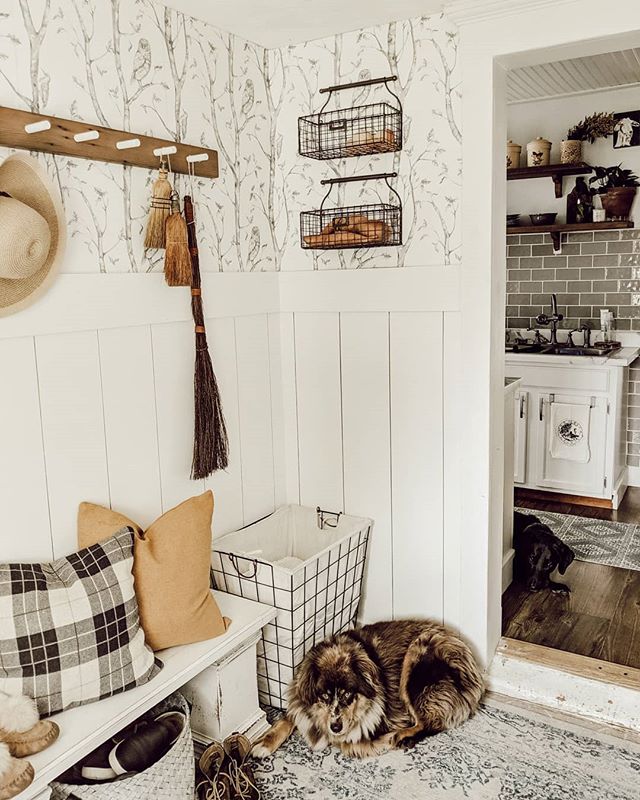 Small spaces are always a challenge to decorate, but that did not stop Katie from creating a gorgeous mudroom using the Grey Woods NuWallpaper. The grey and white pattern of birch trees and birds is reminiscent of a farm in the fall. The plaid and mustard pillows add to the casual aesthetic of the room. We love how cozy this farmhouse mudroom looks. Even Katies dog is enjoying the mudroom.
Shop the Grey Woods peel and stick wallpaper here.
Garden Mudroom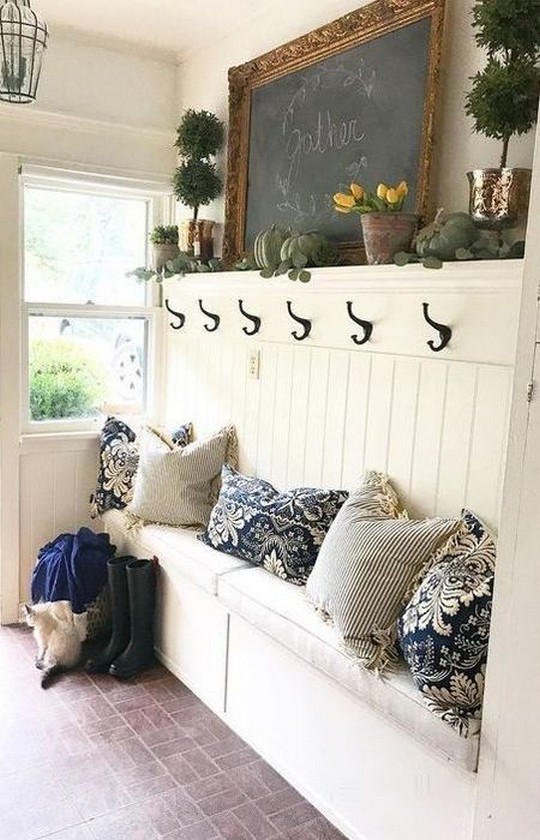 You can never go wrong with plants in a mudroom. This chic mudroom is nothing short of beauty. The neoclassical chalk board placed with a diverse array of plants reminds us of an enchanted garden. The damask and striped patterned pillows really pulls this room together.
Farmhouse Flair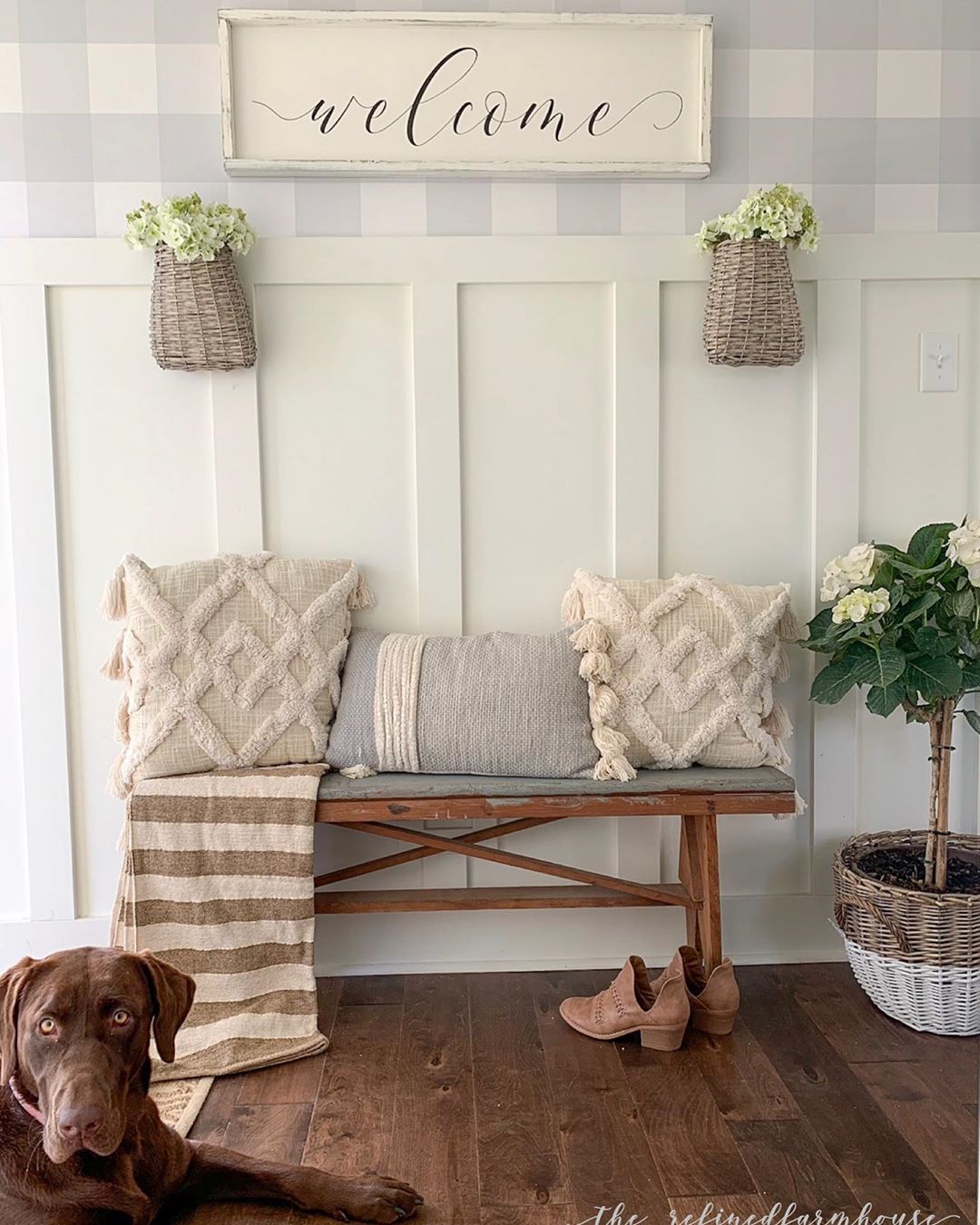 This alluring farmhouse entryway features light flowers and plaid wallpaper. The incorporation of cream and grey boho pillows with shaggy geometric patterns really makes the room standout beautifully. The distressed bench gives the feeling of being in a chic little farmhouse.
Shop the Farmhouse Plaid peel and stick wallpaper here
Entry Tiles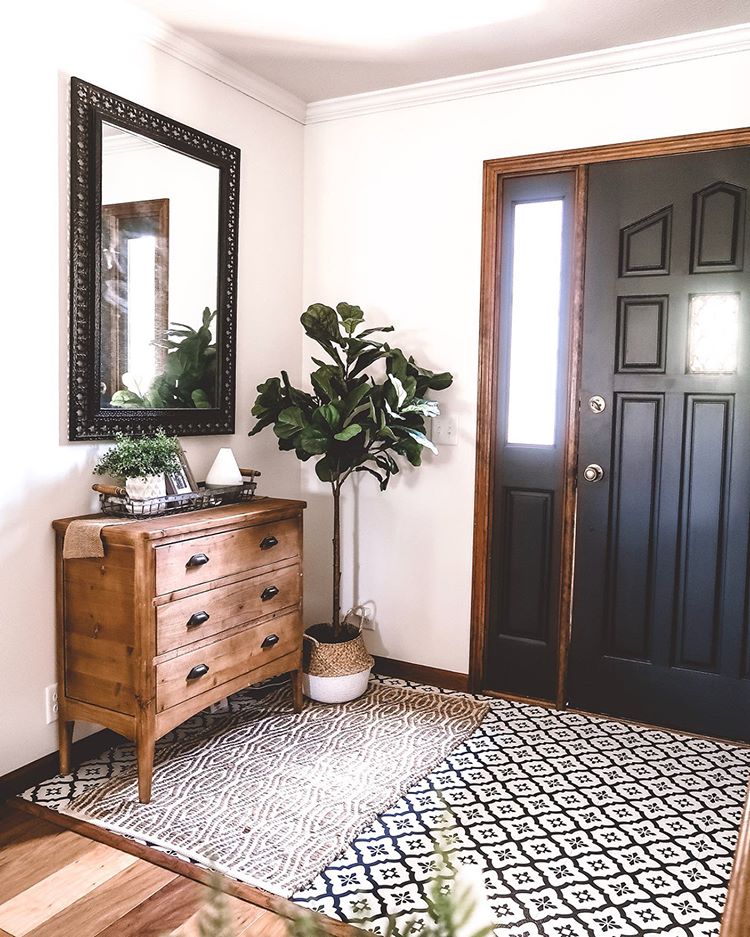 Entryway tiles are a great way to make a statement entrance that enhances your interior design. Lenae did an amazing job using the Comet peel and stick floor tiles as her tile entryway. The black and white tiles along with the design of this entryway is reminiscent of an old Spanish interior. You don't need a lot of accent pieces for this entryway when the tiles are the star of show
Shop the Comet peel and stick floor tiles.
Modern Bohemian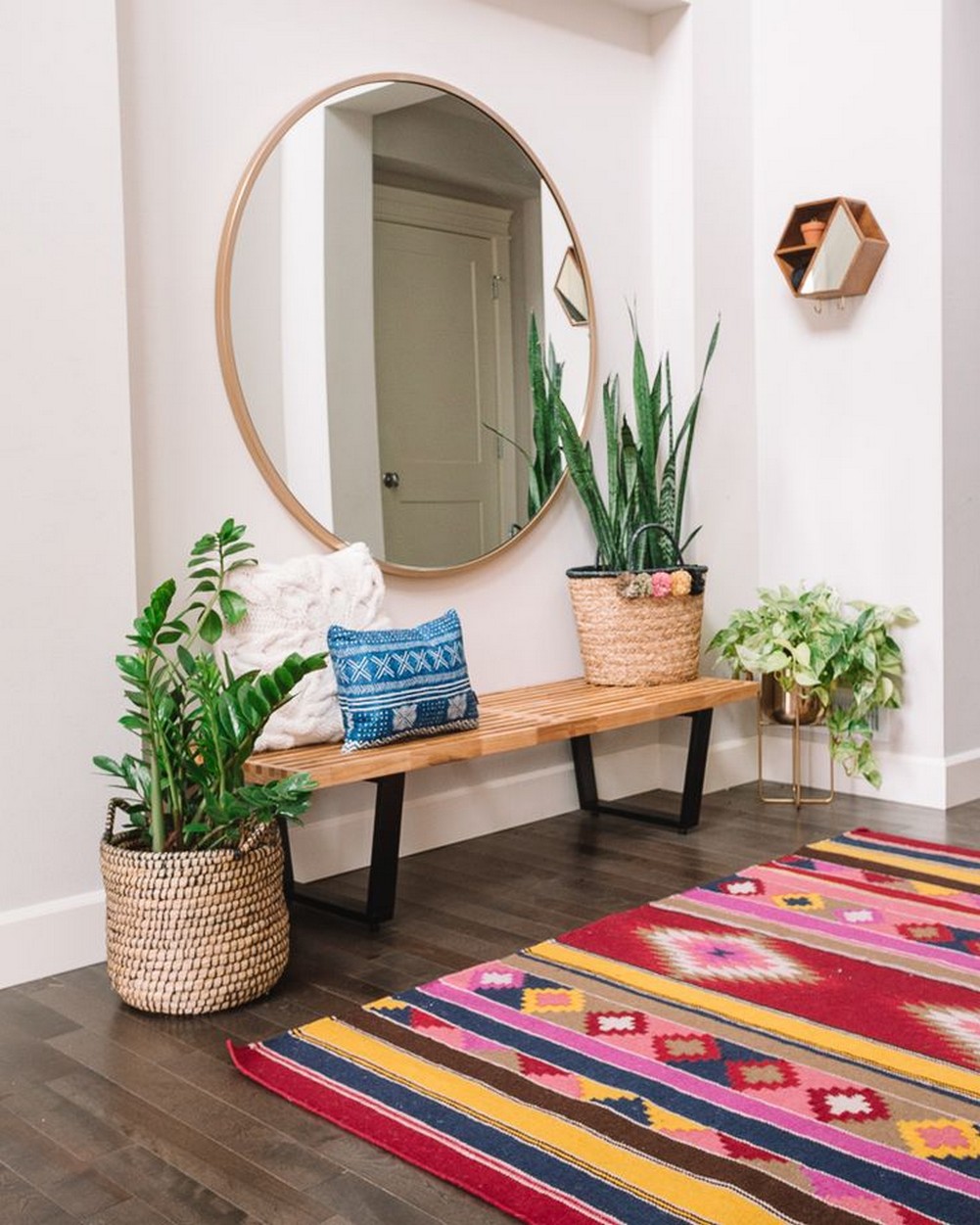 A modern twist on the boho style, this entryway is sure to impress any guest. We love the idea of putting plants in a woven basket! Who knew you can easily take a minimalist entryway and create a modern bohemian foyer just with a couple accent pieces? The pop of color from the rug and pillow below a giant gold mirror create an eye pleasing aesthetic.
Shabby Chic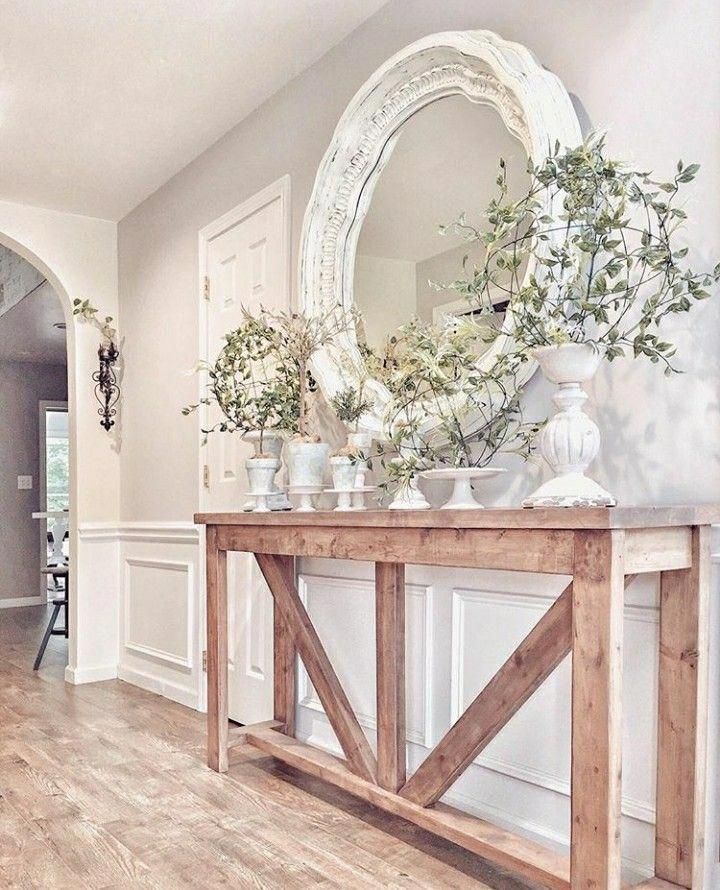 Shabby chic meets farmhouse in this charming entryway. You wouldn't expect a reclaimed wooden table and white Victorian accent pieces to go together, but it worked out perfectly! The distressed white mirror complements the light reclaimed wooden table nicely. We love the unique idea of the sparse plants surrounding a spiracle cage along the table. This creative design idea will wow any guest.
Rustic Chic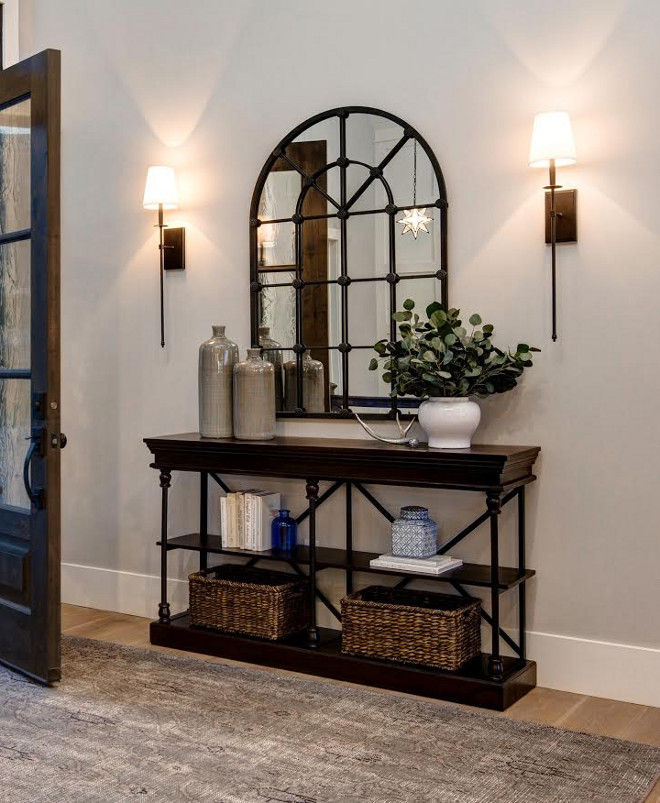 This chic rustic entryway exudes elegance. The great thing about rustic inspired design is that it doesn't need a lot of eye-catching pieces, but it can also be designed in a chic and stylish manner. A few vases and a potted plant add to the sophistication of this foyer. This entry way would be perfect for a loft or an industrial inspired apartment.
Minimalist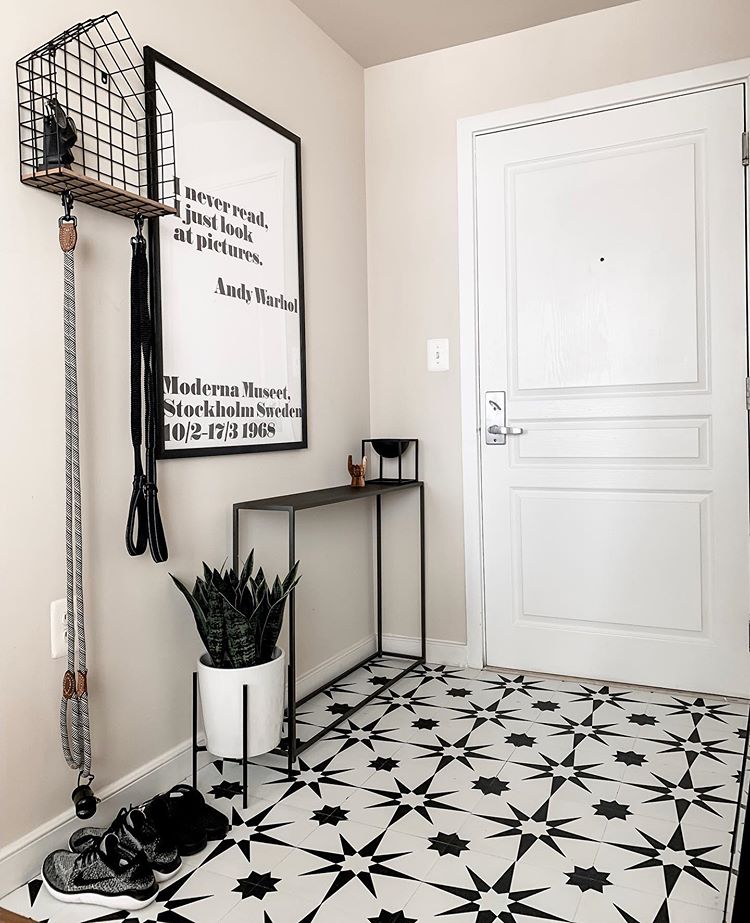 A simple black and white entryway always looks sleek. The Altair peel and stick floor tile design enhances this modern and simplistic entryway with its repeating black stars against a crisp white background . The contemporary aesthetic of this area has a relaxed and clean feeling to it.
Shop the Altair peel and stick floor tiles here.
Whether you have a spacious entryway or a smaller space, we hope we have inspired you with our list of stylish mudrooms and entryways. Let us know which design idea you liked the most!