The kitchen is the heart of the home, and the place where we gather and spend the most time. Designing that perfect space is often a challenge, but you don't need a massive kitchen or an endless budget to make it snazzy. Here are 7 beautiful kitchen design ideas to inspire you for the new year.
Modern Farmhouse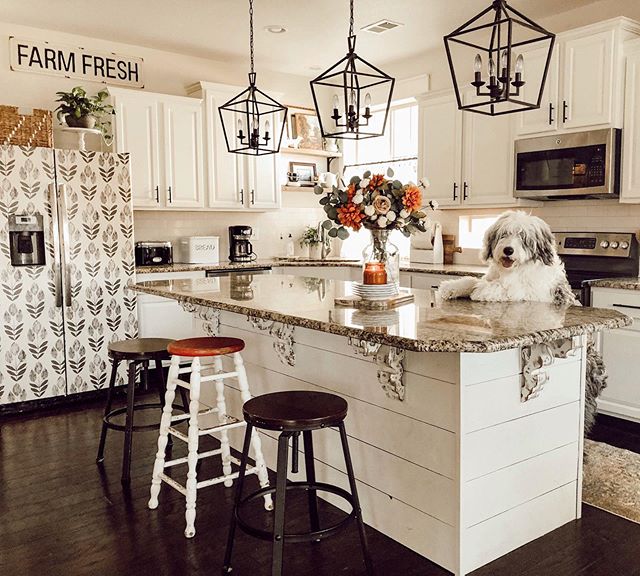 A modern farmhouse kitchen is always in style. We love how simple and elegant Jessica's kitchen looks. Especially the clever idea of lining her island with mismatching stools that adds to the farmhouse aesthetic of her kitchen. What makes Jessica's kitchen stand out is the unique touch to her fridge. The addition of the Folk Tulip peel & stick wallpaper on her fridge makes her kitchen really stand out beautifully. Even Jessica's dog is enjoying her homey kitchen
Shop the Folk Tulip peel and stick wallpaper here.
Maximalist Kitchen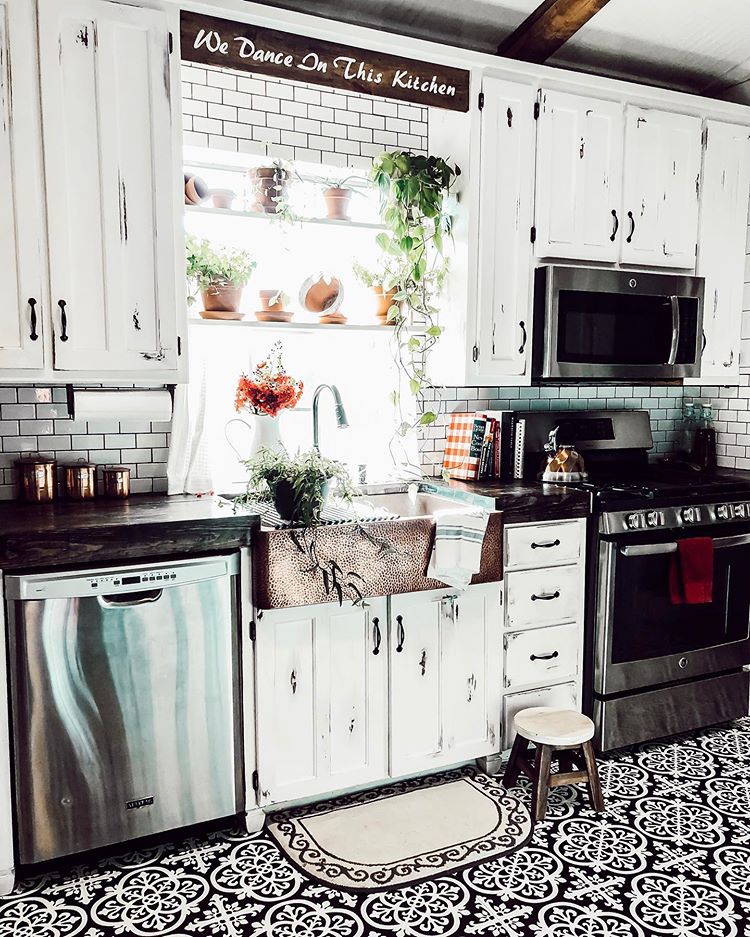 Maximalist lovers can now rejoice! We love how Sheila did not limit herself when designing her kitchen. If you think kitchens must be simple in order to look appealing, think again! The Gothic peel and stick floor tiles really enhances the style of this kitchen by adding to the eclectic aesthetic of the design. There is nothing wrong with mixing patterns and textures together to create a truly unique design.
Shop the Gothic peel and stick floor tiles here.
Dollhouse Kitchen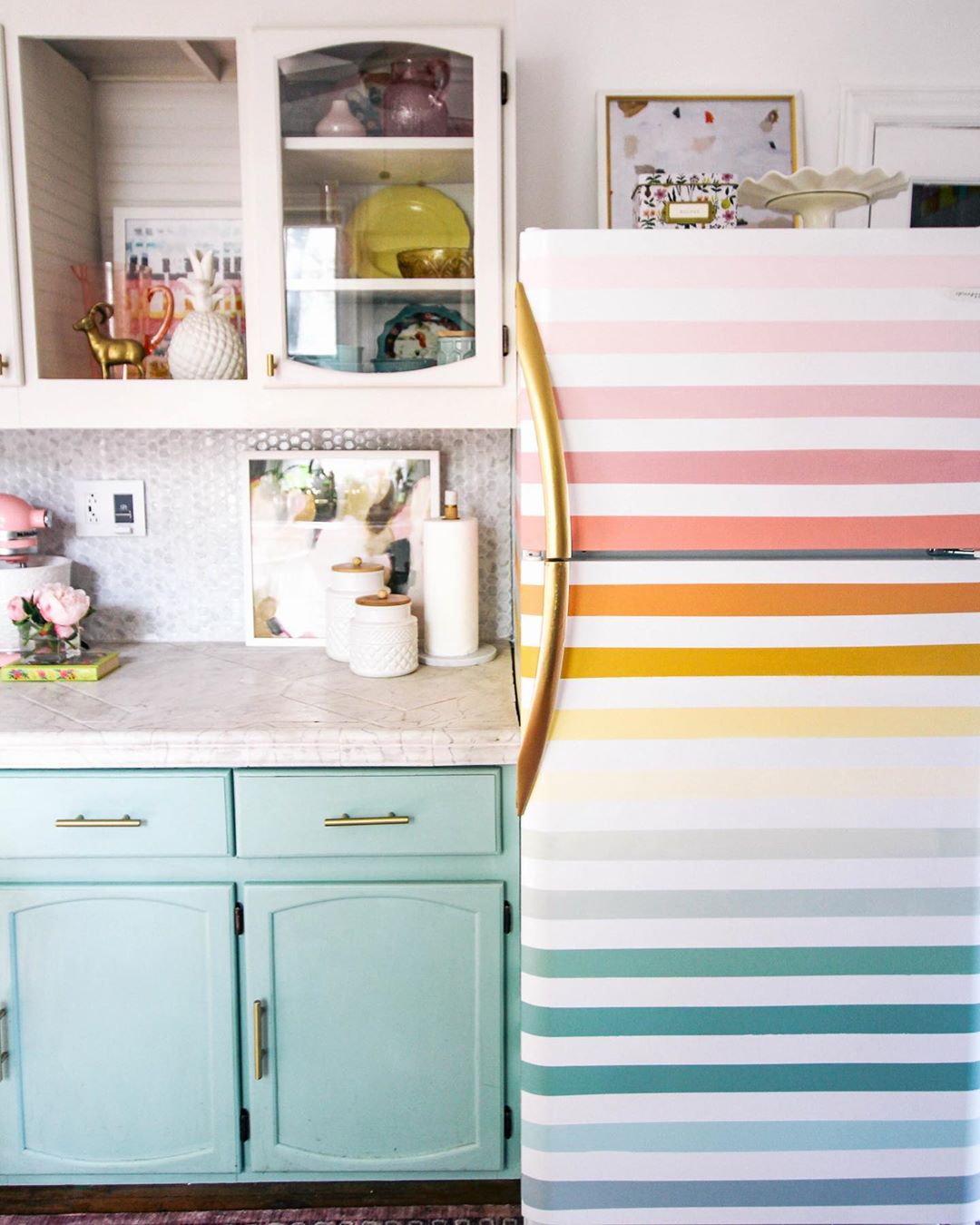 We love a classic design with a playful touch. The pastel colors of Ashley's cabinets and kitchen items are reminiscent of a retro dollhouse. We love how fun and playful this kitchen looks. The Hexagon Marble peel and stick backsplash gracefully complements the pastel color scheme of the room and doesn't compete with the playfulness of this kitchen. While the soft color tones are aesthetically pleasing, we cannot forget about the star of the show, the fridge! Ashley did a great job of thinking outside the box by painting her fridge in fun rainbow stripped colors. If you have a plain white fridge, then let that be your canvas to liven up your kitchen.
Shop the Hexagon Marble peel and stick back-splash here.
Contemporary Kitchen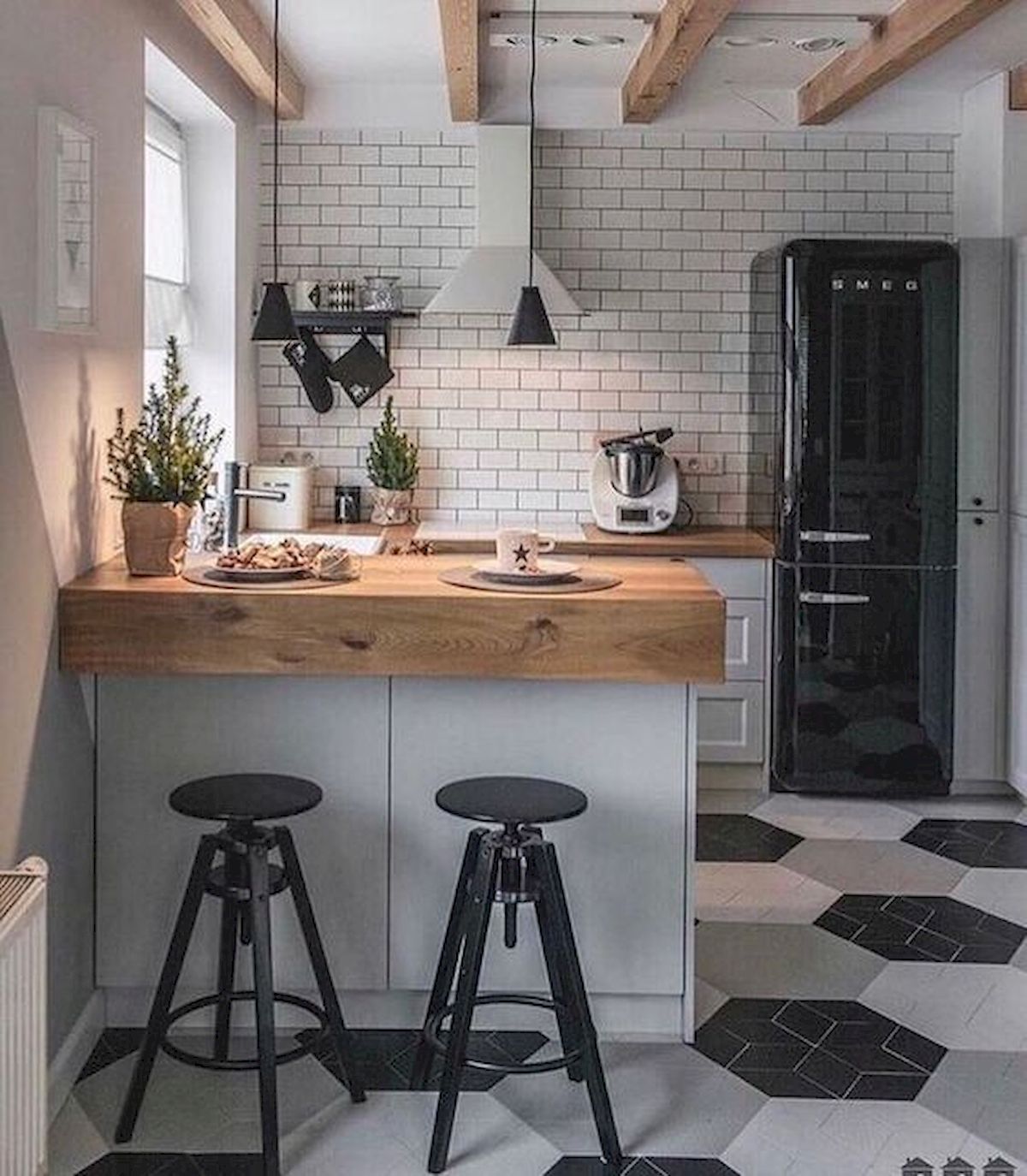 A small kitchen doesn't mean you can't turn it into an on-trend, modern one. The easiest way to take a basic kitchen and turn it into a swank one is with subway tiling. Subway tile backsplashes are great for creating a contemporary look with limited space. The exposed wooden beams and wood island adds to the industrial influence of this kitchen. Also, can we talk about how sleek the fridge looks? The glossy black fridge is that unique element that makes this kitchen stand out. Matching the fridge and the black adjustable bar stools together gives this contemporary kitchen a distinctive feel.
The Nordic Kitchen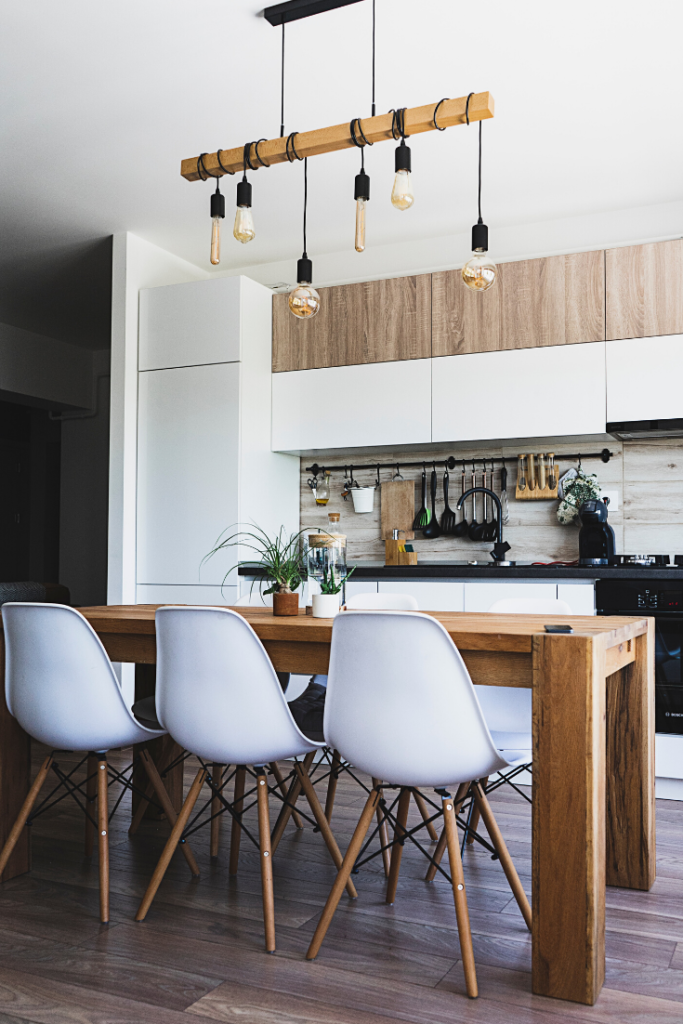 All the way from northern Europe, the minimalist style of the Scandinavian interior design has crept over into the states. While minimalist interior design has been in style for some time now, the Nordic influence is transforming homes worldwide. The great thing about minimalist design is that it can be replicated with any space regardless of the square footage. This kitchen boasts many unique and genius design elements that you wouldn't think of. For starters, the faux wood backsplash is a clever and unique design idea. The wood accenting on the cabinets and back-splash is distinctively Nordic. Not to mention the unique idea of wrapping lights around a wooden bar to create a one-of-kind chandelier which adds to the creativity of this kitchen. This brilliantly simple design doesn't disappoint.
Bohemian Kitchen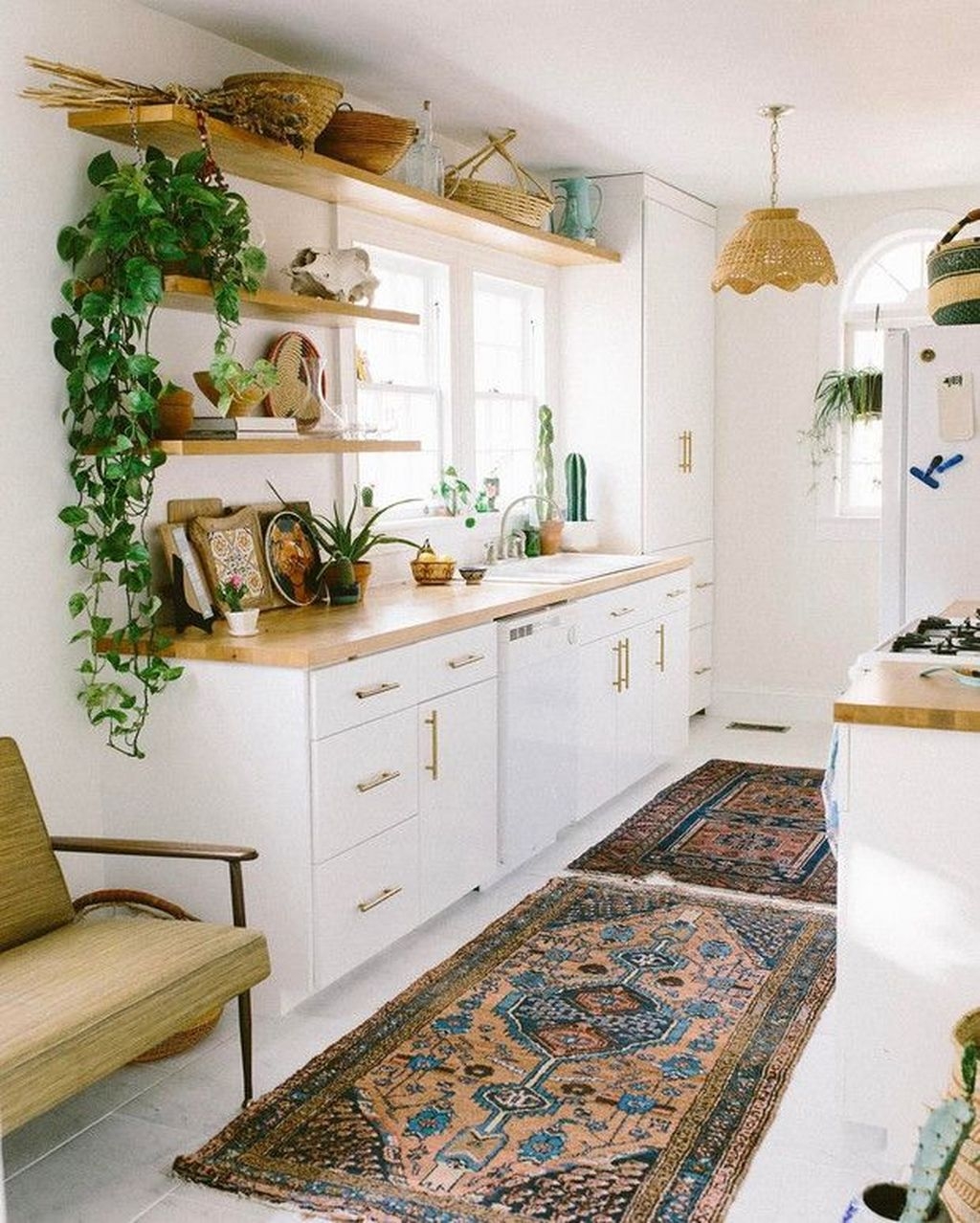 This cozy kitchen is nothing short of excellence. We love how this little bohemian kitchen looks beautiful yet effortless. The earthy elements such as diverse foliage and warm tone accent pieces really brings this kitchen to life. The native print runner perfectly breaks the barrier between the white interior and the boho decorative pieces. We love the idea of open shelving and how it makes this kitchen look more spacious than it really is. You'll be surprised at how much open shelving really makes a difference.
Gold Accented kitchen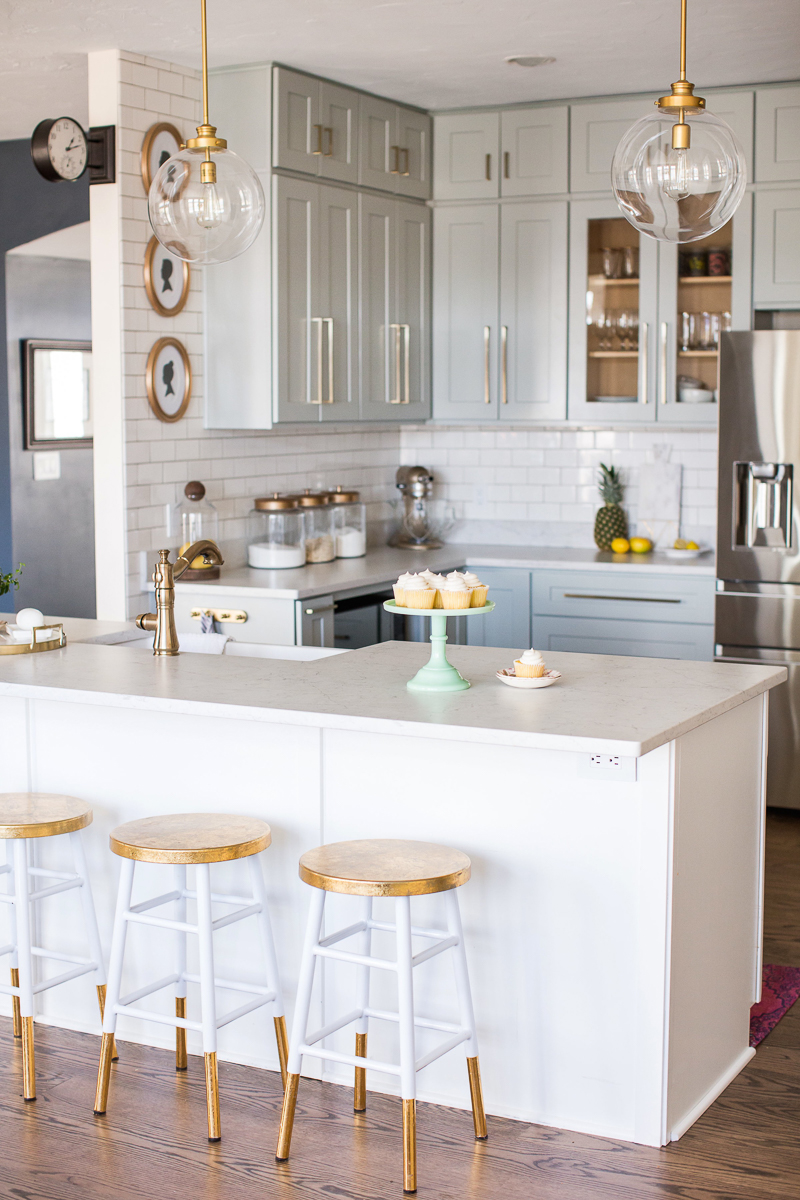 Another great example of a beautiful kitchen design idea is to add lots of gold accent pieces. This kitchen already embodies a chic and charming design, but it's the gold accenting that really makes this kitchen stand out. We are a big fan of subway tiling and soft tone cabinets, and an even bigger fan of the little touches of this vibrant type of metal. The gold accenting on the glass jars, light fixtures, and bar stools takes this kitchen from a basic kitchen to a luxurious one. Whether it's gold or rose gold, you can turn even the most normal kitchens into a kitchen straight out of a magazine.
A new year means a new design ideas. With these 7 beautiful kitchen ideas, we hope we have inspired you to redesign your kitchen. Let us know which design idea you like the most and don't forget to tag us on our social media to be featured in a blog post!