In addition to saving time and money, NuWallpaper can go beyond the walls, adding pattern and accents to furniture, mantels, headboards, and more. Our fans have come up with easy and creative ways to decorate unique spaces using our peel and stick wallpaper. Check out these five Pinterest-worthy creations using NuWallpaper:
1. Grey Breezy China Cabinet
This china cabinet screams super chic with wallpaper added to it. A china cabinet is a great furniture piece to hang NuWallpaper seeing that the design possibilities are endless. Kristina used the Grey Breezy peel & stick wallpaper to add to the background of her cabinet for a classic look. Adorned with white china and accent pieces, this china cabinet looks like a one-of-a-kind piece you won't get anywhere else.
Shop the Grey Breezy peel & stick wallpaper here.
2. Folk Tulip Fridge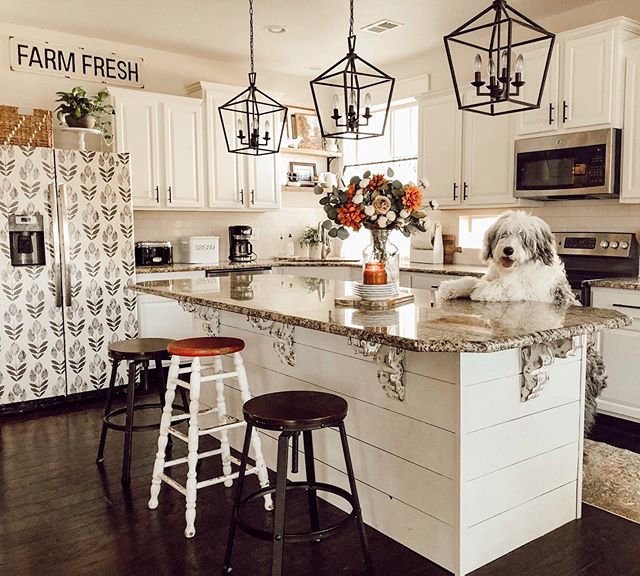 Who knew a fridge could be your canvas for decoration? Jessica sure did by incorporating her fridge into her modern farmhouse kitchen design. Wallpapering a fridge is a great way to spruce up your kitchen design and cover up any blemish or eye sore that a fridge can cause. The Folk Tulip peel & stick wallpaper looks charming on Jessica's fridge and matches her farmhouse color scheme perfectly. You can never go wrong with a little print on a fridge.
Shop the Folk Tulip peel & stick wallpaper here.
3. Kylver Mantel
We love a spring ready mantel here at wallPops. Michelle's use of the kylver peel & stick wallpaper above her mantel looks amazing and elegant. We love how Michelle is always switching our NuWallpaper pattern in her mantel projects. Check out her profile to see all of her mantel design projects!
PRO TIP: Upgrading your spaces with a small but impactful focal point can be enough to achieve a needed design refresh.
In this rendition Michelle's mantel, the black and white design of the Kylver wallpaper elegantly complements the color scheme of her living room decor. This design is a great combination of a modern farmhouse with a touch of NuWallpaper.
Shop the Kylver peel & stick wallpaper here.
4. Shiplap Bulletin Board
No need to buy a bulletin board when you can design one with NuWallpaper. The faux wood design of the Reclaimed Shiplap peel & stick wallpaper makes for a unique DIY bulletin board cover. Jessica did a spectacular job creating a modern and trendy board that radiates positive energy. Making a DIY bulletin board is more fun and creative with NuWallpaper patterns and designs.
Shop the Reclaimed Shiplap peel & stick wallpaper here.
5. Folk Tulip Mantel Headboard
Making your own stylish headboard is an easy task when you use NuWallpaper. We love this unique idea of creating a mantel for a headboard. Suzanne's use of the Folk Tulip peel & stick wallpaper behind the faux mantel makes for a cozy chic bedroom design. This mantel headboard looks super stylish and realistic with the mirror and décor pieces laid along the shelf. Coming up with a unique way to decorate a headboard has never been easier thanks to Suzanne's creative idea.
From mantels to furniture, the versatility of peel & stick wallpaper doesn't end. NuWallpaper has a design for any project you can think of. Leave a comment to let us know which unique way you would use peel & stick wallpaper.