As 2019 comes to an end, we look at some of our favorite looks from the past year that our customers have tagged us in. We love how creative these looks are and how they have designed their space so beautifully using NuWallpaper and Floorpops. Here are 7 looks that really wowed us this year.
1. Boho Chic
This entry way screams boho and fabulous, the way Becca used our Aya peel and stick wallpaper to accent her foyer. This vibrant and fresh design is the perfect harmony of stylish but cozy. Perfect for the spring season, our Aya NuWallpaper will freshen up your space when winter comes to an end and the flowers come out!
Shop Botanical NuWallpaper designs here.
2. Cozy and Serene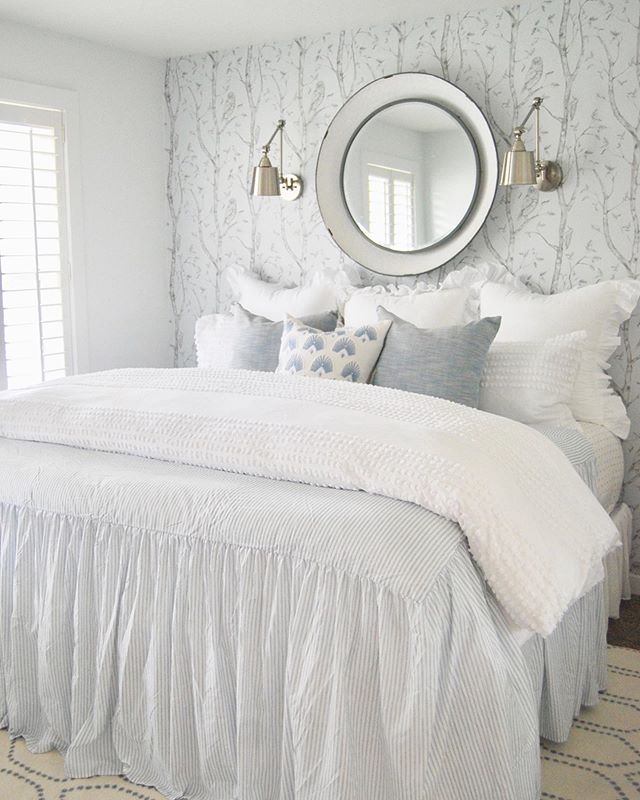 A great way to not only add an enchanting motif to the bedroom, this Blue Woods peel and stick wallpaper is outright dreamy. Not only does Heidi's room look glamorous, but the Blue Woods wallpaper complements her color scheme. The light blue and grey hues of this wallpaper adds to the subtle statement wall that goes perfectly with her bedroom.
Shop trees and leaves NuWallpaper here.
3. Botanical Glam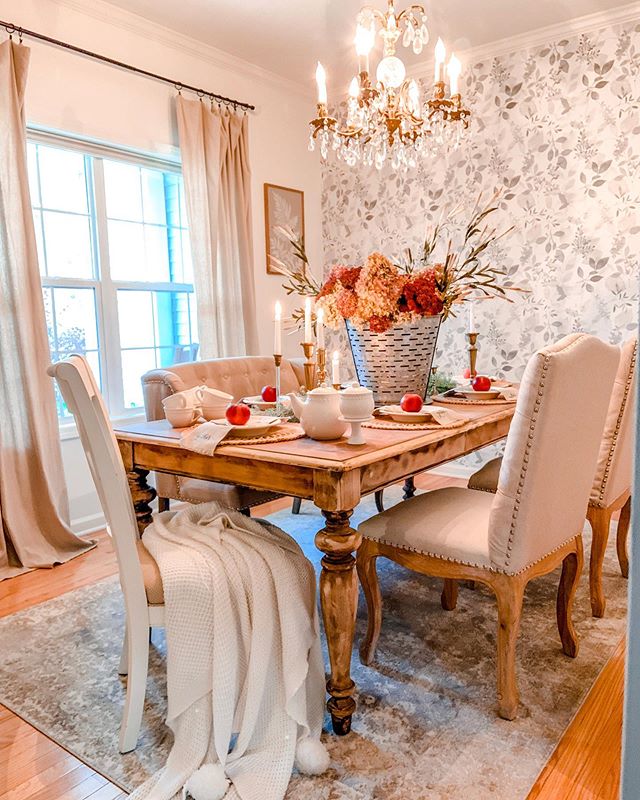 This beautiful dining room has us amazed! Lara really made her dining room pop with our Grey Breezy NuWallpaper. The grey and white hues of this botanical watercolor design complements Lara's dinning room color scheme of grays and warm neutral tones.
Shop leaves NuWallpaper here.
4. Farmhouse Feel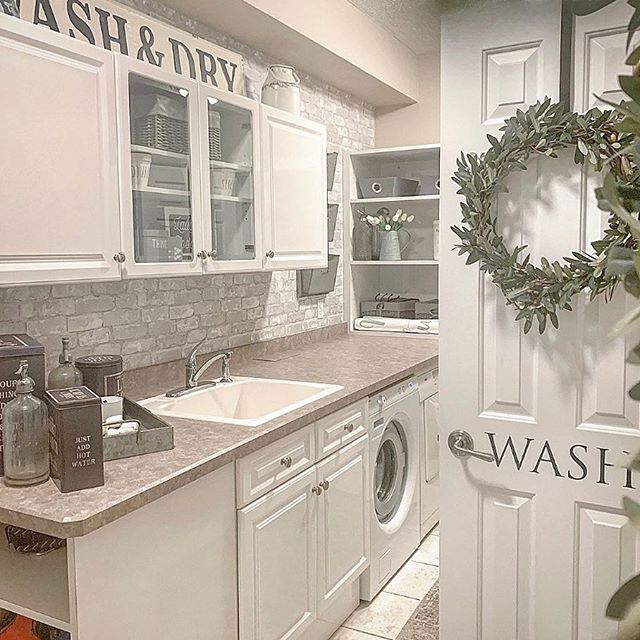 Laundry rooms don't have to be a plain and boring space anymore as Tanya proved with her stunningly gorgeous laundry room. Our Grey and White Brick peel and stick wallpaper adds an farmhouse feel to Tanya's Laundry room. Also, her fabulous rustic storage pieces are complemented by the Grey and White Brick wallpaper. We can't get enough of this amazing laundry room!
Shop brick NuWallpaper here.
5. Botanical Beauty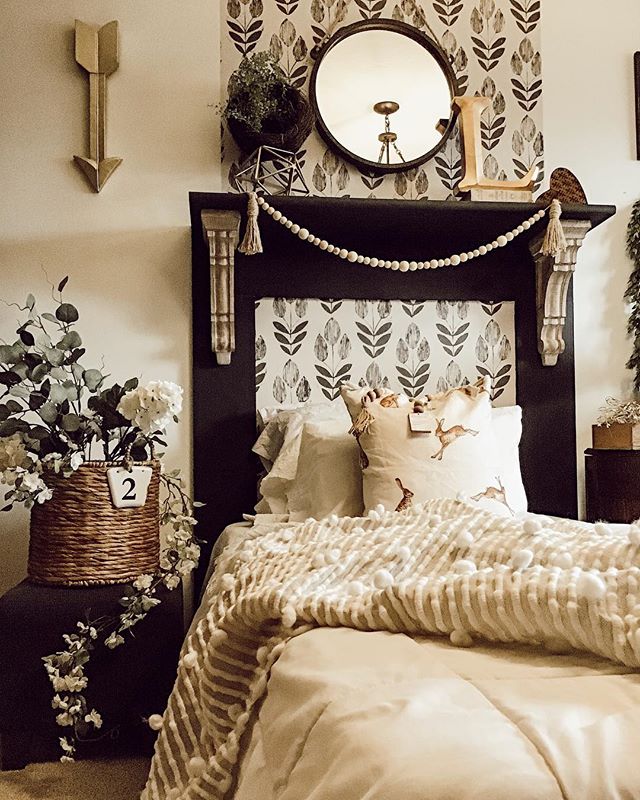 The way Suzanne used our Folk Tulip peel and stick wallpaper to create a unique headboard has us inspired. Her headboard resembles a mantel which looks very beautiful atop the Folk Tulip wallpaper that lines all the way up the wall.
Shop floral NuWallpaper here.
6. Country Gothic
This country style pantry looks amazing with our Gothic peel and stick floor tiles. We love how this floor tile really makes this space stand out beautifully. Brooke proves that even an area as simple as a food pantry can have stunning look with something as simple as Gothic floor tiles. This design was featured on our Instagram for our #FloorPopsFriday! post.
Shop FloorPops here.
7. Geometric Flooring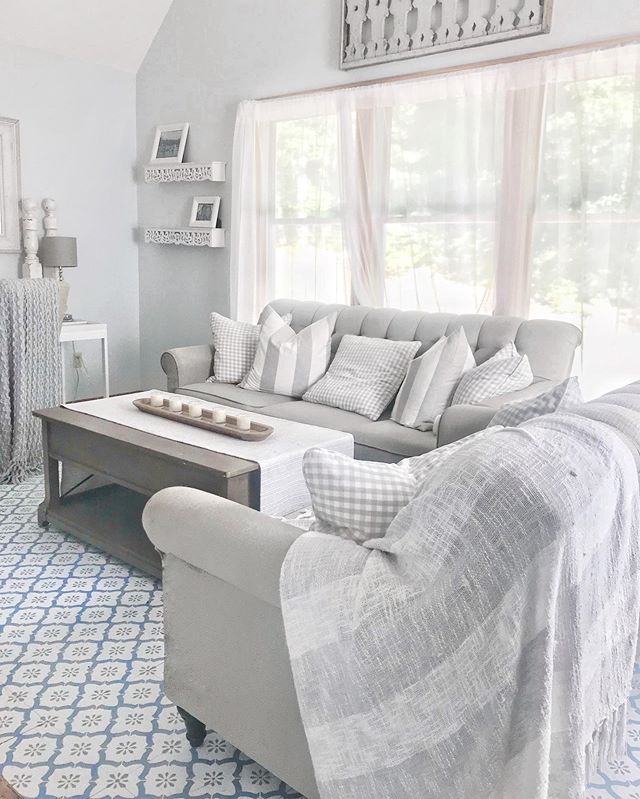 We love how Crystal used our Alfama peel and stick floor tiles to spruce up her living room. Adding geometric floor tiles to your living room is truly a fun way to add pattern to any room.
Shop FloorPops here.
In case you missed our announcement on our Facebook page, with it being the season of giving, WallPops.com will be donating 10% of sales
during the month of December to The Greater Boston Food Bank. For every $1 donated, the food bank is able to provide 3 meals to those in need. While you shop for your next DIY project for 2020, the gift of a refreshed new look for your home will also provide to a family in need.
As we looked back at some amazing looks from this past year, we cannot wait to see what 2020 will bring us. Keep a look out for new product launches this coming year and don't forget to tag us on Instagram to be featured on a blog post!