We are so excited to announce our new line of Wall Tapestries! These 100% cotton designs are the perfect way to add flair to your walls.
In celebration, we put together a video showing five different ways to style the boho chic wall art (hint: some of them aren't on the wall!).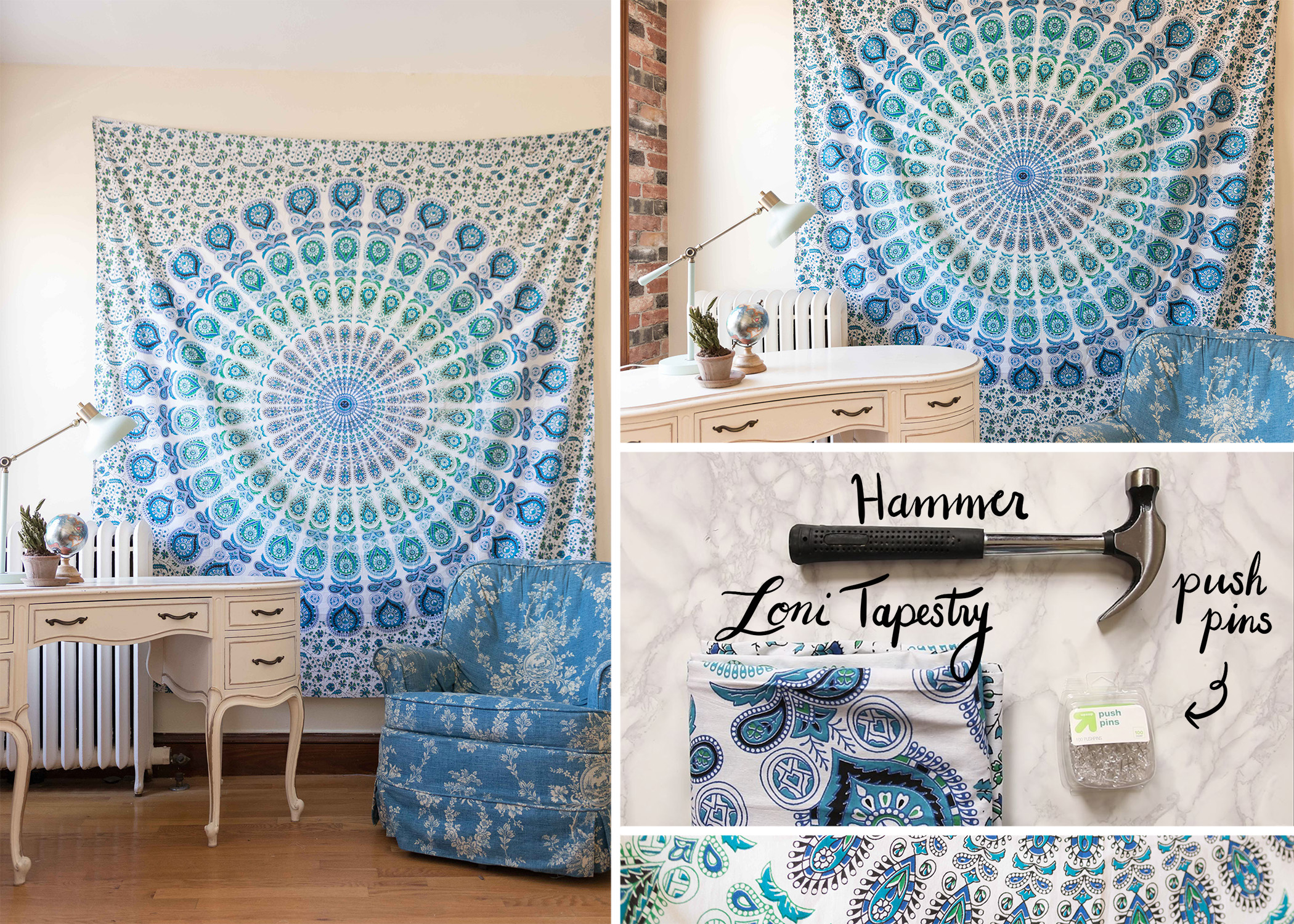 This is the most classic way to hang a wall tapestry. Push pins do minimal damage to the wall and the clear body makes them nearly invisible. If you live in a rental or dorm room, check out this no-harm alternative. The blue Loni Tapestry has a combination of blue, green, and black elements that merge into a beautiful kaleidoscope on the wall.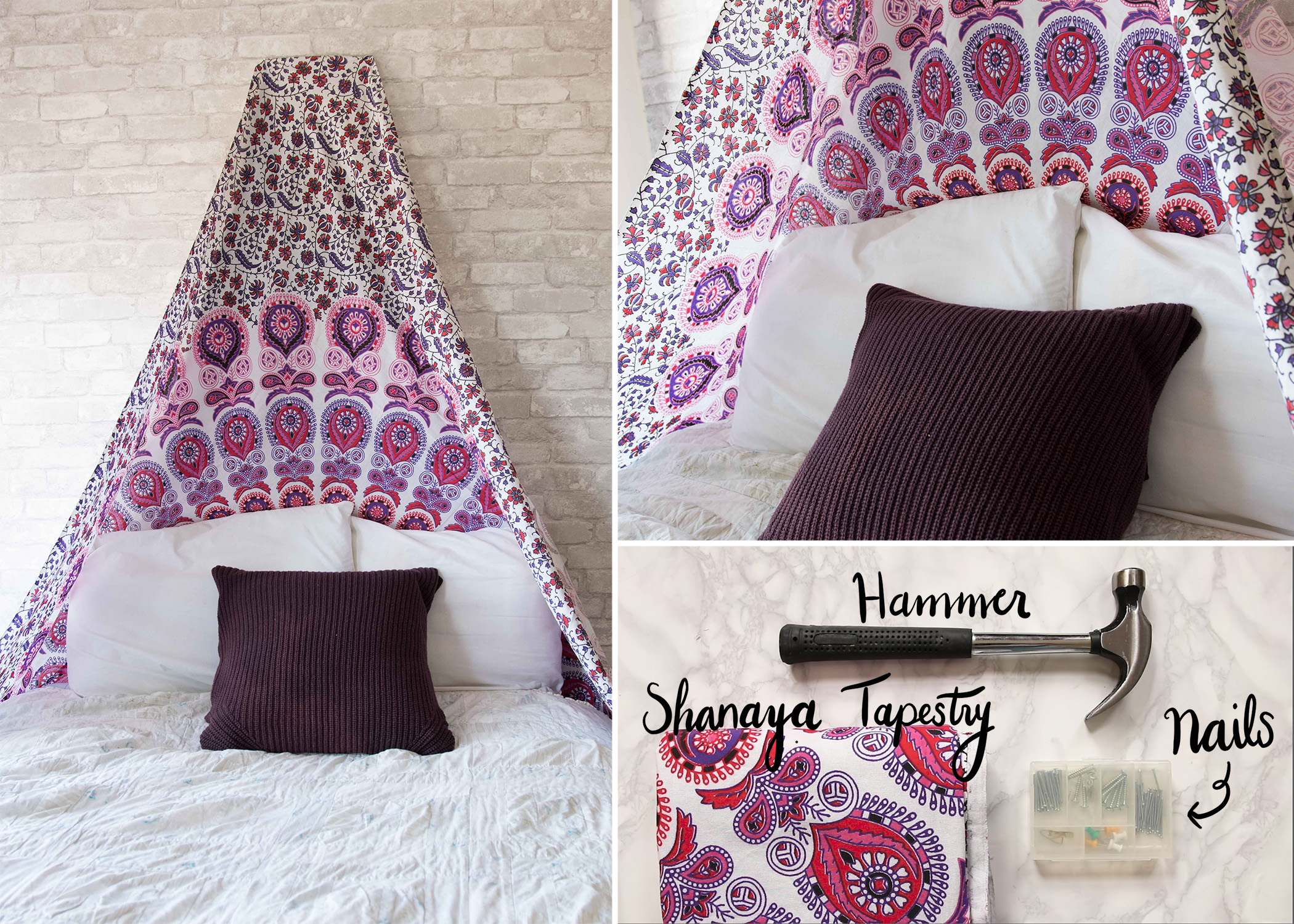 This bed canopy looks complicated, but is actually pretty simple. Folding over a 6″ corner at the top allows the Shanaya Tapestry to cascade over the bed frame, anchored naturally by the back of the bed.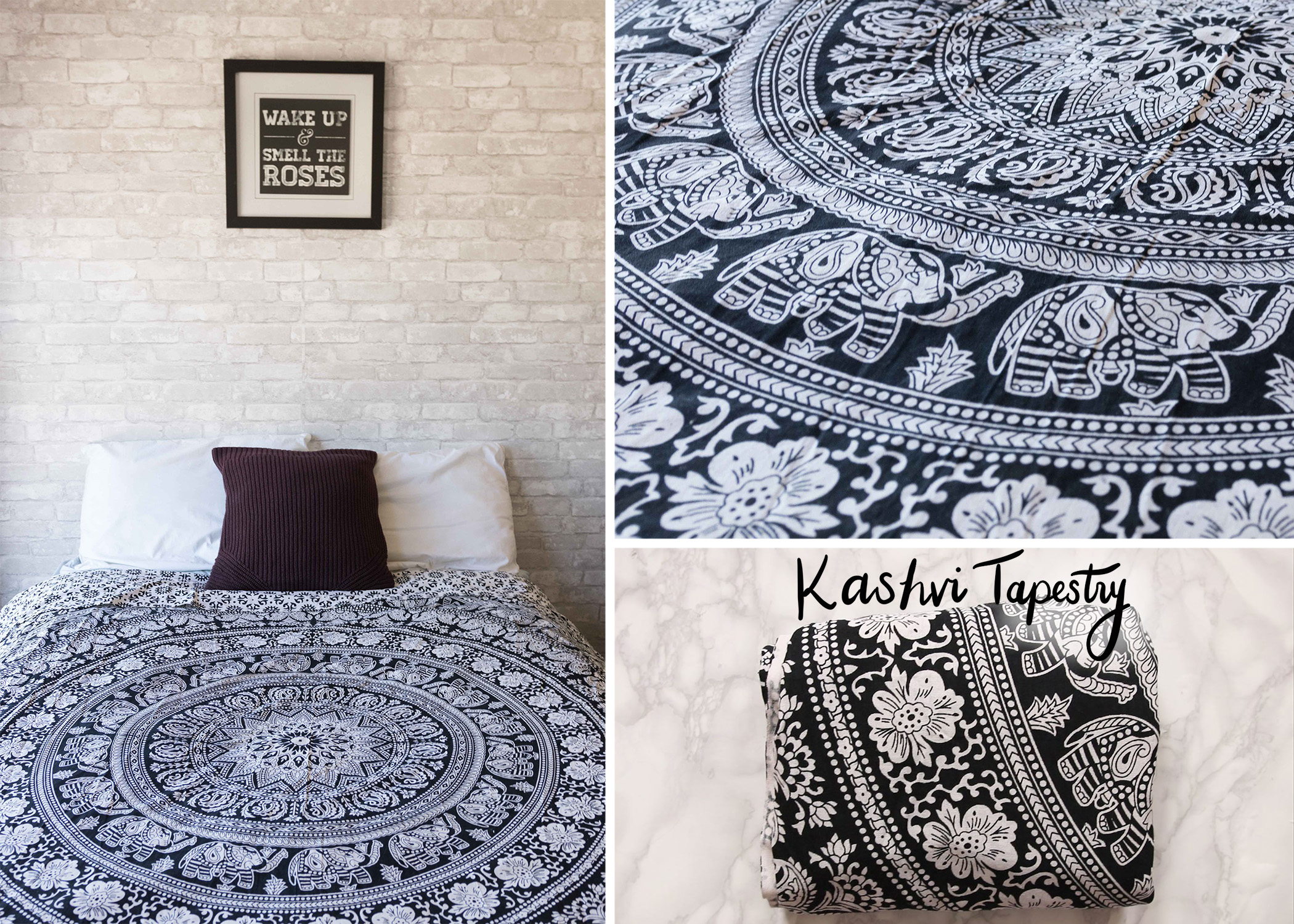 This is the simplest of them all! The Kashvi Tapestry works wonderfully as a bedspread. Hidden within the black and white design are tiny marching elephants—our favorite!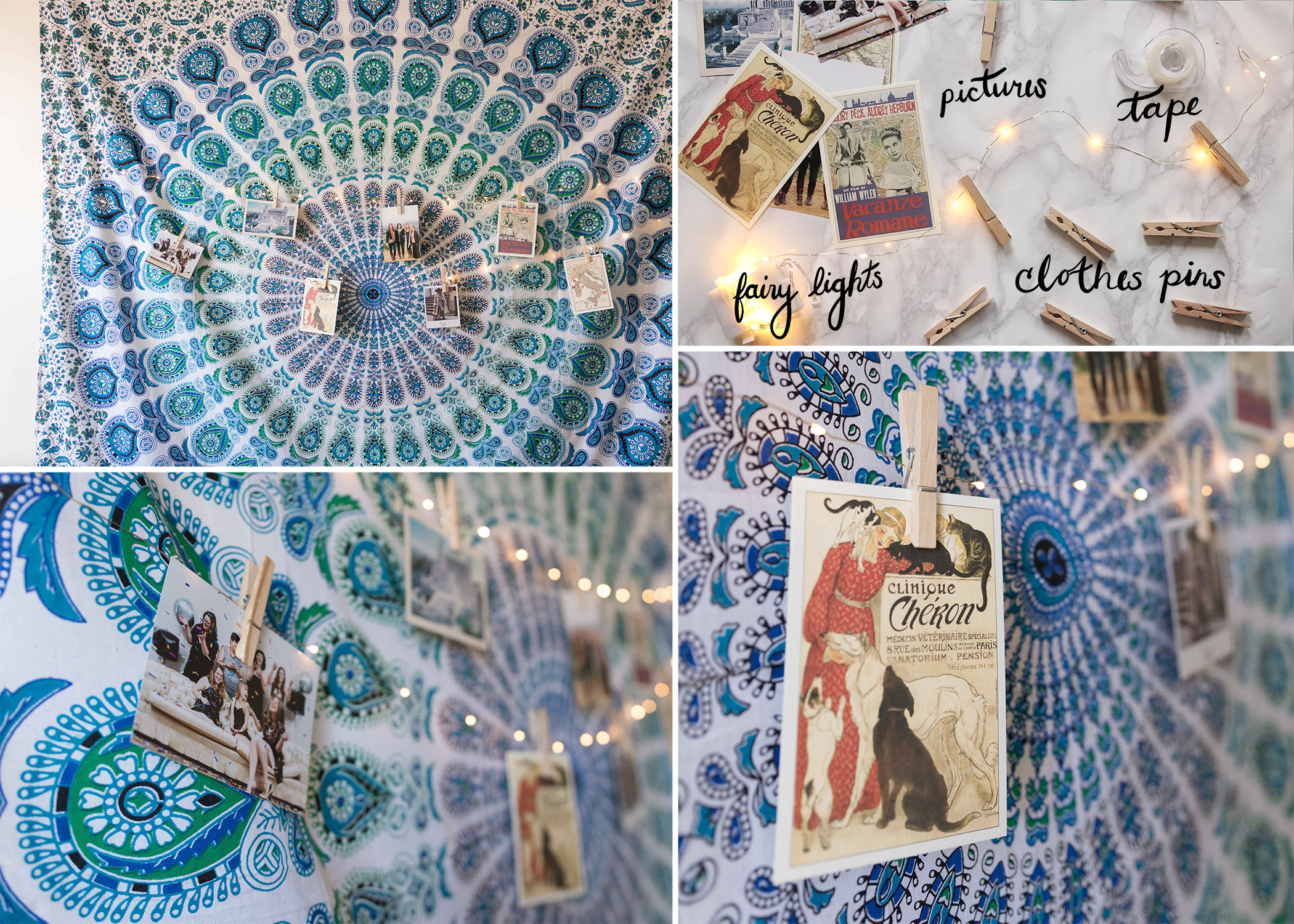 This sweet picture wall is the perfect addition to the Loni Tapestry. We used battery operated fairy lights and clothes pins to add vintage postcards, personal pictures, and classic Polaroids.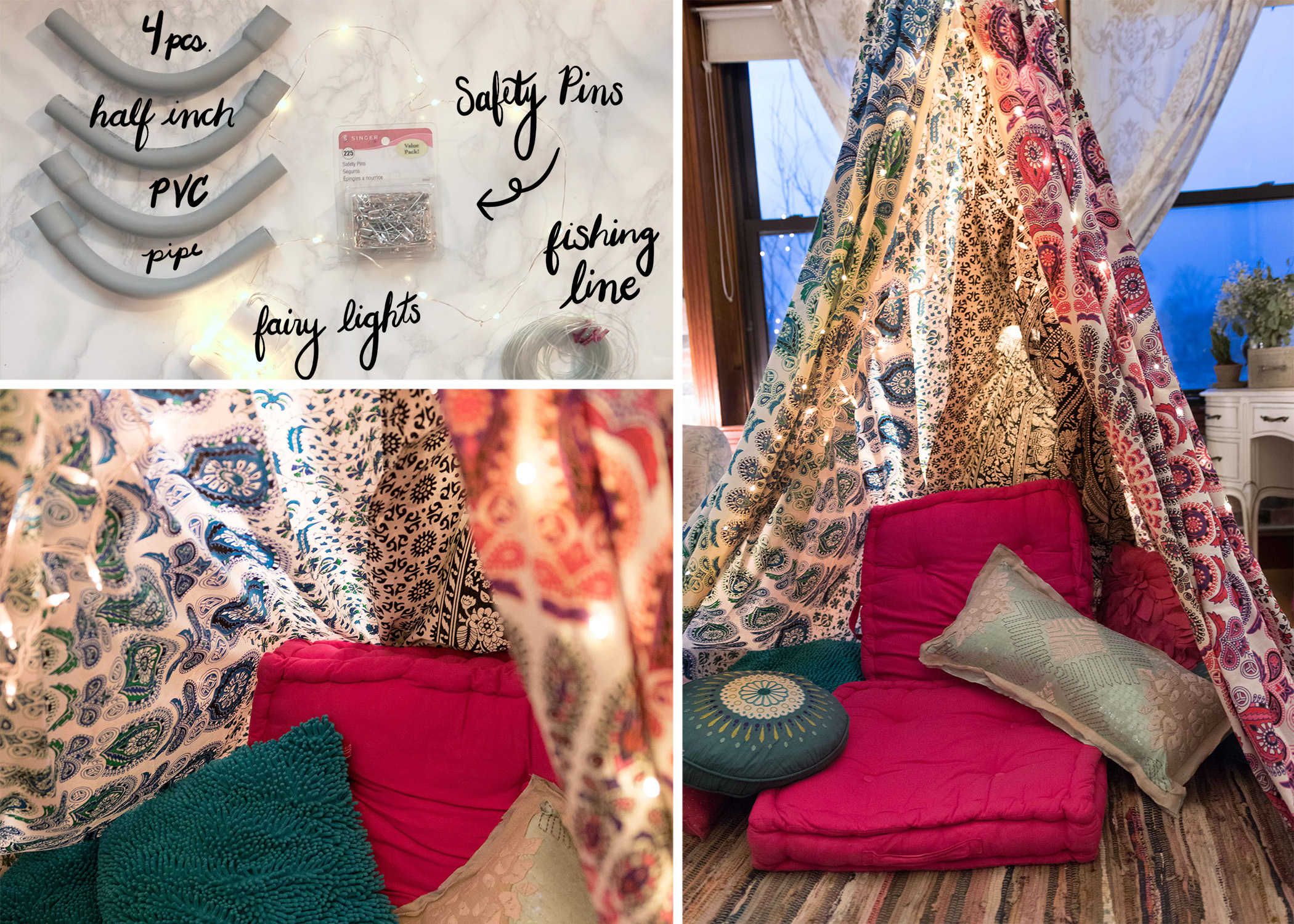 This reading nook is the most ambitious project on here, but it has such a rewarding payoff!
Using the blue Loni, pink Shanaya, and black and white Kashvi tapestries we created a cozy and inviting boho canopy. You don't need to use three tapestries to create this look, but we wanted our nook to be as colorful as possible!
We used 4 pieces of half inch curved PVC pipe to create a ring. Then we folded each tapestry in half (so that it would look fabulous inside and out), and folded them over the PVC ring, securing with safety pins. The final step was to hand it from the ceiling using fishing wire. We already had a hook in the space, but if you don't have one, look for a ceiling hook that can old at least 5 pounds.
Finish the space with as many pretty pillow as you can find and string fairy lights around the entrance and top.
Which way would you style a wall tapestry in your home?