New WallPops wall decals are here! Our latest line of wall art kits feature an array of beautiful watercolor designs. Created from hand painted designs in our studio, these peel and stick decorations are both vibrant and whimsical. Join us as we explore six of our latest watercolor wall decals!
Water Rose Wall Art Kit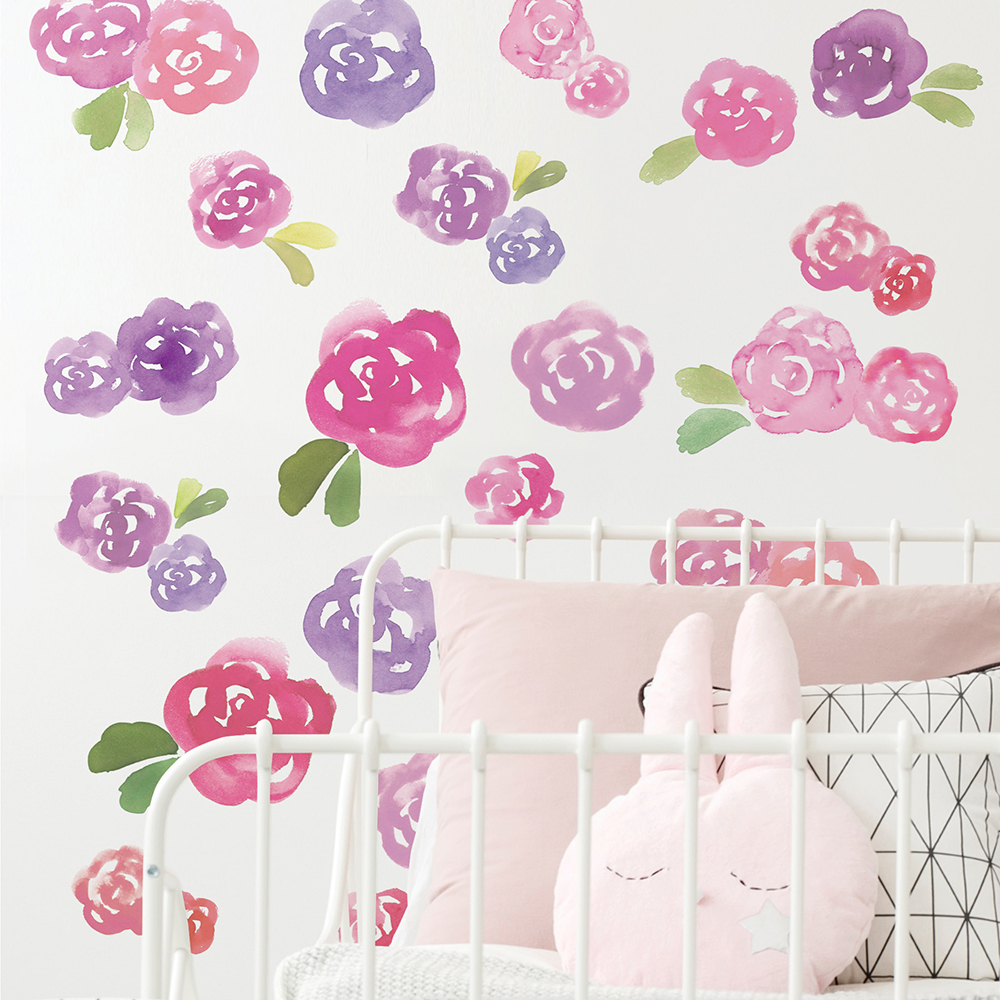 Beautiful pink and purple watercolor flowers will enliven any room. Arrange the flower decals however you like! Perfect for a girls room or nursery, this wall decal inspires a whimsical and fun flair.
Get the look here.
Through the Looking Glass Wall Art Kit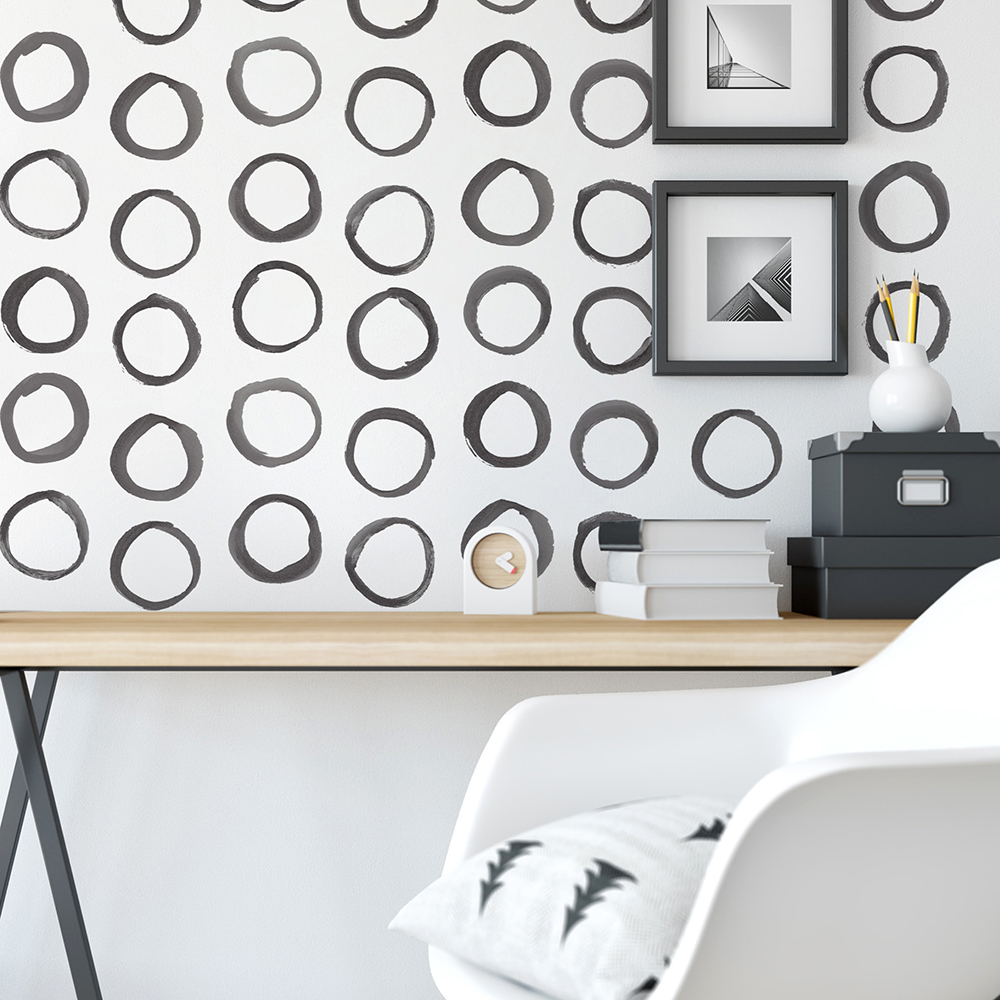 These simple wall decals are perfect for a contemporary home. The thin black circles are made to resemble watercolor brush strokes that were inspired by Chinese calligraphy. Stick them on your wall as clusters or scatter them about for a fun snowy effect.
Get the look here.
Trio Wall Art Kit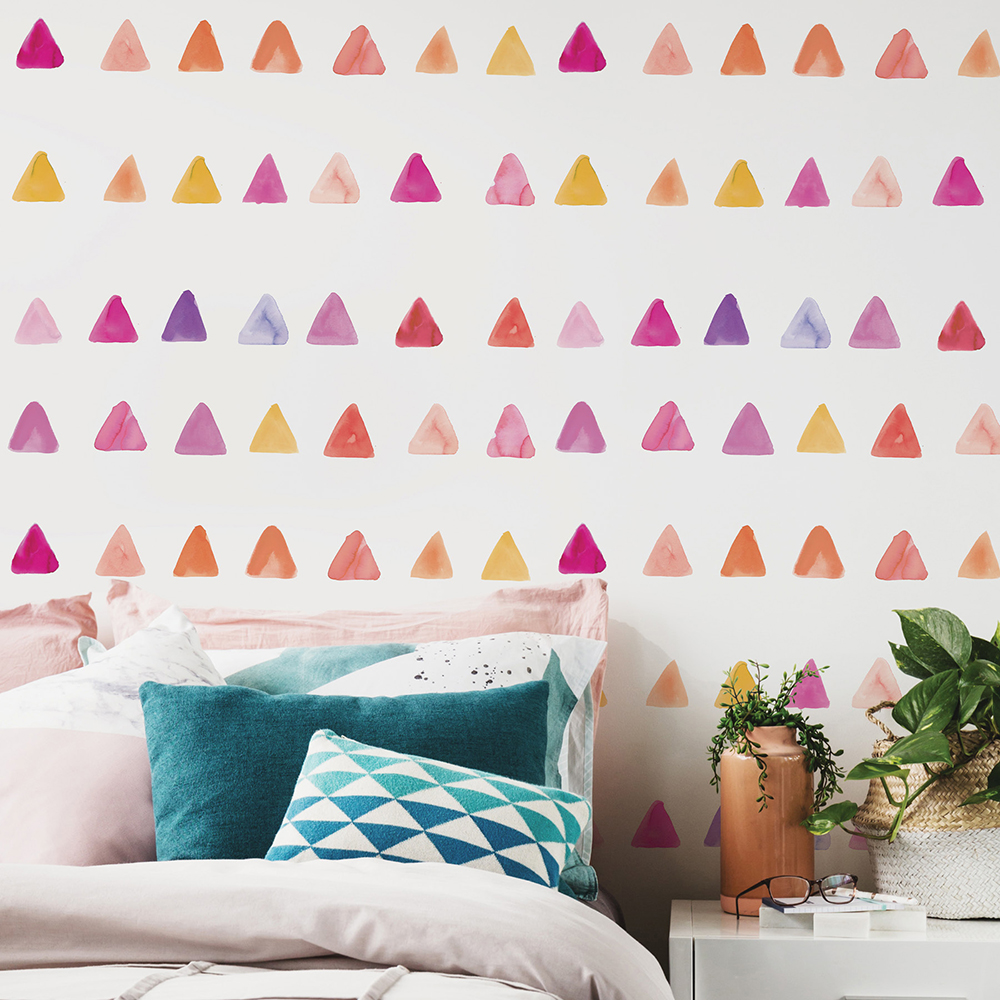 Small triangles in hues of warm pink, purple and orange make up this vibrant wall art kit. The watercolor peel and stick decals bring to mind a modern bohemian design. The Trio Wall Art Kit consists of 106 pieces on 4 sheets.
Get the look here.
Paint Palette Wall Art Kit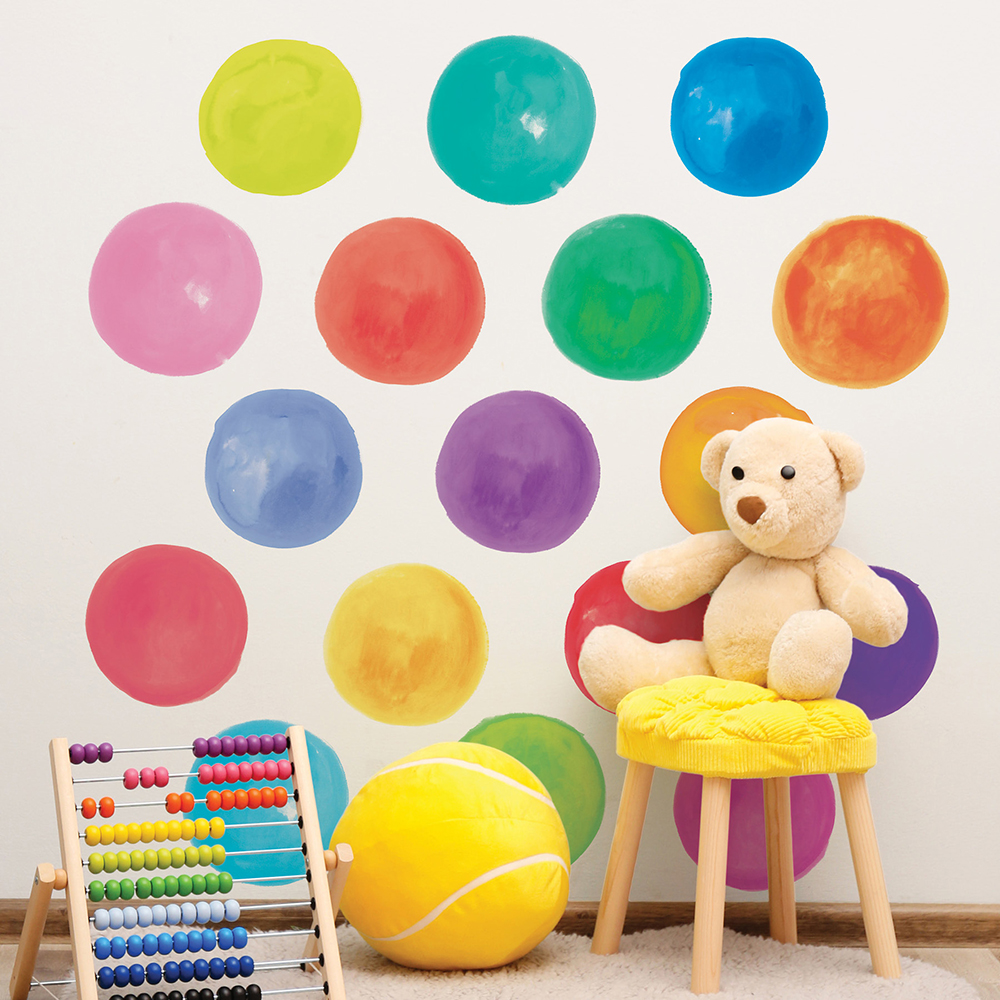 Large colorful dots resemble balloons floating in the air. Perfect for a nursury or child's room, these vibrant watercolor dots will stick on and peel off effortlessly when your child outgrows the style of their room! The Paint Palette Wall Art Kit imitates a playful spirit that anyone will enjoy!
Get the look here.
Raindrops Wall Art Kit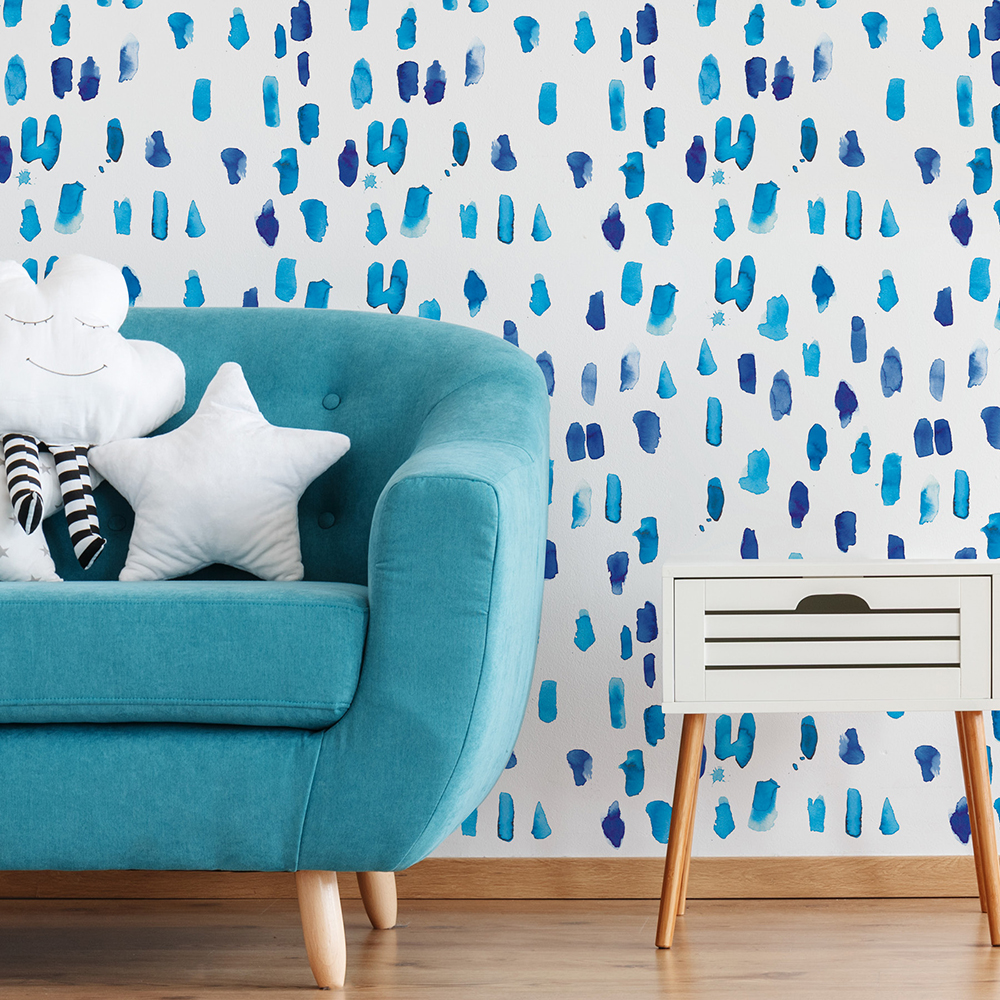 Raindrops fall in this Wall Art kit inspired by light precipitation. The geometric drops are characterized by its watercolor brushstroke look. The Raindrops Wall Art kit contains 241 individual raindrops between 4 sheets. Bring the rain to your wall without actually getting wet!
Get the look here.
Think Positive Wall Art Kit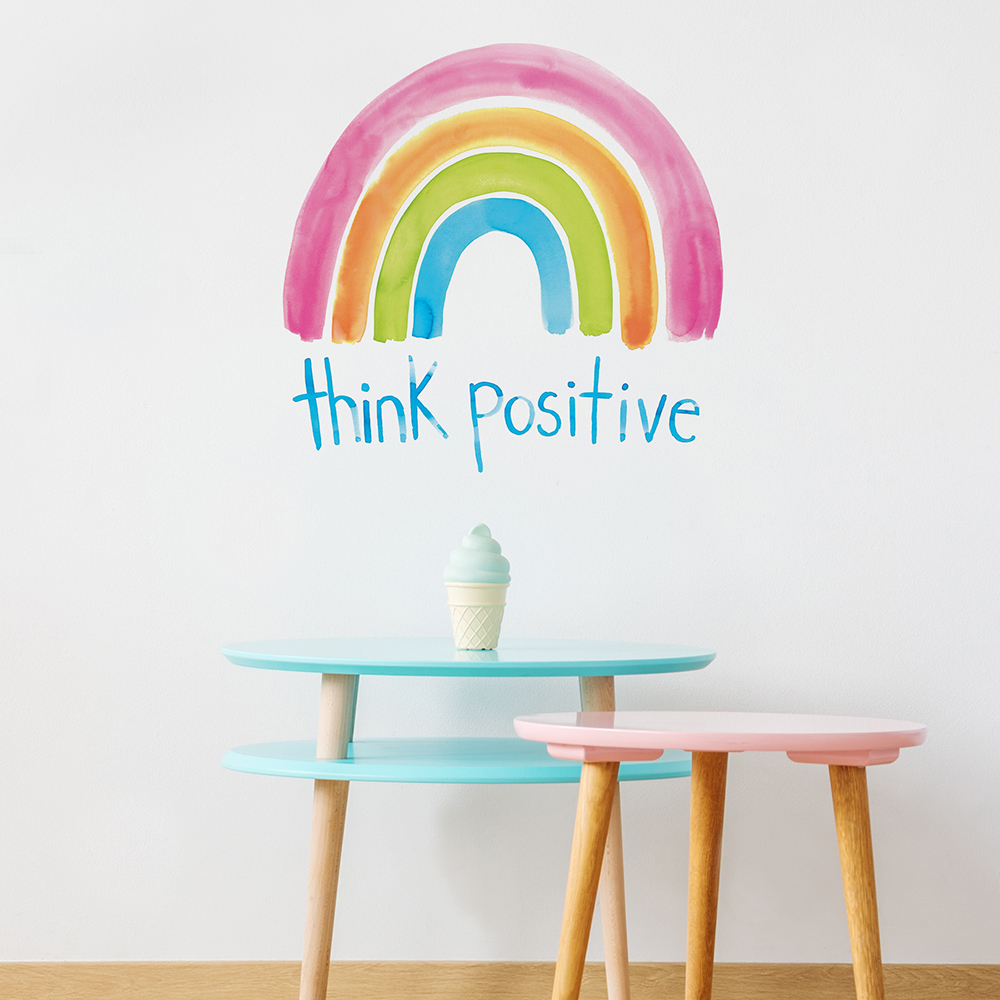 A great way to remind your young one to think positively is by inspiring them with this fun Wall Art Kit. Its inspirational and artistic design will foster a creative vibe. The brushstroke inspired design of the rainbow, along with the "think positive" message underneath inspires an uplifting atmosphere.
Shop the look here.
WallPops Wall Art kits are great for redecorating any room. Peel, position and stick the patterns on the wall however you want. If you are unhappy with the way you placed your stickers, you can always reposition them by easily peeling them off the wall and sticking them back on without any damage. Let us know which piece is your favorite!
Shop all WallPops Wall Art Kits here