With the craze of the new school year, keeping your classroom organized can become a full time job. But do not fret! We've gathered some awesome organizational hacks to help you ditch the clutter for good. From color coordinated bins to an art cart on wheels, these seven tips will make this school year a breeze.
1. Is Anyone a Doctor?
Complete your classroom library with your very own book hospital! Instead of having students come to you with ripped books, they can simply place them in this bin. This organization hack allows you to fix books whenever it's most convenient for you.
2. Pickling Pencils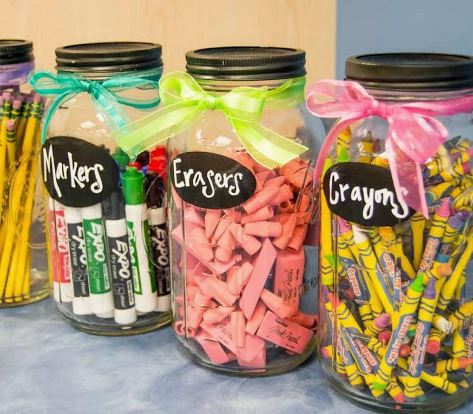 With popping colors and ribbon, these mason jars are both cute and functional storage for classrooms. Our peel and stick chalkboard labels would complete this look perfectly!
3. What's for Lunch?
Keep track of who is buying or bringing food with this fun lunch chart! Save time and give kids a classroom responsibility by having them move their clips back at the end of the day.
4. Straw Storage
Storing tape and ribbon just got a lot more fun! Use a straw holder to keep all your washi and Scoth tapes in one place. This organization hack makes carrying several rolls back to your desk easier than ever.
5. Rack 'Em Up
Throw out all your plastic bins because we have the perfect storage solution for markers and pens: wine racks! Yes, you read that right. These stackable wine racks are perfect for housing classroom supplies in a clean and organized fashion.
6. Marker Decor
Free up counter space with a fun hanging baskets. Whether you use them to keep pens, markers, or even thumbtacks organized, this storage solution will help keep your desk clear of extra clutter!
7. Art To-Go
With wheels and three bins, this art cart makes organizing craft materials easy and mobile. Not to mention is bright blue hue will add a fun pop of color to your classroom decor.