With a popping yellow hue and fresh, fragrant smell, lemons seem to embody all that is sweet about summer, and designers are taking notice! From cups, to dresses, to wallpaper, this print seems to be everywhere. However you want to include it in your decor, these seven ideas will make incorporating this bright and summery motif easy peasy lemon squeezy.
1. Fresh Fireplace
Forget about fall and winter, summer mantles are all the rage! With a beautiful leafy garland and vintage styled lemon prints, this farmhouse mantle has a bright and fresh look. The sunny yellow and deep green hues complement this room's white accents perfectly.
2. Fruity Front Door
Greet visitors with a sunny and cheerful lemon wreath on your front door. Its small white blossoms and vibrant yellow fruit will add a summery touch to your decor. With easy to follow instructions, this decoration is easier to make than lemonade!
3. Main Squeeze
Lemons and kitchen decor go together like peanut butter and jelly. But with a hand painted style, these wall decals have a fresh, new style! Totally removable and repositionable, this wall art kit can be arranged however you like, giving you complete artistic freedom.
5. Easy Peasy Garland Easy
Incorporate a cute and kitchy flair to your summer decor with this adorable DIY lemon garland! Its wool string and pom pom fruits will add a sense of texture to your space, while its vibrant yellow color and sweet white flowers will bring a summer feel to your room.
6. Add Some Zest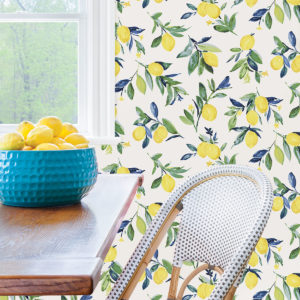 Make your walls pop with a fun and dazzling lemon wallpaper! Little bunches of fruit seem to samba across a soft blue background in this eclectic print, creating a sweet, summery design perfect for any room.
7. Citrus Carpet
Add a tart whimsy to your room with this kitchy patterned lemon rug. With a braided design and happy yellow and green colors, this rug will make the perfect summer entryway.
8. Punchy Prints 
The vibrant color and well-known saying in this typographic print make it the perfect addition to cheer up any space! Bring positivity to your everyday life with this handmade piece of decor.
9. Delightful Dinner Plates
Bring fresh flavor to all your meals with this charming lemon themed dish set. Add a flair of quaint elegance to your home with this delightful kitchenware.
10. Bring Brightness into the Kitchen 
Flowers and lemons are a timeless and classic combination. The two pieces of nature combine to create the perfect centerpiece for any occasion, a wedding, dinner party, or typical meal at home.