We get many questions about our peel and stick NuWallpaper and decided to compile some of our most commonly asked questions into a handy FAQ! If you're thinking of decorating with NuWallpaper, here are some things to know.
Will NuWallpaper stick to a textured wall?
This is definitely the most frequent question we get about NuWallpaper! First and foremost, NuWallpaper works best on smooth, flat surfaces, such as a painted wall (although if the surface is freshly painted, we recommend waiting 30-60 days before applying any decal to allow the paint to fully cure).
Most textured surfaces are too porous or uneven to provide enough surface area for NuWallpaper to adhere too. We have had some customers successfully install NuWallpaper on lightly textured walls, but as each surface is individual, we have to recommend installing it at your own risk.
Still unsure if NuWallpaper will work for you? We highly recommend testing out a sample on the textured surface you are looking to cover first to ensure that it will stay up and that you are content with any amount of texture that may show through the NuWallpaper. To order a sample, open the page of your desired NuWallpaper pattern, select "Sample – 8 in X 10 in" in the Item drop down list in the Ordering Options box, then click Add To Cart and checkout!
Can you put NuWallpaper over wood paneling?
As most wood paneling is smooth, yes! Depending on the space between each panel, you may see the gaps through the NuWallpaper.
Here a customer used Beachwood NuWallpaper over a wood panel wall: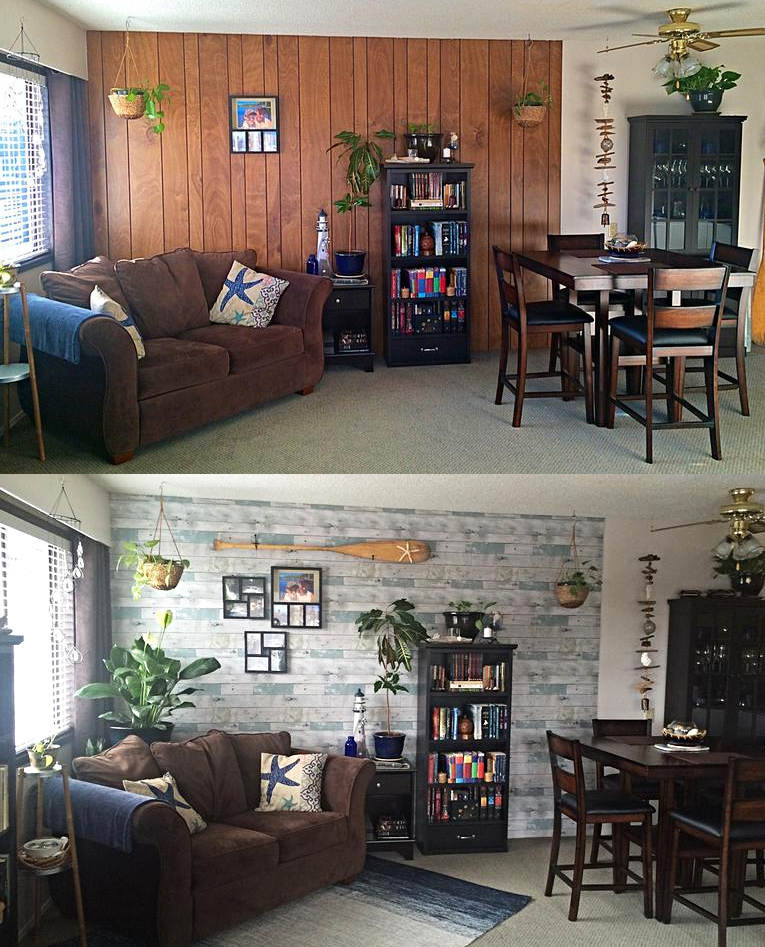 Is NuWallpaper safe to use in a rental home/apartment or dorm?
Yes! We developed and designed NuWallpaper with modern home decorators in mind. NuWallpaper is perfect to decorate with and make it your own. And because it comes down in seconds and easily peels off without leaving any residue behind, it's a cinch to revert the space back to its original design.
Below, our Trellis NuWallpaper is used to customize two customers' spaces to their individual home decor styles and tastes: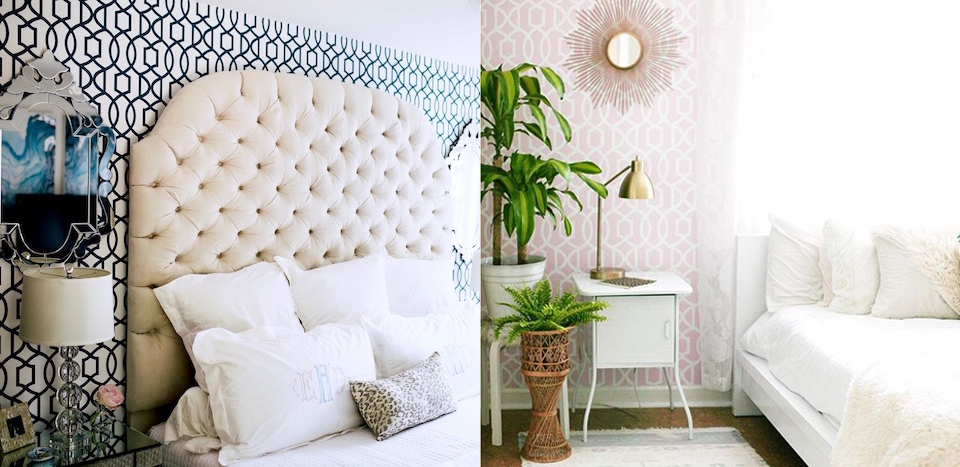 Left: Navy Grand Trellis via Her Heart and Home
Right: Pink Grand Trellis via Wildernessa
How much does one roll of NuWallpaper cover / how many rolls will I need?
Each roll of NuWallpaper covers a total area of about 28 square feet. To figure out how many rolls you will need, measure the length and width of the space you want to decorate, multiply the dimensions, then divide by 28 and round up if not a whole number.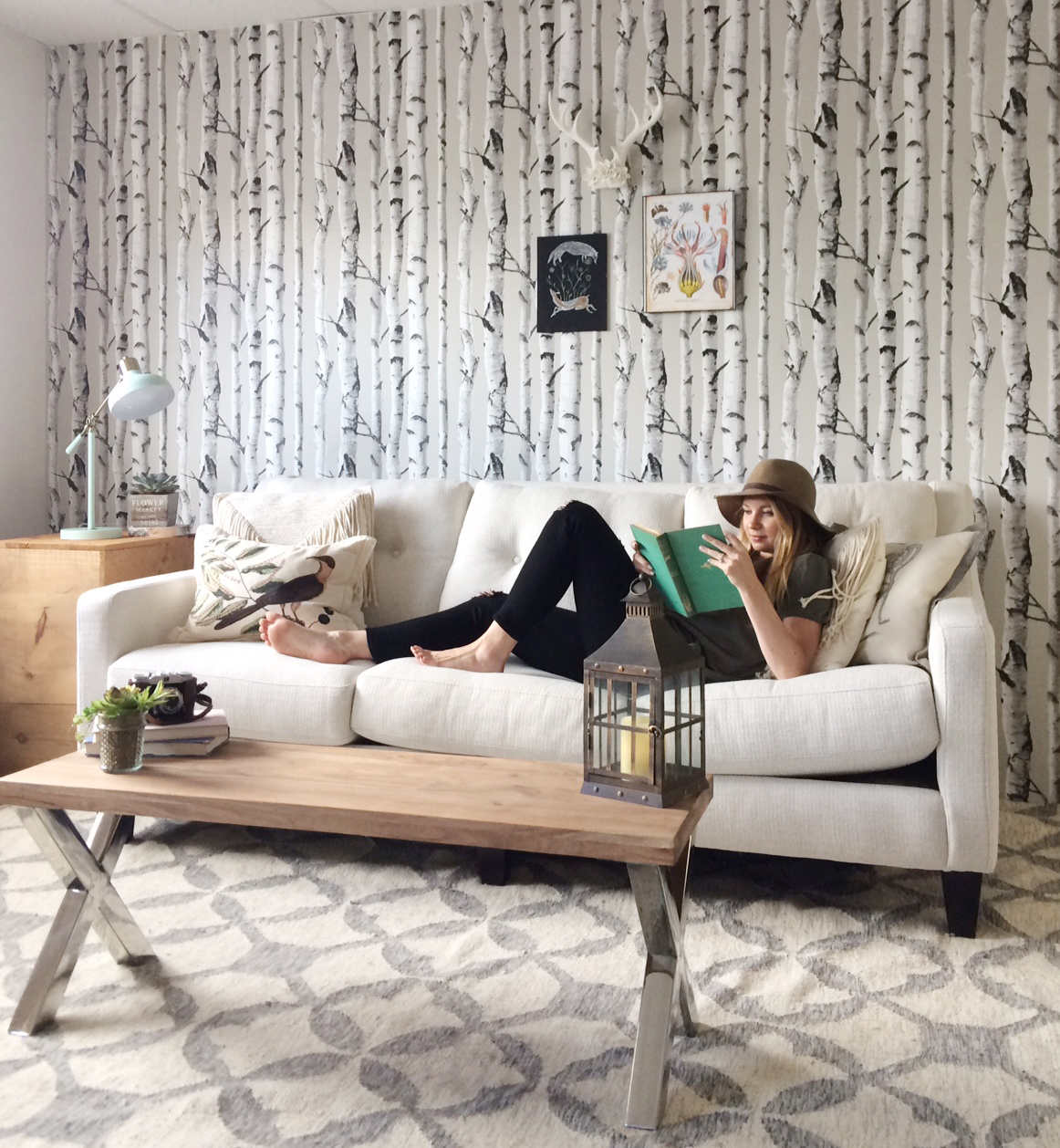 For example, the above wall is 13.6 feet wide and 8 feet tall (108.8 square feet), and 4 rolls of the Birch Tree pattern were needed.
Can I use NuWallpaper in a bathroom?
Absolutely! As long as it is not being directly hit by water, it will hold up in your bathroom. Occasional splashes and humidity are both fine. If the bathroom does not have a ventilation system, we caution that excessive humidity buildup could affect NuWallpaper, as it would for normal wallpaper or paint.
Some photos sent in by customers of NuWallpaper being used in a bathroom or powder room: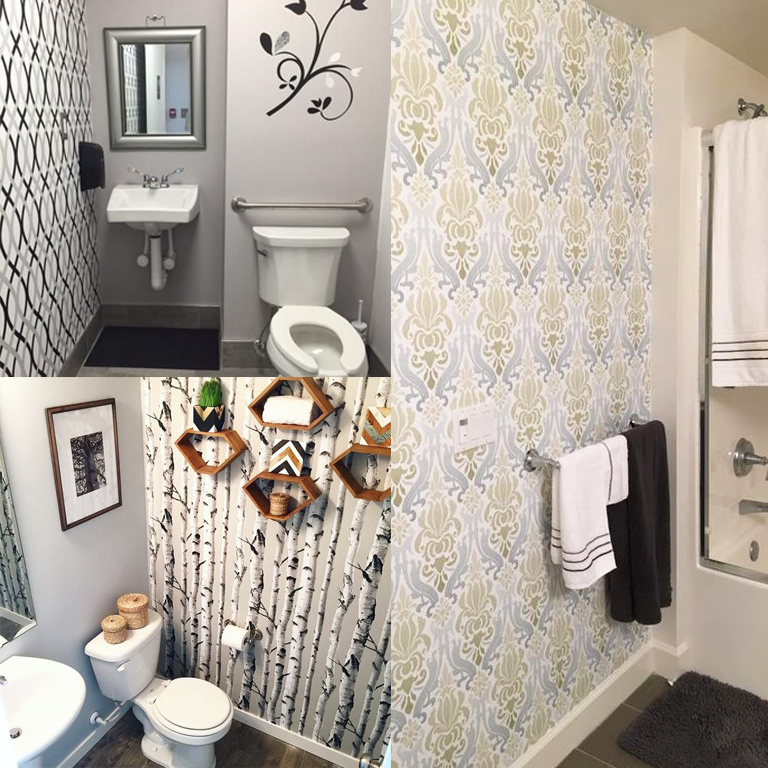 Top left: Black and Silver Lattice NuWallpaper
Bottom left: Birch Tree NuWallpaper
Right: Nouveau Damask NuWallpaper