We now require more from our homes than ever before. They have become places to not only relax in, but also offices and schools. When we need our house to be both a productive working environment AND a peaceful sanctuary of rest, while still expressing our unique style, how do we balance?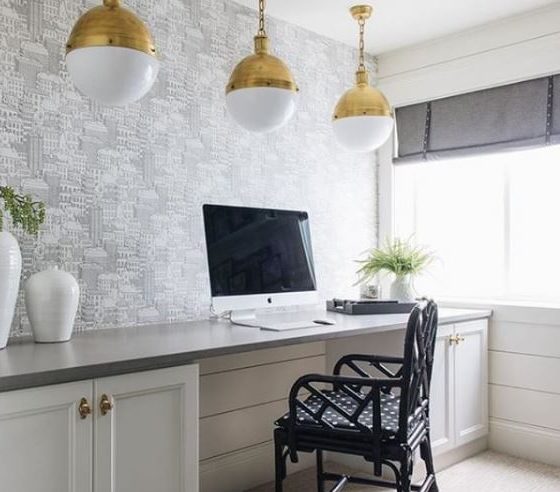 There are two main goals that every home office should accomplish:
-Productivity
-Inspiration
We've compiled a few home office organization ideas for how to achieve both in your home, so you can finally separate work and play, even when they happen under the same roof.
Put Paper in its Place
In an ideal, clutter-free world, our work would all be done digitally, putting an end to unruly papers, files and folders. In reality, paper still has it's place in the office so figuring out an organization strategy ahead of time is key. Creating a system to organize your important docs helps you not only know where everything is, but also helps cut down on clutter, so you can maintain your sanity and wind down after a hard day's work.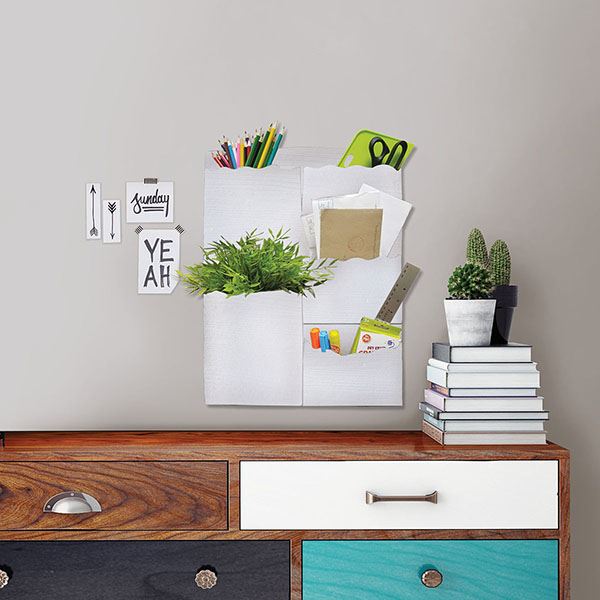 Filing cabinets are great for those whose work is very paper-heavy, but what about those with lighter filing needs? We recommend the 5 Pocket Wall Organizer to help with managing those important notes, bills, and even frequently used supplies.
Zone Your Spaces
In order to partition where you do work and where you do not, create a clear visual boundary for your workspace. For those who don't have a separate home office, an accent wall will do the trick!
We love the look of Becky's office nook, who uses the Homestead Plaid peel and stick NuWallpaper to delineate her working area.
To help maintain organization within your workstation, consider establishing three distinct "zones":
The Working Zone (Where you sit and physically do your work)
The Reference Zone (For your files, books, maps etc.)
The Supply Zone (Where extra pens, pencils, and other supplies live)
When your office space is partitioned according to your specific needs, your supplies will have a home. We promise this will help you stay organized while keeping clutter at bay.
Go Vertical!
Bare walls are not conducive to creating a stimulating work environment. Make use of your vertical space so you feel energized and inspired to tackle even the most mundane tasks.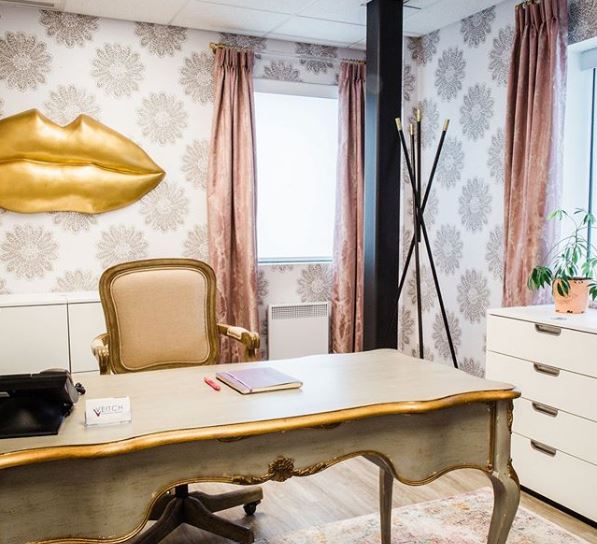 Since your home office is just for you, fill your walls with things you love! For example, family portraits or even a bold statement piece can make your office feel special and like a place you enjoy spending time in. The gold lips wall art atop the Sol Medallion wallpaper in Laurie's office is fun, bright and makes her office come alive.
If you appreciate function, then wall calendars, whiteboards and cork boards might be right for you. Wall calendars, like the vibrant Serenity dry erase decal, are easy to put up and help free your work area from the clutter of post-it note reminders and desk planners. Also who doesn't like (or need) glaring reminders of upcoming deadlines and meetings?
Get the Right Furniture
Any attempts at organizing your home office will be futile if you don't have the right furniture. Not enough storage space or a desk that's too small will lead to inevitable overflow or clutter. Consider the function of your furniture to ensure your office meets your individual needs and the space you're working in.
Corner desks are a great option for smaller homes, as they help maximize space while giving you a larger work surface. Bookshelves take up valuable real estate in our home and, if your space is limited, you might consider opting for floating shelves.
A chair that's lacking in comfort will not only hurt your productivity, it can also be downright dangerous. Without the proper ergonomic support, sitting at a desk for hours can lead to neck and back pain. Invest in a great chair and invest in yourself; your back, neck and shoulders will thank you!
Your space and working style are both unique, so make sure you take the time to figure out the office furniture that'll work for you!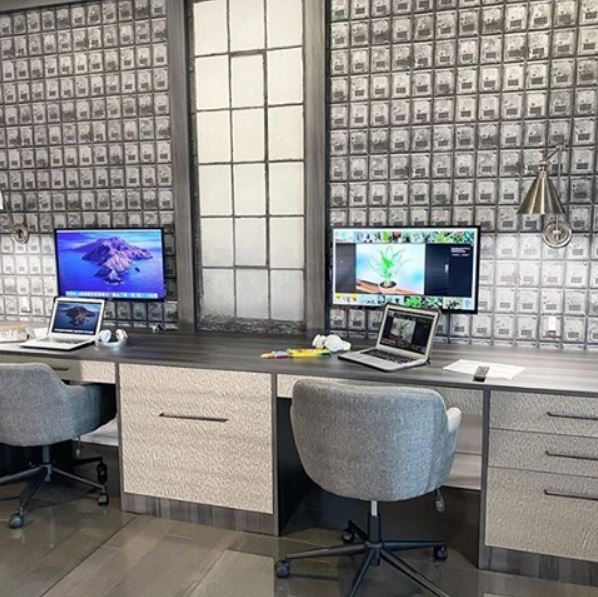 Do you have your own home office organization tips? We want to hear them! Share your WFH set up on Instagram and tag @wallpops for a chance to be featured in our stories!