We love pumpkins for Halloween. However, dealing with pumpkin guts are something we could do without. Enter the no-carve pumpkins: no knives and no mess. We've got just the no-carve pumpkin for you, whether your Halloween style is spooky or silly. The best part? They're super easy to DIY. Read on and watch our how-to videos to see just how easy:
Spooky No-Carve Pumpkin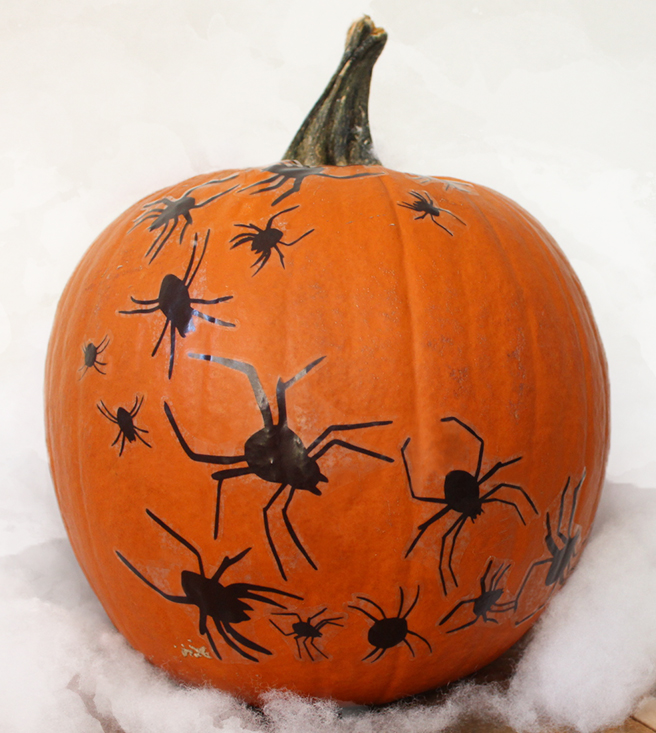 If you like things that go bump in the night and scarier costumes are your go-to, this spooky spider pumpkin is right up your alley. Make one for just a touch of Halloween spirit, or a whole horde for a creepy pumpkin patch.
Supplies:
-Pumpkin
–Spider Decals
Silly No-Carve Pumpkin
If you prefer the lighthearted side of Halloween, make a cheeky emoji pumpkin!
Supplies:
-Pumpkin
-Yellow paint (we used spray paint)
–Emoji Decal Kit
Design tip: Create a second emoji face on the back so your pumpkin can do double-duty. Or, create a whole family of emoji pumpkins showcasing a variety of silly faces and line your porch or walkway with them to delight trick-or-treaters.
What's your Halloween style?