Easter is especially fun to decorate for because it comes at the cusp of Spring. By April we are so ready for pastels, fresh flowers, and bunny rabbits, and Easter arrives with the perfect excuse to get glittery and colorful. It is also a really cute holiday for kids crafts, presenting so many adorable traditions like egg dying, Easter baskets, and Easter egg hunts. Here are a few darling ways to bring an Easter flair to life in your home this year!
Make an Easter Theme Mantel
Lots of people decorate their mantels for the winter holidays, with stockings and candles, ornaments and garland. An Easter theme mantel decor is just as fun, with a whole new color scheme! Pick a theme, or cultivate a scene with decorated eggs, bunny knick-knacks, flowering branches, and fresh flowers. All of our favorite examples here also use a cute swag to complete the look. This can be an easy and fun DIY project on its own, one you can re-use from year to year. The mantel to the left uses colorful ribbon and strips of craft paper in pastel prints tied to a piece of yarn. Below, the letters S-P-R-I-N-G provide inspiration for a festive pennant, while the felt carrots on a green ribbon make a playful statement piece in the bottom image.
Use Your Cake Plates to Create an Easter Display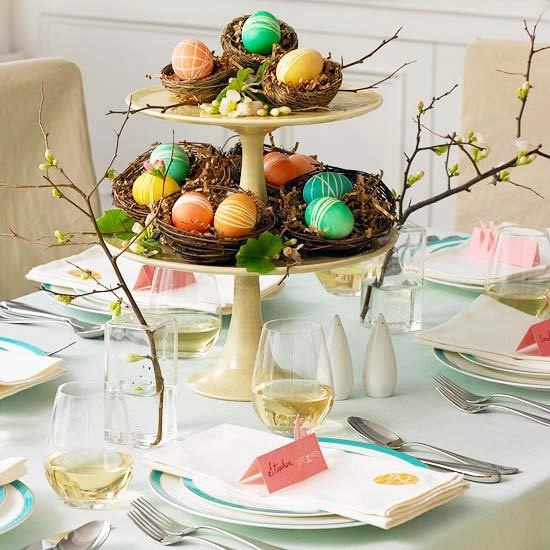 Cake plates are beautiful! We are guilty of having several tucked away in our cabinets, and we love any excuse to show them off! Why wait for cake? Take them out now and create a tiered display. The cake plates themselves have a cheerful and decorative look, especially when used to display your Easter eggs in a pretty nest, or topped with tiny vases of tulips. Cake plates make a gorgeous tablescape idea for Easter decor, and we love an excuse to have them out of the China cabinet so that we can admire them! This also saves room on the table because you can take advantage of vertical space, creating tiers of cupcakes, eggs, flowers, appetizers and more, with lots of layers of visual interest.
Add a Pop of Pretty to Your Walls with Removable Wall Art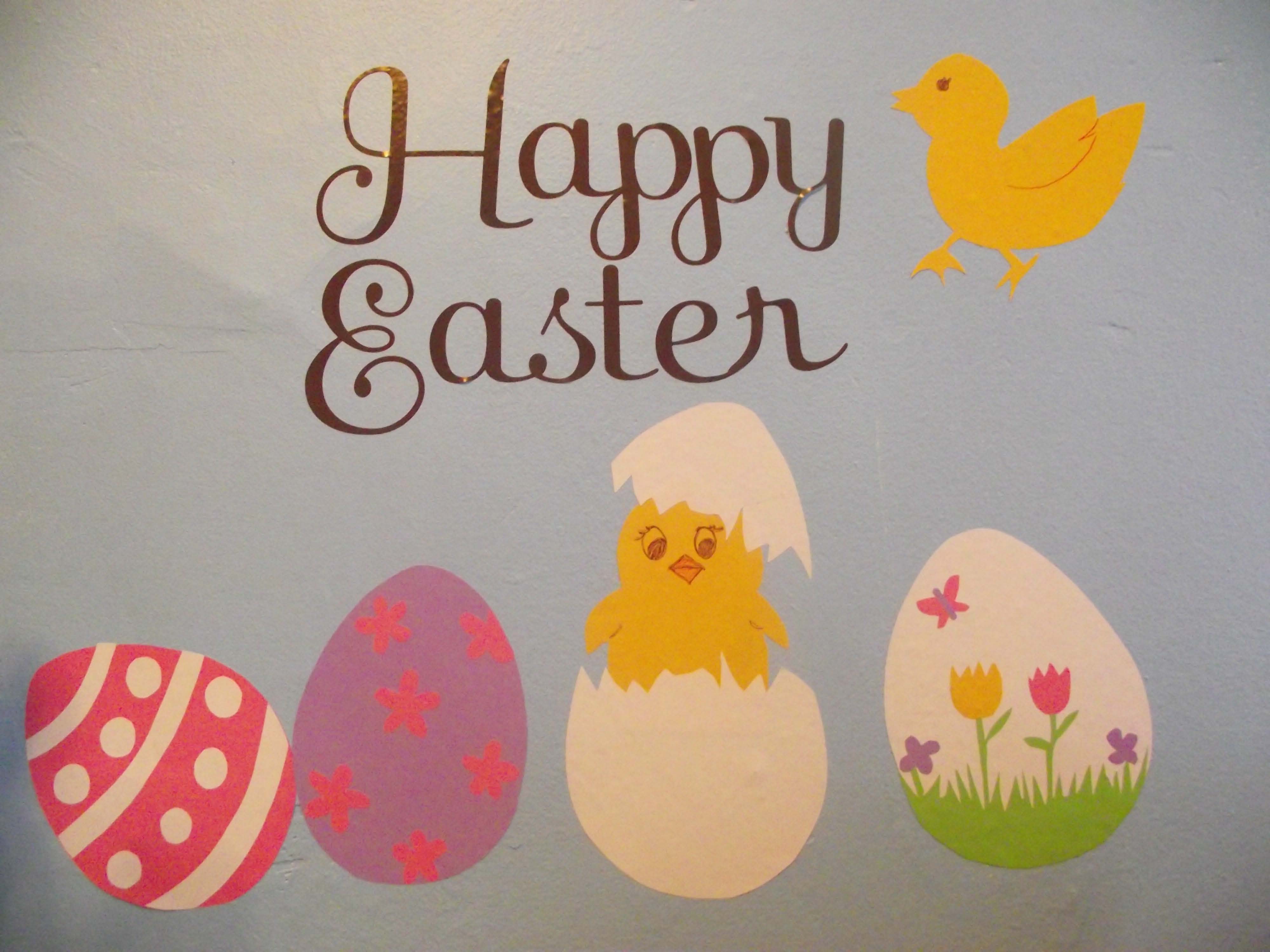 Your walls are the perfect palette for your pastel and glitter Easter whims! Hang up home made art by your kids, nieces and nephews, or create your own. Or, make your own peel and stick eggs by cutting our WallPops wall decals like we have done here. Have fun decorating your egg shapes with polka dots, stripes, and mini flowers. You can stick them to kitchen cabinets, mirrors, appliances and walls without worrying about damaging your paint with tacks or tape. Or, for a ready made Easter and Spring theme, try our new Flutterby Butterflies or the Patchwork Daisy pastel pennant decals. You might end up wanting to keep this sweet wall art up year round! If not, you can always stick it back to its protective backing and put it up again next year!