KATE MIDDLETON'S OWN COLOR SCHEME
Everyone has been talking about the birth of Prince George of Cambridge, the son of Prince William and Kate Middleton and third in the line of succession to the thrones of the 16 Commonwealth realms. Just as the royal wedding drew a great deal of attention, individuals are clamoring to hear details about he who some are calling "the most famous baby in the world."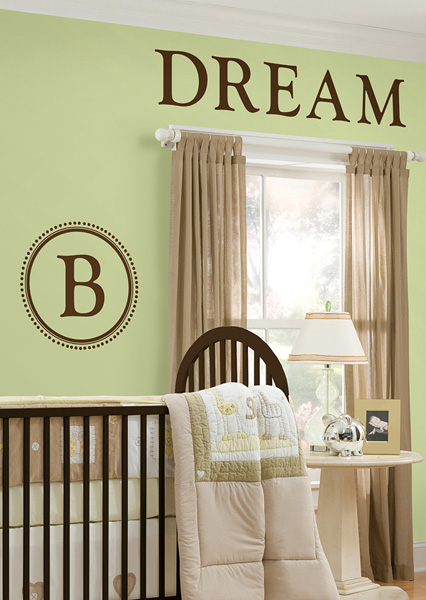 In honor of the birth of the Royal baby, we created a post full of Royal baby nursery ideas fit for your very own Royal baby.
 So, what exactly does a Royal nursery look like? We know that Duchess Kate attempted a gender-neutral color pallet, choosing herringbone brown and soft sage over stereotypical blues. To mimic this theme, we have Espresso Brown dots, concentric dots, stripes, and jungle silhouettes.
An espresso brown monogram on your baby's wall also creates a personalized feel with a classic and regal touch. Our monogram wall decals come with the whole alphabet and one beautiful frame so you can feature your child's initial and use the extra letters to spell out other inspiring words on the wall.
STAINED GLASS
We also know that the Royal couple and their Royal baby will be living in Kensington Palace, a very traditional royal residence in London. There's nothing more traditional than stained glass, which has constituted the major form of pictorial art to survive since the Middle Ages.
DAMASK PATTERNS
Another traditional option is a Damask decal. Production of the damask pattern dates back to the Middle Ages, when it was considered one of the five basic weaving techniques of the Byzantine and Islamic weaving centers. This look is luxurious, timeless, and would suit any Royal baby nursery.
MOTHER ENGLAND
Last but not least, a tribute to his country of origin. Prince George will be raised in Mother England, a country rich with culture and one of the style capitals of the world.