Design Trends from Fashion Week
Fashion Week, where the styles and colors for Spring and Summer are declared, is sweeping the fashion capitals of the world. Last week saw the streets of New York City flocked by the haute happenings, London is in the midst of the revelry, and next the runways of Milan will open, followed by Paris, with the Design Week shows following a similar pattern of globetrotting. Let's take a look at the designer movements of the moment!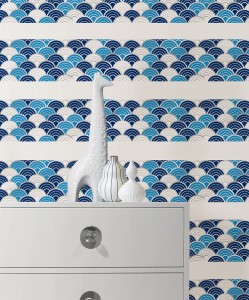 First and foremost, color lays the palette for each season. Pantone is our go-to resource for au courant colors, their color predictions are spot-on. According to the trend-setters at Pantone, the color to watch out for is Monaco Blue, a nautical and classic blue. We can also look forward to a bold poppy red, and Nordstrom has already declared red lips as the must-have accessory of the season. Bringing a softer side to these classics, we will see happy buttercup yellows, delicate linen hued neutrals, and gauzy jade, dusk, and violet hues. Neons are still in, but are making their way into our homes and wardrobes as details and accessories rather than dominating entire pieces. Black and white, especially together, were also EVERYWHERE on the runways this season! Marc Jacobs entire line revealed a mod '60s world, almost exclusively in black and white.
Leather looks, perhaps inspired by the 50 Shades of Grey preoccupation, but more likely inspired by the work of photographer Helmut Newton, were prevalent. This tough look was softened with playful sweetheart details, think leather mixed with a garden floral print, or dolled up with lace. Linen also took center stage this season, bringing a relaxed yet luxurious vintage look, one that is also classic French. Stripes manifested themselves into all types of looks, dominating the designs of Michael Kors, Tommy Hilfiger, and Oscar de La Rente. The bold and graphic print trend of last season had staying power, and is, in fact, blossoming. Latin American prints, birds, and busy novelty motifs lent a vibrancy and fun to new designs. We are also seeing a lot of sheers, peek-a-boo cut-aways, and even granny gone wild macrame knots.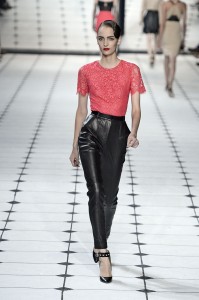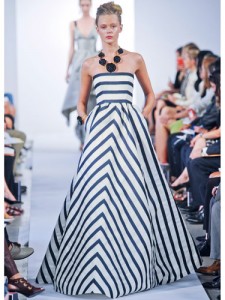 Vintage American and French Moderne themes have been prevailing in home decor trends. As the digital age becomes a global norm, iconic items like old fashioned telephones and televisions, typewriters and antique typography, have become more of an artform, representative of a nostalgic past, rather than the function that they once served. Even Micky Mouse himself is enjoying a resurgence in popularity, as the amabassador of such simpler times. French Moderne brings a contemporary finish to the curvaceous lines of Renaissance relics, a modern glamour with a reflective quality.
All of these elements might be summed up as Magpie-Chic. A worldly collector with an eye for style, browsing markets, antique stores, and boutiques from around the world. A bohemian arrangement, where a vintage items repose on contemporary furniture, and clean neutral colorscapes are shaken up by spicy accessories. Raid your granny's closet and pair one of her colorful skirts with a sophisticated white blouse. No need to match perfectly, or pick a defining theme. Bring together what you love and make it work.