Get in the Halloween 2012 Spirit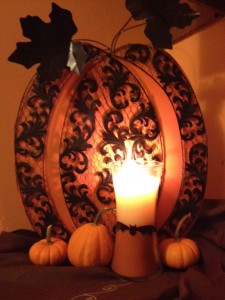 Halloween is such a fun holiday, and definitely one that doesn't take itself too seriously. In fact, Halloween is all about having fun! Here are just a few things we love about Halloween: candy, costumes, trick-or-treating, enjoying spooky decorations, jack-o-lanterns, and haunted houses! Whether you are having a Halloween party or not, why not create a festive look inside and outside at your house? In some neighborhoods, decorating for Halloween is practically required and those are the areas that will attract the most kids on All Hallow's Eve!
Below are some fabulous diy Halloween decorations. Since WallPops are so easy to cut, they are perfect for mess free jack-o-lanterns. You can even cut out jack-o-lantern template shapes and pumpkin patterns ahead of time. This way, younger kids can decorate their own pumpkins without worrying about sharp knives and a slimy pumpkin mess. Or, go classic Halloween with black and orange dots, blox, and stripes to set the mood in any room! For a more sophisticated idea, one that holds it's own through Thanksgiving decor, try tracing and cutting out leaves with Autumn colored WallPops to create a festive accent.