Tips for Creating the Ultimate Boy's Room
By Jane Blanchard
Are you looking to design an over-the-top bedroom for your son? I love the idea of creating a stylish and functional boys' bedroom that's a gorgeous extension of your own design aesthetic. Whatever design style you choose, it is important to create an environment that stimulates the imagination of your son. Accentuate his interests with a great design theme — perhaps your son is a sports fanatic, dreams of traveling through the cosmos as an astronaut, or aspires to sail around the world. Check out some great inspiration and ideas for you to help you choose the design that is perfect for your little man!
Traditional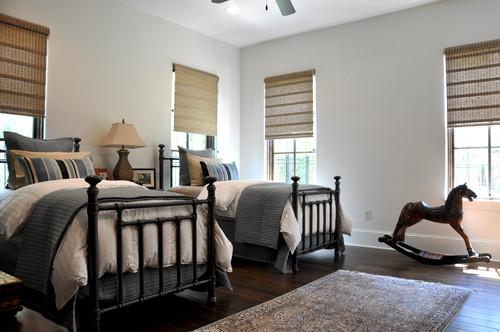 Traditional Kids by Lufkin Architects & Building Designers Sanders Architecture & Design
Beds: Blake by Wesley Allen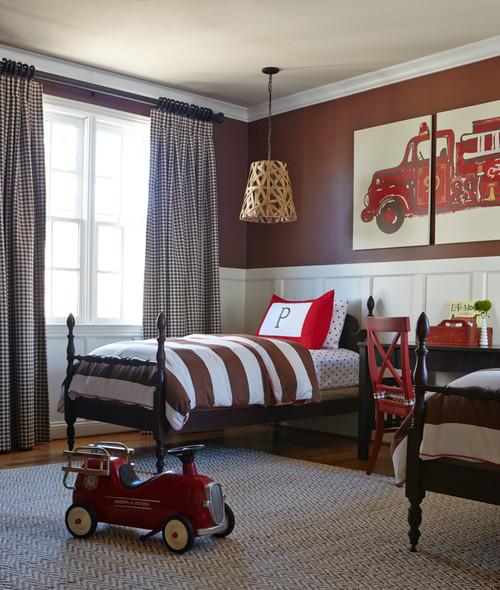 Traditional Kids by Nashville Kitchen & Bath Designers Red Leaf Interiors, LLC
This traditional bedroom has a vintage touch with the throwback Radio Flyer and fire engine artwork that ties the whole room together. Decorate the bed with a pillow that proudly displays your kid's first initial on it to make him feel like it truly is his own space.
Little Red Fire Engine by Radio Flyer; $99.99
Sports Themed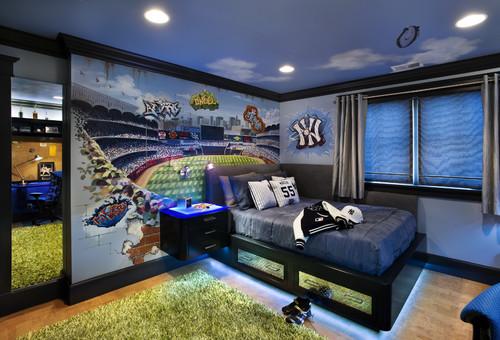 Contemporary Kids by San Francisco Interior Designers & Decorators TRG Architects
This over-the-top sports themed bedroom is sure to impress any young sports enthusiast. Underbed lighting might be the perfect way to elevate the room to total coolness.
Mural: Morgan Bricca of Murals By Morgan
Via Wallpops
Does your son have a race car obsession? You will make his day with these pop art inspired race car wall decals from wallpops.com. A perfect temporary solution to age-specific decorating in a little boy's room.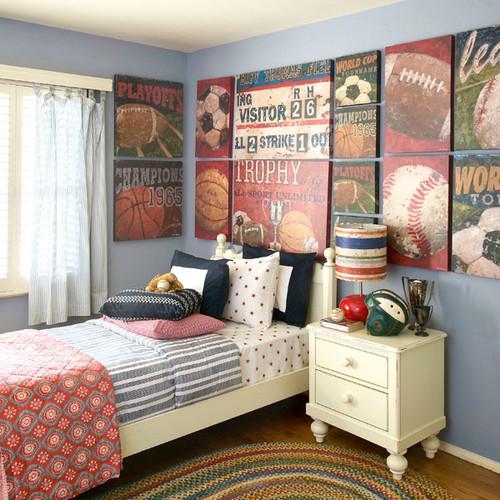 Traditional Nursery by San Diego Kids & Nursery Oopsy Daisy, Fine Art for Kids
This sports-themed design is vintage, subtle and refined. Mix patterns and colors on textiles to add visual interest and create a cozy feeling.
Artwork: Oopsy Daisy Fine Art For Kids
Solar System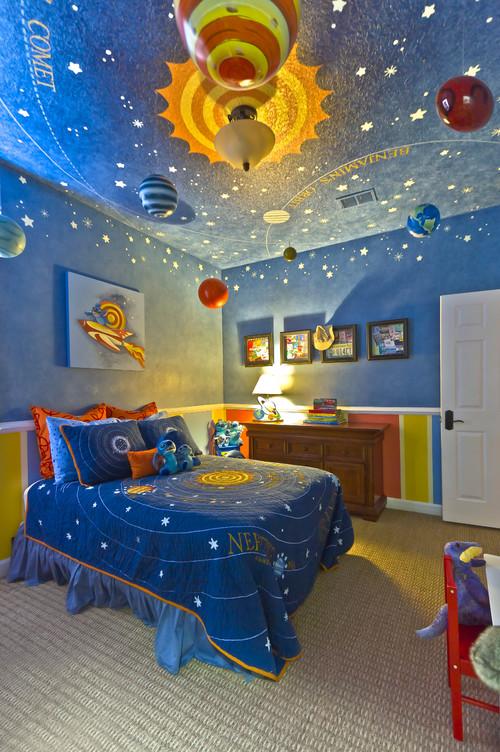 Contemporary Kids by Orlando Design-Build Firms Hobus Homes
What little boy doesn't aspire to be an astronaut? This solar system-themed bedroom has an unexpected feature: a mural on the ceiling complete with hanging planets. When decorating your son's room, don't be afraid to do something cool on the ceiling.
Bedding: Solar System Bedding, Land of Nod
Nautical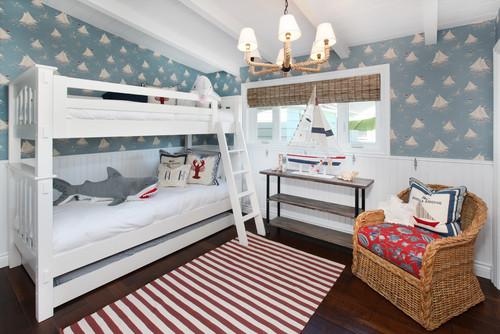 Tropical Kids by Garden Grove Photographers V.I.Photography & Design
The nautical theme in this room is found in many details. From the sailboats on the wallpaper to the rope details on the light fixture, no opportunity was lost to infuse a strong nautical vibe in this room.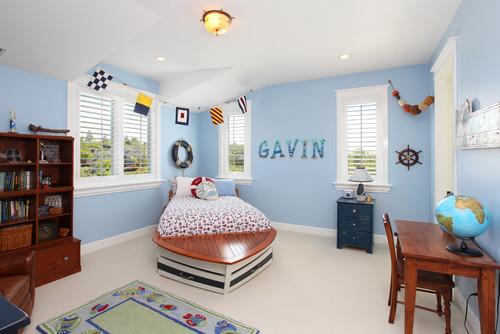 Tropical Kids by Garden Grove Photographers V.I.Photography & Design
A bed that's a boat! This world-traveler nautical-themed bedroom makes quite a statement. The drawers built into the bed provide additional storage to keep the bedroom looking this impressive all the time.
Bed: Pottery Barn Kids
Transitional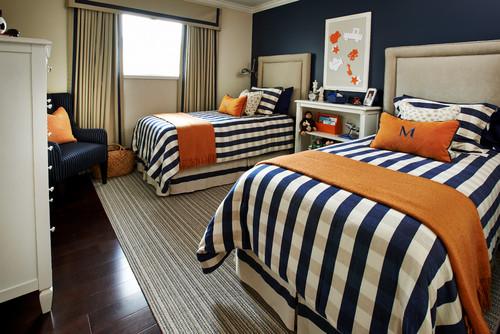 Traditional Kids by Vancouver Interior Designers & Decorators Fina Designs
Transitional style marries traditional and contemporary style in a cohesive, slightly eclectic manner. This refined boys bedroom oozes with style. This room is also rich in texture, with a plush headboard, jute area rug, and bedding with multiple textures.
Unique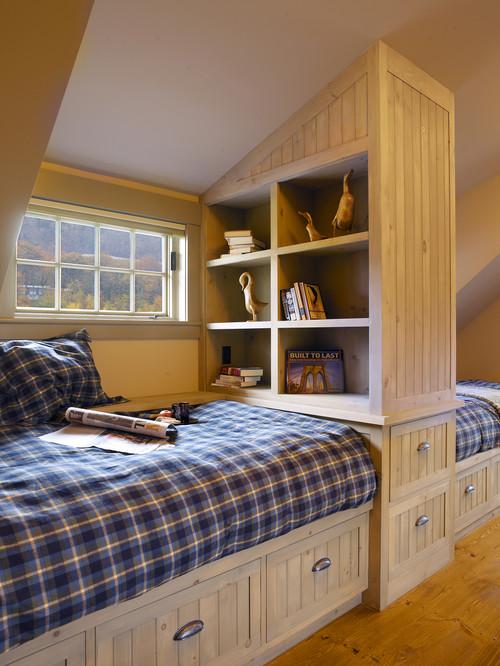 Traditional Bedroom by Stowe Architects & Building Designers Cushman Design Group
Imagine curling up to read a book or perhaps building a blanket fort in these beds tucked into the eaves of your home. The built-in storage is great for keeping all of your son's belongs neatly stowed away.
Make sure to check out Modernize for more inspirational design ideas!