Think Beyond the Wall to Create the Cutest Kids Rooms!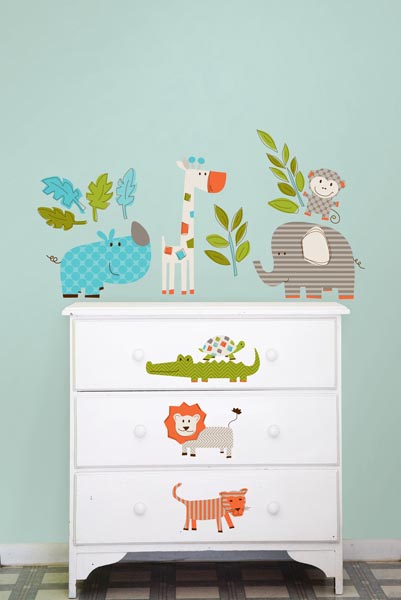 How cute is this kids dresser?! With fun safari themed decals, this bureau has been revamped into a darling piece of kid-friendly furniture. We think this look might even encourage kids to put their clothes away! Our new line of WallPops for Kids was designed to bring the cutest kids themes and fun imagery to life. Below are a few more cute kids ideas using WallPops to bring razzle-dazzle to unexpected places! Make a toy chest more playful with dinosaur decals or pirate theme WallPops! Or designate a desk as a place that a kid will want to get studious with some imaginative decals like these glow in the dark monsters and fun fish wall stickers. The door is another space not to ignore! This girls door looks adorable with tulip printed polka dot wall decals from the Dilly Dally design. For a cool update to a bunk bed, try adding a racing stripe like this checkerboard print Rally Racer stripe.
Using WallPops wall decals to dress up a child's room is a brilliant way to bring personality and cheer! Because our decals won't harm their walls, and because they are so affordable (with most items under $32), these beautiful wall stickers are perfect for kids. But don't limit your canvas to the walls! WallPops stick well to most smooth flat surfaces, so you can get creative on headboards, desk tops, doors, shelves and more!