The beginning of April marks a renaissance of life outdoors! While natures first greens of the season are unfurling and purple hyacinth are popping up outside, the interior of your home should also enjoy a refreshed look. This is the time to let the light in, swapping out thick curtains for sheers and lace, and sprinkle your home with inspiring pops of pretty! Here are 5 ways to use Springs color and home decor trends in your space for a rejuvenated style.
Splash of Color
This Season, pastels are bathing everything in delicate hues of pink, pistachio, baby blue and lavender. These midtone versions of Easter candy hues are delightful and chic, adding a creamy dream soft beauty to everything from swimsuits to kitchen appliances. Somewhat reminiscent of the 1950s, these tender hues have an inviting and fresh feel. Try painting a wooden chair, making a feature wall, or introducing a new accessory into your home this season in a pretty pastel tint.
Blossoming Branches Or Potted Bulbs
It is widely known that a vase of fresh flowers brings a room to life. This year, think outside the bouquet and try decorating with branches or potted bulbs instead. Not only do these options last longer than cut flowers, they also have a sophisticated whimsy. Spring sprigs, like pussy willows, almond tree boughs and flowering cherry tree branches add height and enchantment to decor. Buy cut branches or snip your own to enjoy the gradual blossom of nature unfolding indoors. Potted bulbs provide a similar sense of charm, building anticipation as a spike of fresh green leaves slowly buds into a colorful posy of flowers.
Floral Prints
Florals never really go out of style, they just take on new tendencies each season. This year it seems watercolor florals, pixelated graphic florals and vintage chic retro florals are all the rage. Pick your passion or fee free to mix and match, because you simply cannot go wrong with flowers in the Springtime. Try mixing floral prints into the room with a tablecloth, a framed piece of art or wall decal kit, a garland of blossoms strung across a window, or in accent pieces like plates, vases or even napkins.
Pillow Update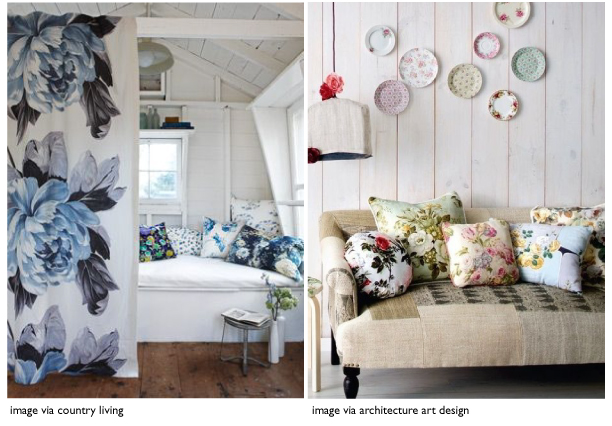 We recommend swapping out pillows often! It is one of the quickest and most effective ways to renew a space. In the Winter we like to cuddle up on the couch, surrounded by fabrics like fur, velvet, and warm knits. April is the perfect time to trade these pillows for bright and cool new looks, with seasonally appropriate fabrics like linen, cotton and lace. Experiment with the seasons fascination with metallics, mixing pastels with gold accents and fun florals with shimmery sequins.
Bowl of Beauty
Is there anything more welcoming than a bowl full of treats to enjoy? Think of the sweet lady who always has candy on her desk, your favorite neighborhood restaurant with the delicious mints, or your Martha Stewart channeling relative who always has little snacks out to enjoy. Get seasonal and sweet with your own little dish of goodies – it's an opportunity to bring out your cutest dish and to make somebody smile – even yourself! Or, for a purely aesthetic display, try a bowl of floating blossoms, artichokes, or moss. To make your own decorative vessel check out our video on updating plain vases with designer decals. The results are gorgeous!