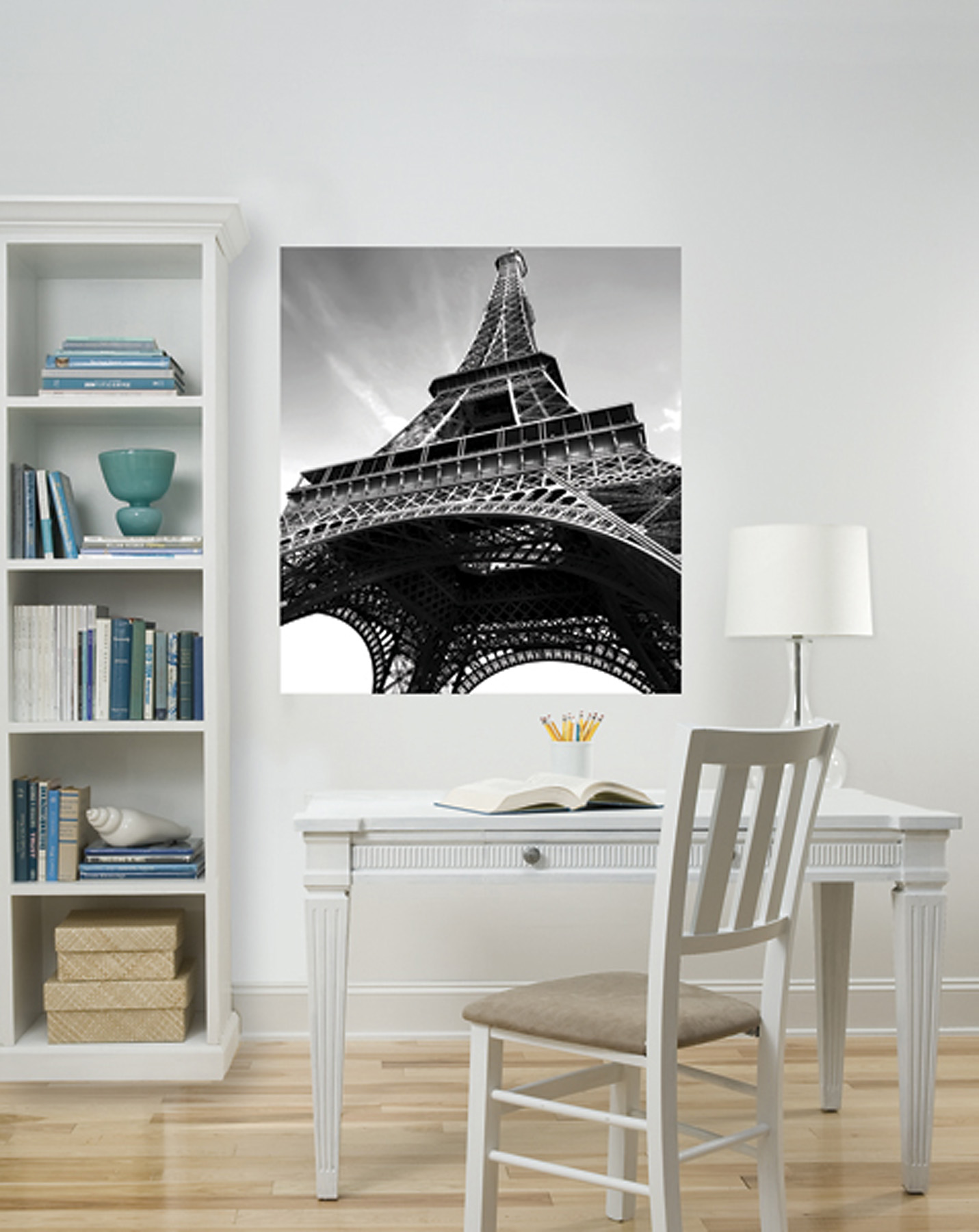 "I never knew the charm of spring… I never knew my heart could sing, I never missed a warm embrace 'Til April in Paris, chestnuts in blossom, Holiday tables under the trees…" *Le Sigh* The notion of April in Paris is a romantic one indeed. This dreamy city has set the stage for many a love story with its beautiful fusion of historical splendor and contemporary trendsetting. Each year, this fashion capital hosts Maison & Objet, Europe's largest home design exhibition. Paula Berberian, WallPops Creative Director, scoured the enormous show searching for the latest trends and reports back here with four that can easily be incorporated into your décor.
1. Pastels

"While Pantone named Emerald Green the color of the year, it appeared that 1950's sugary pastels were evident and making headway," says Berberian. "A hue I especially saw around the halls was a very soft pink that was commonly paired with taupes and black and white, along with a soft yellow, seen most often with grey."
Whether in the popular pink, the new hot pistachio pastel, subtle watery blues, or in other soft marshmallow hues, the trend is certainly on time for spring. Oh Pear dots, blox and stripes add a refreshing sweetness to walls, and coordinate beautifully with other pretty pastels like light pink, buttercream yellow and baby blue. The design's pastel pairing produces a look that's both soft and sophisticated.
2. Geometrics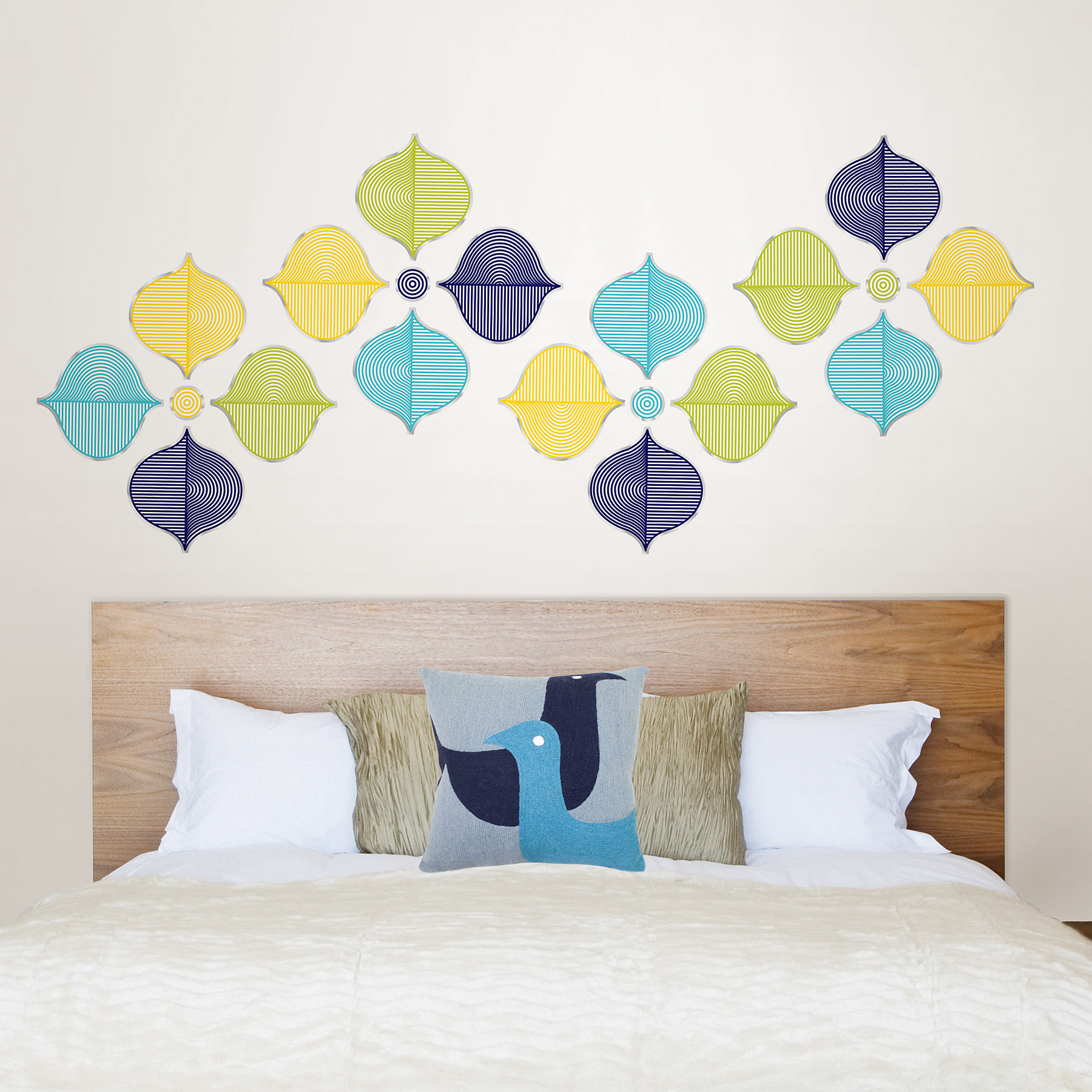 There is a lot of financial uncertainty in the world right now" says Berberian. "Many companies are taking a conservative approach with regards to product introductions taking a deep breath and not wanting to take risks." Berberian thinks this may be the reason why there are a lot of subdued modern interpretations of classic prints, such as a refreshed floral or damask.
Geometric and modern designs were still a favorite but I, along with my colleagues, concluded that there weren't any drastically new designs. Overall designers and manufacturers are playing it safe," concludes Berberian. For a colorful improved classic, the Hollywood design by Jonathan Adler for WallPops incorporates mod colors with a geometric floral pattern. Wow guests upon arrival by adding these WallPops in a foyer. Its large-scale bright print is as cheerful as it is inviting, and by adding the design to an entryway, it also helps to set the overall decorating style and mood of a home.
3. Nature-Inspired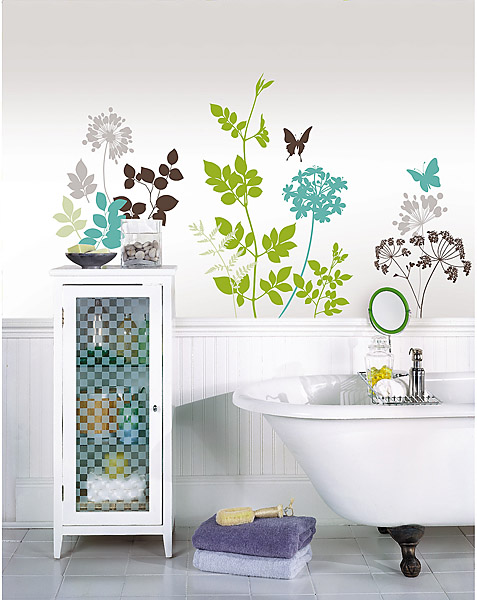 "This year's show confirmed that the natural and artisanal is a trend with staying power," says Berberian. "With a universal shift to more eco-friendly home décor, hand-crafted wooden pieces, even furnishings dyed with vegetable color, such as in a popular citrusy lime green, were prevalent."
While the organic look was captured in wooden furniture from Scandinavian, Dutch and German to Italian designers, this theme can easily be captured in wall décor as well. For an eco-friendly statement and one that instantly adds an organic feel to a space, the Habitat kit is an ideal addition. Lush forest silhouettes of ferns, leaves, branches and butterflies pay homage to the beauty of nature.
4. Warm Metals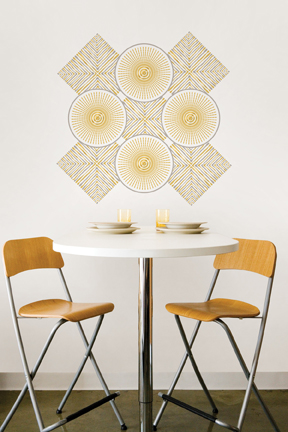 Just as colors were softened at the exhibition, so were the metallic accents. Rose gold, pink copper and yellowy brass finishes, both matte and highly-polished, were on-hand. In furnishings, the metals were often paired with dark woods like walnut, ceramics and marble and, as Berberian attests, were also seen on walls.
"Metallic-accented wallpaper was a constant at Maison, which serves as an affirmation that we're on-trend," says Berberian. For some bling on your walls, the Santorini comes cast in silver and gold mylar metallics. These delightful wall accents can transform any space into a sparkling jewel box while still maintaining a sophisticated allure.